Registration Opens for Fall 2023 Geothermal Collegiate Competition
Collegiate Students—Learn About Renewable Geothermal Energy for a Chance at $10,000
---
Registration is now open for the Fall 2023 U.S. Department of Energy Geothermal Collegiate Competition (GCC)!
The GCC invites teams from collegiate institutions to develop real-world geothermal solutions for communities while competing for $10,000 in cash prizes and gaining resume experience in the renewable energy industry.
College students—form your team of three or more students (undergraduate or graduate) and register today.
Students of any discipline can participate, and multidisciplinary teams are encouraged. Teams can have students from multiple collegiate institutions or from just one.
New for 2023: There are two competition tracks, Technical and Policy.
First-place teams in each track will win $10,000 in prize funding from the U.S. Department of Energy (DOE), and second-place teams in each track will earn $6,000.
Students will gain hands-on experience and engage with industry mentors.
"You can develop geothermal energy anywhere, so I recommend anyone to apply to this competition." —Cesar Vivas, University of Oklahoma student and past GCC participant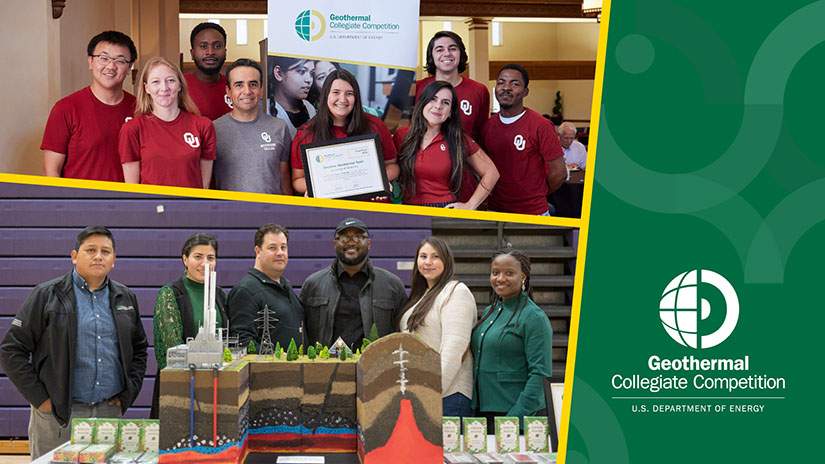 Important dates
August 15: Informational webinar for interested teams
September 13: Registration deadline to be paired with an industry mentor
October 4: Final registration deadline (all teams who submit a complete registration are accepted to compete)
October 25: Optional progress submission deadline
December 20: Final submission deadline
January 2024: Winners announced.
Professors are encouraged to embed the GCC into their fall semester courses for hands-on policy and technical applications for their students.
Wondering Where To Start?
GCC is now a part of the U.S. Department of Energy's American-Made collection of prizes and competitions.