Prize Winners Design Ways To Make the Most of Hydropower
Winners of Hydropower Operations Optimization Prize Just Announced
---
Hydropower has been delivering energy to the United States for more than a century. Now, it has the potential to help usher the nation into a future powered by clean energy.
The Hydropower Operations Optimization (H2Os) Prize, which launched in early 2022, focuses on hydropower's complementary role in the renewable energy mix by challenging competitors to develop new solutions for scheduling daily hydropower operations that benefit both the grid and the environment.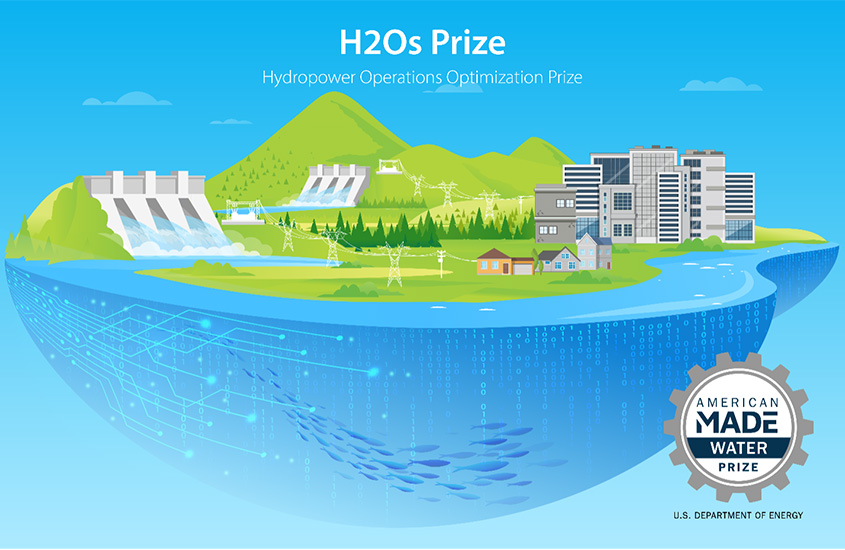 In early January 2023, the U.S. Department of Energy's Water Power Technologies Office (WPTO) announced the Phase Three winners of the H2Os Prize. Three teams were selected based on their novel solutions to advance hydropower's contribution to the grid and will receive a share of the $50,000 prize pool.
"The competing teams used complex strategies, modeling, and analytics to create unique road maps for managing hydropower supply and demand," said Clayton Barrows, the National Renewable Energy Laboratory's (NREL's) principal investigator for the H2Os Prize. "These out-of-the-box solutions will be vital for helping hydropower fulfill its role as a pillar in the renewable energy ecosystem."
As part of WPTO's Hydropower and Water Innovation for a Resilient Electricity System Initiative, the H2Os Prize challenged innovators to present new hydropower operational strategies by applying 21st-century solutions. Competitors used modeling, optimization, and machine learning to create new ways for hydropower systems to plan daily grid operations and meet water management needs, such as water supply, environmental flow requirements, and flood management. The third phase of the prize increased the complexity of water management requirements, incorporating longer-term schedules and additional demand profiles (estimations of energy needs) that reflect significant solar power integration.
Meet the Winners
The prize team selected the following Phase Three winners:
Team HydroFlex, led by Masood Parvania from the University of Utah and Grid Elevated, which won the $30,000 first-place prize
Team MST_power, led by Rui Bo of Missouri University of Science and Technology, which won the $10,000 second-place prize
Team Vassar Labs Inc., led by Laxmiprasad Putta, which won the $10,000 third-place prize.
The following competitors were also recognized with honorable mentions:
Team Littoral Power Systems, led by David Duquette
Team Wenyuan Tang at North Carolina State University.
The winning teams' proposed improvements will be beneficial as the United States works to decarbonize its power grid by 2035. While the hydropower industry is well established—and has been among the nation's largest sources of renewable energy for more than a century—new opportunities continue to arise to improve and modernize hydropower technologies. The H2Os Prize is playing a key role in helping nurture those new innovations.
The H2Os Prize is funded by WPTO and administered by the National Renewable Energy Laboratory in partnership with RTI International. Visit the American-Made Challenges website to learn more about similar competitions designed to spur innovation in renewable energy. Sign up for NREL's water power newsletter to get the latest news.