NREL and Partners Build All-Data Approach for Automated Grid Recovery
Community Demo With Rural Co-Ops Will Use Solar, Storage, and Sensors to Stop Outages
---
Power outages are on the rise in the United States, but so are technologies that help systems recover, like distributed energy and sensors. The National Renewable Energy Laboratory (NREL) is leading a project that uses pervasive data and renewable energy to identify and isolate outages, enabling communities to expand awareness of grid conditions during resilience events.
With partner technologies and community input, NREL will demonstrate an automated, affordable, all-in-one method for grid resilience, which can and will be used by vulnerable communities and the utilities that service them. The project is named Solar-HERO (Solar-Assisted, Stakeholder-Engaged Autonomous Restoration with Data Orchestration) and is funded by the U.S. Department of Energy Solar Energy Technologies Office as part of its RACER program.
Data From Everywhere
There are many ways to detect a power outage, and this project will use practically all of them. Data from power lines, the environment, and the device communications will all be synthesized to allow precise grid awareness for utilities, response teams, and the public. The project team will use this real-time data in a decision-making engine that autonomously leads power recovery efforts.
"More data and technologies have become available to automate grid restoration, but it takes some engineering and design to make it happen," said Fei Ding, the principal investigator and project lead at NREL. "Our project will use both commercially ready technologies and new research developments to show that options exist today for any community to improve their resilience and more rapidly recover from outages."
The partners are bringing their most advanced sensing technologies to the project, many of which have been validated in past NREL projects. For grid visibility, Electrical Grid Monitoring will contribute its Meta-Alert System that measures over 60 parameters of electrical, environmental, and physical data points, while NEC Laboratories America will deploy its distributed fiber-optic sensing system, which can monitor the conditions around power lines at 1-meter resolution, without requiring local power. Survalent's SurvalentONE advanced distribution management system will help NREL and partners investigate how these new data sets can be synchronized with traditional grid visibility and outage data.
At the customer end, Copper Labs will use grid-edge sensors to measure energy devices at 30-second intervals. Camus Energy will gather all data from partner devices, plus data from customer-owned solar and storage, and integrate it with Survalent's advanced distribution management system. This information will determine how much energy flexibility is available to use for recovery and automated restoration. Additionally, DataCapable will screen live data from "social sensors" like online forums and social feeds to provide actionable recovery information. NREL will then synthesize all the data to derive real-time "resilience states"—states that are useful to measure resilience of the grid and communities.
"We can combine these diverse data sources to build an accessible foundation for visualizing the grid," Ding said. "Using this all-data approach, we can simultaneously estimate the state of the grid and automate system resilience. To show that this solution is actually transferable, our first pilot will feature close participation with community members in areas that need resilience the most."
The Right Resilience for Residents
All utility partners in the project are rural cooperatives that serve areas subject to extreme weather: forest fires and blizzards for Holy Cross Energy and United Power in Colorado and extreme cold, snow, and wind for Connexus Energy in Minnesota. These co-ops serve communities that are economically vulnerable to outages, so they are all investing in solutions that use distributed energy and sensing for embedded resilience. What this looks like for different communities will be determined in the project.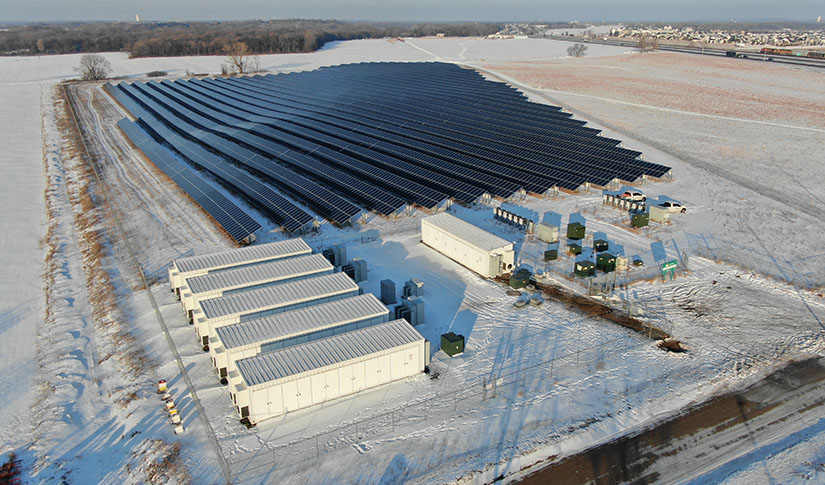 "A simple restoration protocol might only look at how many meters are out. Economically vulnerable communities might not be at the top of the list, but the longer their power is out, there is a greater social impact to its members," said Brian Ross, vice president at the Great Plains Institute, which is engaging a network of local governments and community representatives to understand specific resilience needs.
"We are thinking about ultimate needs of the households and businesses—we want to identify resilience priorities at a local level," Ross said.
Community engagement—which will be led by Great Plains Institute with support from utility partners—will reveal how and where the project team should install new sensors and controls. It will also inform NREL's and Colorado School of Mines' work on developing quantifiable methods to measure community members' social and physical vulnerabilities, energy consumption flexibility, and resilience priorities.
"Many people don't realize that the most aggressive climate goals in the nation have been set by communities," Ross said. "Not everything can be done by utilities, states, and the fed. We see that communities can be a vector of change for all society—once they make decisions about their energy direction, it drives change that otherwise wouldn't happen. Everyone asks, 'What does this mean for us?'"
Automated, Optimized Restoration
Modern energy systems contain scattered devices capable of instant power production, like solar energy and battery power. But while these devices can provide power on the spot, they require special attention when used for self-supported grid recoveries, as they are electrically different from traditional machines.
"Inverter-based resources behave differently than past resources; they need certain controls and validation to keep stability, especially when they are the only devices on the grid," Ding said.
In this project, the automated recovery will require that inverter-based resources run things alone. In fact, they will need to dynamically reconfigure into new electrical islands, remaining strong and stable throughout disruptive events. NREL has particular expertise in designing grid-forming controls, and such capability will be further demonstrated in this project.
Meanwhile, Iowa State University will design an optimized black start and service restoration scheme that maintains stability while shifting between microgrid configurations. This will be a breakthrough in distribution grid restoration, allowing solar, storage, and other distributed energy to have a greater role in recoveries everywhere.
Connexus Energy, the Midwest's largest cooperative and among the top 5% nationwide for reliability, was selected to host the field pilot and prove its reliability and resilience with the use of solar and storage. With the integration of community engagement, all-data resilience situational awareness, and optimized restoration, the team will upgrade the controls, sensing, and situational awareness of the pilot community's electrical service and, in the process, demonstrate a new concept for the grid: resilience using 100% renewable energy.
"In the future, when communities make decisions about increasing their capacity for distributed and renewable energy for the sake of climate goals and clean air, they can have confidence that the investments are also resilient," Ross said.
Subscribe to NREL for the latest news on renewable energy integration.