Clean Energy Solutions Center Returns To Support Clean Energy Policy Development Worldwide
With New Leadership, the Clean Energy Solutions Center Is Back To Offer Resources and Consultation to Partners Around the World
---
After a short period of dormancy, the Clean Energy Solutions Center (Solutions Center) has revitalized its programming and recommitted to its three pillars of activities: ask-an-expert services, trainings and peer-to-peer learning, and management of a comprehensive resource library.
The Solutions Center launched as an initiative of the Clean Energy Ministerial (CEM) over a decade ago with a mission to help governments, advisors, and analysts create policies and programs that advance the deployment of clean energy technologies.
Since then, the Solutions Center has provided support to more than 400 requests for assistance from more than 90 countries, island nations, and regional organizations around the world. As one of the National Renewable Energy Laboratory's (NREL's) longest-running international programs, it also helped forge the blueprint for how institutions from the United States and other developed nations can collaborate with developing countries to overcome common energy-planning challenges.
Passing the Torch
The Solutions Center entered a period of transition in 2021 when its longtime leader at NREL, Victoria Healey, retired. Activities slowed down during the search for someone to fill Healey's role. Jal Desai, a researcher with NREL's Accelerated Deployment and Decision Support center, stepped in to manage the program.
"I was interested in the Solutions Center because I relate to its mission personally. I come from a developing country where energy issues are a major concern and daily point of discussion," Desai said.
"Growing up, the reasons for our power crises were always presented as insurmountable. But now, I know there are solutions. It brings a great sense of satisfaction when our work can translate into real-life impacts for people all over the world."
While Desai leads the Solutions Center's operations, the program's overall strategy is guided by two Clean Energy Ministerial member governments: the United States, represented by the Department of Energy (DOE); and Australia, represented by the Department of Climate Change, Energy, the Environment, and Water (DCCEEW).
"With this next phase of the Solutions Center, I'm excited to see the evolution in emerging themes that the program can provide insights on, such as energy storage and hydrogen," said Peta Olesen, director of the Net Zero Innovation, International Climate, and Net Zero Pathways Division at DCCEEW and Solutions Center co-lead.
"The Solutions Center has a great role to play supporting the broader CEM community in disseminating their work and supporting their interface with countries outside of CEM membership," Oleson said.
A Platform for Sharing Knowledge
Ahead of relaunching its services, the Solutions Center merged its standalone website into the Clean Energy Ministerial's website. The migration offered an opportunity to refresh the Solution Center's web content and pair it more closely with other complementing Ministerial initiatives.
The Solutions Center is now recruiting new experts to join its Ask an Expert network and accepting new Ask an Expert requests. The Ask an Expert service connects requestors with relevant leading experts who provide no-cost consultation on clean energy policy development and other qualified issues.
Rob Horner, Clean Energy Ministerial desk officer at DOE and Solutions Center co-lead, shared how access to this assistance can make a tangible difference in developing countries' clean energy development.
"In 2017, prompted by an Ask an Expert request, Solutions Center expertise was deployed to help Chad increase access to clean energy in remote regions. This project is especially salient today considering the latest IEA World Energy Outlook's findings that, for the first time in 20 years, the number of people around the world who live without electricity is projected to increase," Horner said.
"It is incredibly fulfilling to know that, by helping to lay the groundwork for the government of Chad to increase access to clean, low-carbon, and sustainable electricity sources across the country, the Solutions Center could be responsible for someone powering their home today who otherwise might not be able to afford to," Horner said. "I can't think of a clearer example of the importance of, and the motivation behind, the work we do."
Connecting People To Solve Problems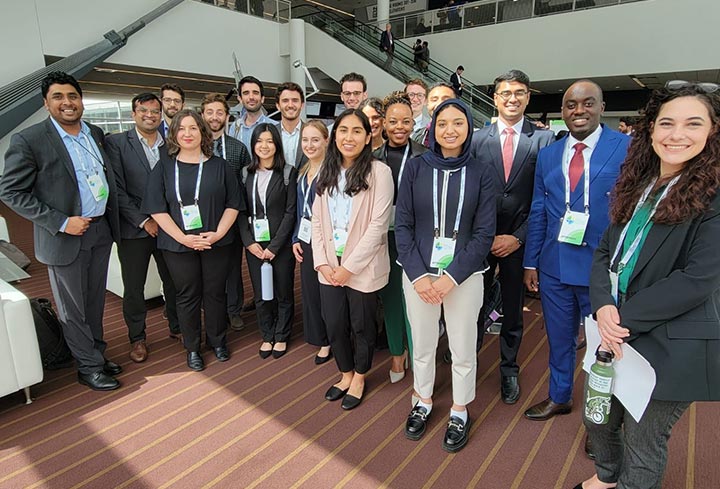 The Solutions Center also plunged back into hosting high-profile events and webinars as forums to discuss and share diverse perspectives on a variety of clean energy topics.
At the 2022 Global Clean Energy Action Forum, the Solutions Center organized its first in-person event in over three years with its "Clean Energy Policy Hackathon." The event brought together young leaders from all over to exercise designing and implementing clean energy policy across 10 different challenge themes. Participants presented their solutions in front of a panel of judges and their peers.
The Solutions Center also hosts monthly webinars, often in collaboration with other CEM initiatives. It completed an installment in December on just energy transitions in partnership with CEM's Empowering People Initiative and another in February on buildings decarbonization that featured contributing authors to the Intergovernmental Panel on Climate Change AR6 report. Future webinars will include collaborations with the CEM Hydrogen Initiative and others.
Finally, the Solutions Center resource library serves as a robust online knowledge portal for thousands of world-class clean energy publications and resources—including policy best practices, data, and analysis tools.
"When it comes to realizing a worldwide energy transition and avoiding the worst impacts of climate change, every moment counts," Horner said.
"Rather than every country reinventing the wheel for themselves, the Clean Energy Solutions Center can share expertise directly, free of charge, with the countries that need it most."
How To Get Involved
Join the Solutions Center mailing list for invitations to future webinars.
Submit your own Ask an Expert request or apply to join the expert network.
Visit the Solutions Center website and explore the resource library.