Building the 2030 National Charging Network
NREL Study Identifies Nationwide Charging Needs for Accelerating EV Adoption
---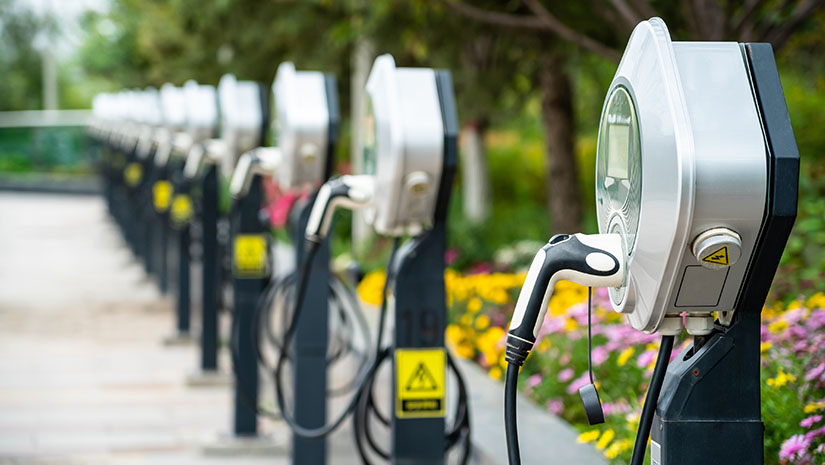 Nearly 70 years ago, the United States began construction on the Interstate Highway System, setting in motion an effort that has been called the greatest public works project in American history. Now, the country's next great public works project is underway: an electric vehicle (EV) charging network that will reach the farthest corners of the nation, helping to make convenient, reliable, and affordable charging a reality for all Americans.
But while plans for the nation's highways began with a booklet of paper maps, plans for the national EV charging network are leveraging data models and high-performance computing to draw the contours of the nation's infrastructure needs. These plans will be shaped by a seminal study from the National Renewable Energy Laboratory (NREL), which has been at the forefront of assessing EV charging needs and developing state-of-the-art analytical tools for over a decade.
In the study, researchers estimated the number, type, and location of chargers needed to create a comprehensive network of EV charging infrastructure, one that can support an anticipated 30–42 million EVs on the road by 2030.
NREL Analysis Supports U.S. Administration's Clean Energy Goals
Between ambitious federal clean energy policies, pledges by automotive companies to transition to zero-emission vehicles, and accelerating consumer demand for EVs, analysts have projected that by 2030, EVs could account for 30­­–42 million light-duty vehicles on the road. Now, NREL researchers have released The 2030 National Charging Network: Estimating U.S. Light-Duty Demand for Electric Vehicle Charging Infrastructure, a quantitative needs assessment for a national charging network capable of supporting the U.S. transition to EVs.
The study was created in collaboration with the Joint Office of Energy and Transportation (Joint Office) and the U.S. Department of Energy's Vehicle Technologies Office. In turn, it will support the Joint Office's work to deploy a network of EV chargers, zero-emission fueling infrastructure, and zero-emission transit and school buses nationwide. As the Joint Office works with all 50 states, Washington, D.C., and Puerto Rico to develop state- and community-level plans for EV charging infrastructure, the study's findings will fuel the office's vision of building a future where "everyone can ride and drive electric."
"The 2030 National Charging Network study ties together two of the administration's priorities: building a national EV charging network and working toward the 2030 goal for the majority of all new car sales to be battery-electric vehicles," said Gabe Klein, executive director of the Joint Office. "It's a framework for what is needed nationally, in terms of the types of charging required, their number, and where those chargers should go."
Learn fast facts about the 2030 National Charging Network report, which shows the infrastructure needed to support 30–42 million EVs on the road by 2030.
To Build an EV Network, Start With Data
Estimating the EV charging infrastructure needs of an entire nation required NREL researchers to consider a vast array of data—from projecting drivers' typical charging needs and EV adoption rates 7 years into the future to examining how different climates across the United States might affect energy requirements. The result is a framework with a never-before-seen level of detail, focused on low-, medium-, and high-adoption scenarios where 30–42 million EVs drive U.S. roads by 2030.
The study's "mid-adoption scenario" considers 33 million vehicles on the road by 2030, according to NREL's Eric Wood, a senior EV charging infrastructure researcher who led the study's research team.
"The framework we built for the 2030 National Charging Network study exhaustively considers how people in the U.S. use light-duty cars to travel, what their energy needs are for that travel, and how we can meet those needs, given projected EV adoption rates," Wood said. "But what really makes the framework novel is the ability to create infrastructure estimates for specific locations using detailed transportation data. This enabled the team to answer questions like: How will EV adoption in neighboring states impact the demand for public fast charging along highway corridors in my area? And how might that out-of-state demand compare to charging needs from residents in my area?"
"Together," Wood continued, "the study's data create a snapshot of what we think an EV charging network would need to look like by 2030 to support 30–42 million passenger EVs."
That "snapshot" captures the many ways Americans travel—including commuting, running errands, using ride-hailing apps, and taking long road trips—and estimates the energy demands for each.
For instance:
And rather than creating a one-size-fits-all approach to charging, the study considers the realities of life across the United States: differences in weather, housing types, travel behaviors, and preferences in charging options.
For instance, EV drivers in very hot climates, like Arizona, and in very cold climates, like North Dakota, may both see their cars' charging speeds and range impacted by climate. Drivers living in areas with more EVs, like Southern California, may have to grapple with busier charging stations. The researchers even factor in bad charging etiquette: the slowdowns that occur at charging stations when drivers neglect to unplug and move a fully charged car.
This detailed region-specific analysis, Wood said, is now available to states and communities, who can break out the estimates for their area and use the data to guide local investments into EV charging infrastructure.
"City-to-city differences in climate, travel patterns, housing, charging preferences, and demographics aren't considerations captured in other infrastructure assessments that we've seen," Wood said. "We believe that making that data publicly available, and having it customized to each of these regions, will prove pivotal as cities work to determine their network needs."
Key Findings for the Future EV Network
The 2030 National Charging Network report finds that to support a mid-adoption scenario of 33 million EVs on the road by 2030, the nation will need 28 million charging ports. Because EV drivers strongly prefer the convenience of overnight charging, private residential chargers will form the core of the national ecosystem, but they will need to be complemented with reliable public fast charging.
Researchers project the national charging infrastructure will require:
182,000 publicly accessible fast charging ports to enable long-distance travel and ride-hailing electrification and to support those who lack access to residential charging.
1 million Level 2 charging ports at publicly accessible locations—including high-density neighborhoods, office buildings, and retail outlets.
26 million Level 1 and Level 2 charging ports at privately accessible locations—including single-family homes, multifamily properties, and workplaces.
According to Wood, one of the study's key takeaways is an understanding of what it will take to build the EV charging network of the future.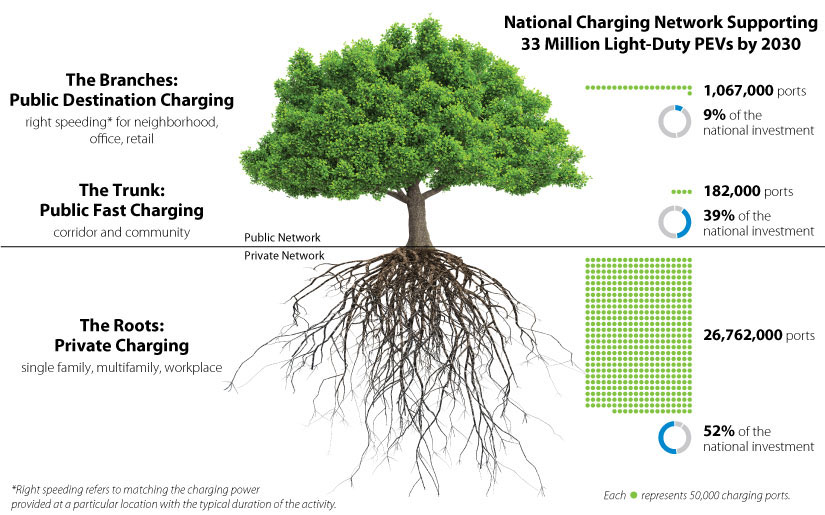 "In just the past few years, we have seen historic investments into national EV infrastructure, including the National Electric Vehicle Infrastructure Formula Program and the Charging and Fueling Infrastructure Discretionary Grant Program, both of which are supported by the Joint Office," Wood said. "At the same time, the study reinforces the notion that we're going to need to continue to work together—both public and private entities—to build the national network that we'll need for 2030 and beyond.
"The great news is that now we have detailed estimates of what infrastructure will be needed," Wood continued. "American drivers' interest in electric vehicles is accelerating year over year, and we're already seeing the market respond with new investments to meet that rising demand. Key players in this space—from automakers, charging providers, local governments, and utility companies to retailers, real estate developers, and private firms—can all see this as motivation to keep going, with insights from the 2030 National Charging Network report to help them target the needed infrastructure."
Estimates Change, but Impact Lives On
Of course, the national charging landscape has changed dramatically, even since Wood's team published their first national EV charging analysis in 2017. Depending on variables as diverse as the changing cost of EVs, technology adoption curves, and even Americans' preferences for large cars, the estimates of the study will likely change.
But according to Klein, while estimates change, impact lives on.
"The 2030 National Charging Network study is a crystal ball reflecting a moment in time," Klein said. "You might look into the crystal ball a year from now and see something slightly different. But the work of this study is generated by such a sophisticated set of models that it will continue to be relevant. It can be updated with future assumptions and can track aspects of the charging network and of infrastructure as they evolve.
"The fundamental contributions that Eric and the team at NREL have made will outlive the study," Klein continued. "They will likely go on to shape policy and programs for many years to come."
Learn more about NREL's sustainable transportation and mobility research and the work of the Joint Office of Energy and Transportation. And sign up for NREL's quarterly transportation and mobility research newsletter, Sustainable Mobility Matters, to stay current on the latest news.