Athena ZEV Takes Up Challenge of Electrifying Airports and De-Risking Investment
Next Phase of Athena ZEV Focuses on Electrifying Rental Car Fleets
---
Aviation emissions contribute sizable impacts to air quality in and around airports, with the sector accounting for nearly 8% of all transportation-related greenhouse gas emissions (GHGs). Identifying solutions to electrify airport operations and prioritizing energy efficiency will be crucial to decarbonizing the U.S. transportation system through sustainable and clean energy sources.
Athena, a collaborative effort funded by the U.S. Department of Energy's (DOE's) Vehicle Technologies Office (VTO) and led by DOE's National Renewable Energy Laboratory (NREL) in partnership with Oak Ridge National Laboratory, was launched in 2018 to help transportation hubs—including Dallas Fort Worth International Airport (DFW)—integrate and adapt to transformative technologies that support ambitious energy and climate goals.
The next phase of Athena—referred to as the Athena Zero-Emissions Vehicles (Athena ZEV) project—aims to electrify transportation and de-risk airport investments, with an initial focus on rental cars. The project was officially launched in August at DFW, where NREL researchers leading Athena ZEV efforts convened with a diverse array of stakeholders and project partners.
As electric vehicles (EVs) become a larger part of rental fleets, taxis, and airport ground transportation, the operational and infrastructure challenges to decarbonizing DFW's airport operations will become increasingly complex. Identifying the charging infrastructure solutions and strategies needed to support the megawatt-scale high-power charging needs for rapid rental car electrification at airports will require finely tuned optimization through integration of advanced controls, renewables, energy storage, and flexible building loads.
"Rental car companies have announced aggressive fleet electrification goals, and roughly half of all rental cars originate from and are returned to airports," said NREL's Monte Lunacek, a senior data science researcher involved in the first phase of Athena who will also co-lead the subsequent effort. "Our initial analyses show that high-power EV charging to enable rapid rental car turnover could create a peak load of 10 MW or higher—equivalent to powering an additional terminal at most airports. This highlights the need for innovative solutions."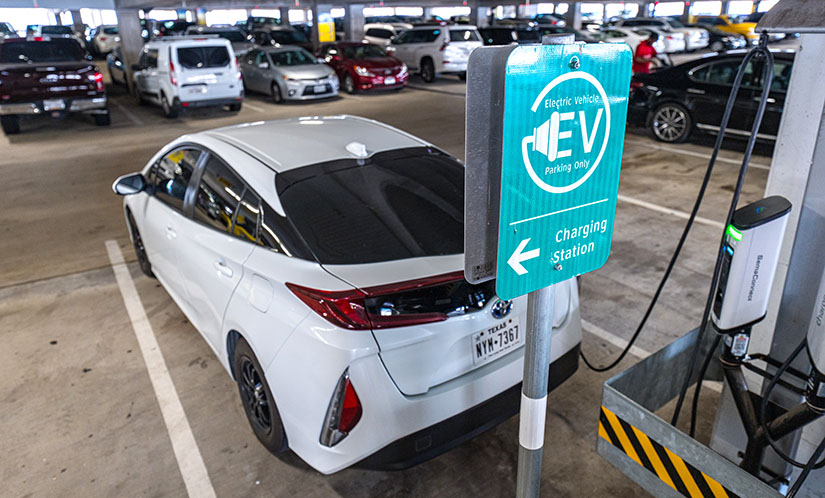 Athena ZEV To Drive Airport Electrification
Through the initial phase of Athena, NREL researchers created data-informed models of current and future mobility requirements to offer DFW decision-making support and actionable insight for deploying efficient and affordable transportation. As part of that effort, researchers also used machine learning and real-time data collection from a wide range of sensors to create a "digital twin" of DFW roadways and transportation systems. This allowed them to simulate the impacts of real-world conditions on energy needs and traffic and forecast sustainable solutions.
The operational and infrastructure considerations for decarbonizing airports are complex, so Athena ZEV will leverage key national laboratory resources to understand the sophisticated landscape. Among the project's considerations, analysis will consider electrical system upgrades required to accommodate charging needs, charging strategies aimed at minimizing costs, and rental car turnaround times for customers.
Under Athena ZEV, NREL researchers will continue building on past insights to meet increasing energy demands from the electrification of DFW's rental car fleets. New to the second phase, Athena ZEV will leverage NREL's powerful ARIES platform, previous DFW digital twins for buildings and transportation, and NREL's state-of-the-art charging infrastructure analysis tools. These will allow researchers to configure cost-optimal, behind-the-meter energy storage and solar photovoltaic systems based on the climate, building type, and utility rate structure of potential EV charging sites to de-risk investments and minimize costs and grid impacts.
"The ARIES research platform provides the unique ability to validate megawatt-scale solutions before any money is spent on actual buildout," said John Farrell, NREL's laboratory program manager for vehicle technologies. "ARIES provides the ability to ensure smart investments, as well as identify solutions that can be readily extended to other airport vehicle electrification initiatives."
Athena ZEV takes an ecosystem approach to evaluating the energy and charging needs to advance transportation electrification across all modes of transportation at an airport. This approach includes evaluating charging needs for shuttle bus fleets, rideshare, freight, electrified aircraft, and ground service equipment.
Importantly, the technology solutions and tools developed for Athena ZEV will be widely replicable and transferrable to other airports, seaports, and related operations to accommodate rapid vehicle electrification.
Partnerships To Decarbonize Transportation and Energy
The spirit of partnership was contagious at the August kickoff meeting at DFW headquarters when NREL researchers met with several dozen partners and stakeholders to discuss Athena ZEV's electrification opportunities for airports. Leaders from the North Central Texas Council of Governments, DFW, the American Car Rental Association, Airports Council International, and other organizations offered valuable insights about the related opportunities and challenges.
"These diverse stakeholders bring unique perspectives on what it's going to take to electrify transportation and how to work together to overcome challenges and drive innovation," said Alycia Gilde, VTO's national manager for ZEV partnerships and engagement. "Understanding how we can collaborate to advance a zero-emission transportation ecosystem at an airport like DFW will be incredibly important for opportunities of replication and speeding up the pace of adoption."
Partner input and guidance helped make the first phase of Athena successful, and Athena ZEV will be no different.
During the meeting, Michael Berube, DOE's Deputy Assistant Secretary for Sustainable Transportation and Fuels, further highlighted the need for partnerships and detailed planning to decarbonize transportation and energy.
Tools and Insights Deployed Around the Nation
Athena ZEV will focus on solving challenges at DFW and will also collaborate with other airports nationally to evaluate best practices and scalability of different approaches and solutions for airport electrification. The tools and resources developed as part of Athena ZEV must support broader replication to enable the timely integration of high-power charging infrastructure.
"Athena has always been about creating impact—demonstrating solutions that can help our airport partners at DFW, while also working to make tools and insights available to other U.S. airports, seaports, and beyond" Farrell said. "The project aims to develop accessible tools that can be used by any airport interested in achieving decarbonization goals through economically viable solutions."
While NREL will supply the tools and technological expertise to support airport electrification, partnerships and stakeholder buy-in will be equally important. An Athena ZEV advisory board is currently being formed to identify project outcomes and inform future tool development.
"There's no doubt our partners will help make this project successful," Farrell said. "Airport electrification is key to a sustainable energy future, and we need to bring everyone along for the ride."
Contact Monte Lunacek or visit the Athena ZEV website to learn more. Athena ZEV is a project of NREL's sustainable transportation and mobility research, computational science research, and supported by the sustainable aviation project. Sign up for NREL's quarterly transportation and mobility research newsletter, Sustainable Mobility Matters, to stay current on the latest news.