Solutions Emerge for Decarbonizing Historically Difficult Off-Road Vehicle Sector
---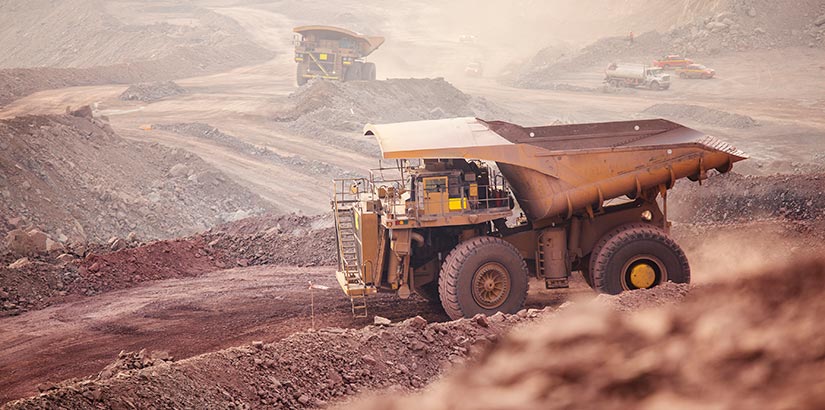 Nothing says "fossil fuel" like a 400-ton mining rig, but that reality may be fading behind in the dust as the off-road vehicle sector strives for carbon-free operation.
At a three-day workshop hosted by the National Renewable Energy Laboratory (NREL), industry and government stakeholders discussed common challenges and strategies to decarbonize the off-road sector, consisting of construction, mining, military, and agricultural industries. The workshop, titled "NREL Off-Road Decarbonization and Energy Systems Integration Workshop: Challenges and Opportunities," initiated close collaboration in a sector known for demanding projects and dubbed "hard to decarbonize."
"The pathways to decarbonize are highly unique in the off-road sector," said Ken Kelly, NREL's chief engineer for commercial vehicle electrification in the Center for Integrated Mobility Sciences. "We organized this workshop to gather solutions and challenges to inform pre-competitive RD&D opportunities, so that the entire sector can work together on critical issues."
While electric vehicles are rapidly expanding in light- and medium-duty markets, the transition can be rockier for off-road. These vehicles tend to be larger—among the largest on earth—and built for the extreme. Think of a tactical truck at military frontlines or a combine that cuts 30-foot swaths through an agricultural field. Off-road vehicles sometimes run 24 hours a day for years, performing specialized tasks in remote and severe environments.
"The challenges go beyond replacing today's diesel vehicles with zero-emission versions and installing charging stations," said Matthew Thornton, program manager in the Center for Energy Conversion & Storage Systems at NREL. "There is a more complex need to understand and match vehicle technology options with the work requirements while also integrating with clean energy systems at remote sites."
Still, the workshop hummed with crosscutting solutions. Presentations came from vehicle manufacturers, utilities, government offices, researchers, regulatory agencies, trade associations, and project developers. Despite the broad applications that differentiate industries, the workshop's 70-plus participants arrived at common areas of importance, which are described in a follow-up report: "Off-Road Vehicle Decarbonization and Energy Systems Integration: R&D Gaps and Opportunities."
The primary needs for accelerating decarbonization are captured below.
Collaboration
There is an imperative for the off-road vehicle sector to maintain ongoing stakeholder collaboration and to keep on a rapid path toward decarbonization. The U.S. Department of Energy and national laboratories are crucial in their capacity to provide technical assistance and access to critical data. The U.S. government will continue to play a central role in convening diverse stakeholders, conducting foundational precompetitive research, development, and deployment, and coordinating case studies and technology validations. These projects create precious data for benchmarking costs and performance, which drives product development and system operations.
"The national laboratories play an important role in evaluating the potential of advanced powertrain and fuel solutions for this sector and accelerating their development," said Steve Berry of the Truck and Engine Manufacturers Association. "They also bring a wealth of knowledge and experience to the assessment of total life-cycle environmental impacts of competing technologies. These activities help to bring industry and policymakers together to achieve common goals."
Off-road companies acknowledged the need for diversity and community engagement. Collaboration beyond industry can enrich projects with a wider societal perspective and range of expertise. In preparing for future integrated energy systems, companies share the responsibility in creating education and workforce opportunities for diverse talent.
Optimal Powertrains and Energy Systems Integration
The off-road vehicle sector has few one-size-fits-all solutions, a quality that opens the door to more creative integration. Given the range of technologies on the table—e.g., battery electric and fuel cell vehicles, hydrogen and bio-based fuels, battery storage, and on-site renewable energy—as well as the range of applications, the off-road sector has an opportunity to design unique, optimized energy systems. Designs will center around the balance between diverse technologies, customer needs, and regulatory requirements.
Several workshop attendees shared case studies of lower-carbon operation through innovative scheduling and the integration of energy assets. An important R&D goal will be to develop and de-risk strategies that can be replicated and customized. For example, setting equipment charge times and cycling to coincide with, and smooth out, variable renewable supply is an integration strategy that could be customized according to a project's setup.
In some cases, integration extends beyond the site. Construction projects in particular could tie in to the power grid, which raises questions about how to coordinate and schedule charging with the utility and within a community. Another example that emerged included integrating agriculture operations with biogas systems like digesters, upgrading the waste to fuel. To explore at-scale integration opportunities in a collaborative setting, NREL's Advanced Research on Integrated Energy Systems (ARIES) platform can become a key capability.
Fuels
Many off-road decarbonization efforts to date have relied on substituting biofuels into conventional diesel engines. This is an important near-term pathway for decarbonizing the large stock of existing off-road equipment. However, the supply of biofuel is well short of what is needed to decarbonize the entire transportation sector. While manufacturers can tweak drivetrain designs to match low-carbon fuel types, development of electrified powertrains may provide new opportunities for decarbonization. Military and industry participants discussed their next-generation vehicles powered by batteries and fuel cells. Government research capabilities can help overcome the techno-economic barriers for electric vehicle equipment.
Hydrogen is a promising decarbonization option as well, not least because it can be renewably produced on-site via electrolysis and therefore can serve both energy storage and fuel pathways. Hydrogen production is already underway in mining applications, opening questions about integration pathways, on-site storage options, and more. As costs continue to fall, hydrogen could become a dependable fuel source in the long term, alongside renewable energy and battery storage.
However long-term decarbonization plays out, upfront costs are expected to dictate projects, as capital investments in energy resources substitute for spread-out fossil-fuel purchases. This shift in total cost of ownership—now complicated by the diversity of technologies and best-fit solutions—is another cross-sector challenge that government research can help assess in collaboration with industry.
Next Steps
Feedback from the workshop is now resonating within the Department of Energy where it will help shape the future of research, development, and deployment projects. With the off-road sector widely behind in meeting decarbonization goals, meaningful progress will continue only with collaborations that consider all stakeholders and provide pre-competitive knowledge for all industries.
Learn more about NREL's sustainable transportation and mobility research. And sign up for NREL's quarterly transportation and mobility research newsletter, Sustainable Mobility Matters, to stay current on the latest news.