Solar Desalination Prize Round 2 Semifinalists Announced
Six Teams Named Semifinalists at the Conclusion of the Prize's Teaming Contest
---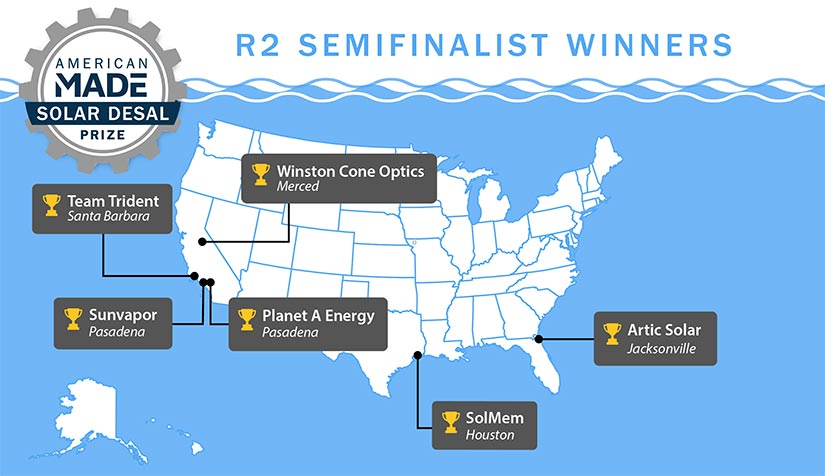 The U.S. Department of Energy (DOE) has named six semifinalist teams with innovative solar-thermal desalination system concepts in the Solar Desalination Prize Round 2. The semifinalists, determined during the Teaming Contest, were announced on April 22 at the American-Made Earth Day Celebration and will now enter the Design phase of the prize.
The Solar Desalination Prize is a competition designed to accelerate the development of systems that use low-cost solar-thermal energy to produce clean water from otherwise unusable stores of highly saline water, such as water produced from oil and gas extraction. This water typically has a salt content that is too high for commercially available desalination technologies, but solar-thermal desalination can be a viable solution for treating this water, even in remote locations. The clean water produced can be used for drinking water, agricultural and industrial uses, or low-cost surface discharge.
DOE launched the second round of the Solar Desalination Prize in April 2021 in response to high interest and continued opportunities for technology development. The prize is structured in four phases, and during the recent Teaming phase, competitors were challenged to form teams, refine plans for a fully operational solar-thermal desalination system, and demonstrate that their group had the necessary expertise and resources to build an operational prototype of their concept. Judges evaluated the teams' progress and identified the six teams with the most innovative, viable plans before announcing the semifinalists.
Each semifinalist team was awarded $250,000, along with $100,000 in vouchers that can be redeemed at a national laboratory and/or qualified partner facility. This funding will allow the teams to advance their innovations during the Design and Test phase, where they will complete detailed designs of their systems. The teams have up to three years to demonstrate and test their systems.
The semifinalist teams are as follows:
Artic Solar: Engineered Solar-Thermal Osmosis
Jacksonville, Florida
Planet A Energy: Solar Heat Collector With Built-In Storage
Pasadena, California
SolMem: Solar Near-Zero Liquid Discharge (NZLD)
Houston, Texas
Sunvapor: Solar Cascading Evaporation Process
Pasadena, California
Team Trident: Temperature Swing Solvent Extraction for Zero Liquid Discharge (TSSE-ZLD) Treatment of Produced Water
Santa Barbara, California
Winston Cone Optics: Portable Optics for Solar Heat
Merced, California
Learn more about the semifinalist teams' technologies from the DOE Solar Energy Technologies Office.
The White House Office of Science and Technology Policy has identified desalination as a critical part of the national strategy to enhance water security.
"Worsening drought conditions throughout the U.S.—largely a result of climate change—are making technologies like the ones we're seeing from Solar Desalination competitors imperative for the future of our planet," said Sarah Gomach, American-Made Challenges (AMC) prize lead. "Creating scalable solar-thermal powered desalination systems can advance water security at a variety of levels, from small, modular systems easily deployed in remote areas to large, industrial-scale systems that provide communities with reliable water supplies."
The important mission behind the Solar Desalination Prize recently caught the attention of entrepreneur Anthony Wood, founder of the Wood Next Fund, who donated $300,000 to support the design work of semifinalists in Round 1 of the prize competition (competitors in the Waves to Water Prize also received a portion of the funding).
The Solar Desalination Prize is one of more than 30 prizes in the AMC program, a series of competitions focused on attracting the nation's entrepreneurs to help strengthen American leadership in energy innovation and domestic manufacturing. Competitors have access to the American-Made Network, a group of national laboratories, incubators, investors, and industry experts that provide industry expertise, access to private capital, and local capabilities to accelerate the development and commercialization of competitors' innovations.
The Solar Desalination Prize Round 2 is sponsored by the DOE Solar Energy Technologies Office and is administered by the National Renewable Energy Laboratory. Follow the teams' progress by visiting the HeroX website, following @AMCprizes on Twitter, or signing up for the American-Made Challenges Newsletter.