Q&A With Stephanie Bostwick: Capacity Building and Energy Sovereignty for Tribal Nations
---
Different communities bring different priorities to the table when visualizing their clean energy futures. Motivations range from lower utility bills, to increased resilience in storms, to improving air quality or health.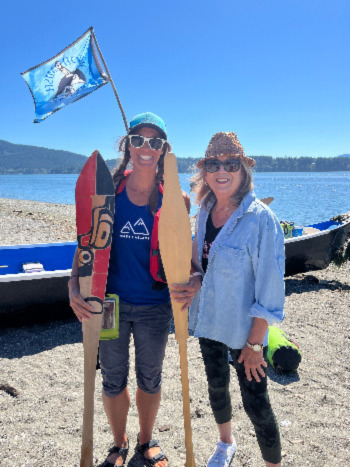 For Stephanie Bostwick's American Indian partners, the primary concern is energy sovereignty. Bostwick is a National Renewable Energy Laboratory (NREL) project manager in the Energy Security and Resilience Center's Resilient Systems Design and Engineering group who supports technical assistance for tribal nations as well as resilience assessments for federal partners.
Bostwick is a member of the Amskapi Pikuni, also known as the Blackfeet Nation. For Native American Heritage Month, she explains why building a tribal workforce is critical to ensuring that thoughtful decisions are made and that tribes are able to employ their own members to construct and maintain renewable energy systems.
How did you come to work with the American Indian population?
My technical background is in aerospace engineering, and I spent years working at Raytheon and a few other space companies. But in 2013, I quit industry to start teaching, and I was eventually asked to develop an engineering program at Northwest Indian College in Bellingham, Washington. At the college's main campus, located on the Lummi Nation Reservation, more than 75% of students come from a federally recognized Indian Tribe, representing 113 different tribal nations.
When did you begin to focus on renewable energy?
Lummi Nation was integrating solar energy and other renewables into their energy system, so I included renewable energy, smart grids, and microgrids in my curriculum to support their goals. The engineering student interns have already completed two microgrid feasibility studies, one for the Lummi Nation and one for Northwest Indian College. They plan to apply for implementation funding in fall 2022.
You first came to NREL through the Visiting Faculty Program in the summer of 2021. How did that experience contribute to your work at Northwest Indian College?
Through my fellowship, I learned to use NREL's suite of decision support tools. The feasibility analysis for the Lummi Nation and the college used the Renewable Energy Integration and Optimization (REopt®) tool, the companion Building Energy Optimization (BEopt™) tool, and the PVWatts® Calculator for estimating the performance of potential solar photovoltaic (PV) installations. The engineering students who were trained in these tools have also compiled presentations to help instruct future interns. I really want that knowledge to be passed down from one student to another.
What is something about working with tribal nations that our readers might not know?
Anytime you apply for a grant for a project with a tribe, the Nation must pass a resolution at a Tribal Council meeting. Lummi community members were very engaged in the process of assessing microgrid opportunities. Using some of NREL's techno-economic analysis platforms, I was able to help illustrate the potential impacts, both positive and negative, that renewable energy would bring to the Nation as a whole. Sovereignty was a top concern they expressed.
What is energy sovereignty?
Energy sovereignty means that tribes can choose how to generate power to sustain their communities, and in doing so, they maintain their responsibility to the natural world—keeping it in balance. Sovereignty can't be achieved overnight, but we help tribes move toward that long-term goal. For example, we can start with a microgrid for energy resilience, then move toward integrating more generation capacity so the community is not just surviving an outage but meeting all its energy needs.
An important step is building up the workforce. To keep the economic investment in the Nation, it's important that we train community members to not only design and build the system but also maintain it. The engineering program I developed with Northwest Indian College offers internships and opportunities for students to participate in every step of the process.
What are the goals of your work, and how does it impact people?
Several of my projects involve broad stakeholder engagement. As a technical lead for the Communities LEAP (Local Energy Action Program) Pilot sponsored by the U.S. Department of Energy, I have been working with the Columbia River Inter-Tribal Fish Commission to carry out its energy vision for the river basin. I'm working on Communities LEAP through NREL's State, Local, and Tribal Program, which supports the development of equitable, affordable, and resilient energy systems that are driven by the local community.
There is an approach of technical assistance where experts come in to do the work for the community instead of with the community. At NREL, we offer participatory workshops and training, and we invest in developing accessible and user-friendly interfaces for our tools, so community partners can independently manage the project once we leave.
What ways do you connect with your American Indian heritage outside of work?
I have been canoeing since I was about three years old. Today, I paddle with the sbəq̓ʷaʔ gwith abs—the Blue Heron Canoe Family. Every summer there is a gathering of all the Northwest Coast and Coast Salish Tribes, with people coming from every direction. There is song and dance, sharing of meals and stories, and a coming together to celebrate our community and culture. For an entire century, American Indians were banned from canoeing, so it remains a powerful tradition for Indigenous people. Each canoe family departs from a different port, but our routes intersect until we number more than 100 canoes at the final landing. We meet with communities along the way and teach people about local Indigenous history. We explain why we go on a canoe journey and how it serves to revive and maintain our culture. Last year, I became the first female skipper of the Blue Heron Canoe Family.
Learn more about NREL's support for state, local, and tribal governments in developing clean energy strategies.