JUMP Into STEM Celebrates 5 Years of Enriching Building Science Education
Nationwide Competition Releases New Student Challenges Seeking Building Solutions Across Electrification, Decarbonization, and Resiliency
---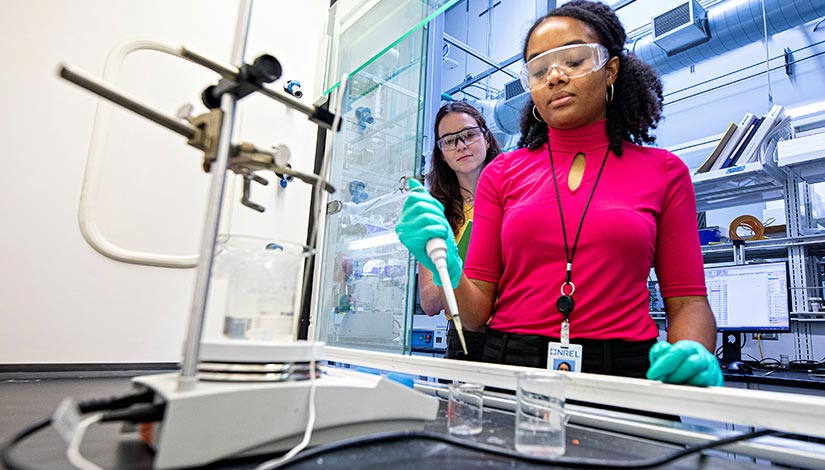 The future of buildings—constructing new ones and transforming existing ones—will serve as a cornerstone of a decarbonized society. JUMP into STEM is designed to inspire the next generation of building scientists to help address critical challenges with innovative ideas and fresh perspectives.
Now in its fifth year, the growing collegiate competition invites student teams with a mix of majors across architecture, engineering, public policy, computer science, economics, and more to compete in challenges relevant to today's building industry.
2022–2023 JUMP into STEM Challenges
It's Electric
Seeking methods to electrify buildings to achieve decarbonization objectives. Includes developing or enhancing equipment to replace the use of fossil fuels with electric-based alternatives. Students can also focus on modernizing the electric grid or enhancing building infrastructure to streamline the electrification process.
Curb Your Carbon
Challenging teams to develop innovative solutions to reduce carbon emissions from buildings and/or from the manufacturing, maintenance, and disposal of building materials. Teams can also focus on innovative designs and materials that capture and store carbon to significantly reduce the greenhouse gas.
Sustainable and Resilient
Exploring novel technical solutions to improve the resilience and sustainability of the built environment—including new and existing buildings and surrounding infrastructure—to enable underserved communities to adapt, persist, and recover from extreme weather and persistent stress.
This year's challenges focus on electrifying, decarbonizing, and increasing resiliency of the built environment. Challenges are now open, and submissions are due on November 11. Winners will be announced in December and will be invited to the Final Competition at the National Renewable Energy Laboratory (NREL) in January 2023.
"We are thrilled to see this competition grow. Over the past two years, the number of team submissions has more than doubled," said Kim Trenbath, innovation lead for systems technology research and development in the Building Technologies and Science Center at NREL. "We look forward to furthering our mission of opening the door to building science for students with diverse majors and backgrounds."
Big Ideas Deserve Big Prizes
Following the Final Competition, eligible students on winning teams will be offered 10-week, paid internships at NREL, Oak Ridge National Laboratory, or Pacific Northwest National Laboratory, where they will gain hands-on experience, receive mentorship, and have the chance to meet industry experts.
New this year, JUMP into STEM is offering an industry partner visit. The pilot program will include two days of on-site industry experience for selected JUMP into STEM interns. Focused on illustrating the role and capabilities of industry in the commercialization process, the industry partner visit is anticipated to include in-person tours, networking sessions, and unique engagements specific to the partner.
Clayton Homes, three-time JUMP into STEM sponsor and the largest builder of manufactured housing and modular homes in the United States, will help pilot the program.
"Through JUMP into STEM, I've had the opportunity to see the growing amount of building science education and exposure to this field available to college students," said Gavin Mabe, senior director of engineering operations for Clayton Homes and previous JUMP into STEM judge. "I have been amazed by the level of research and amount of building science detail from the students as they showcase their solutions to the challenges facing the industry."
Mabe and his team at Clayton Homes are looking forward to hosting a JUMP into STEM intern next summer.
"The on-site student visit will allow more of a one-on-one dialogue in which an intern will get to see our world and be immersed in our environment. We're going to help them learn about working on the industry side, but I also can't wait to see what questions they have for us," he added. "We're always looking for new materials and processes in future building design and construction. So, seeing firsthand how these students are thinking about these challenges helps us generate new ideas, think outside the box, and expand our imaginations."
Want To Get Involved?
JUMP into STEM is seeking sponsors who will work closely with NREL and other stakeholders to make the competition a success.
Sponsorship funds are crucial to allow for the inclusion of more student teams in the final competition, as well as expansion of the reception, activities, and other benefits for final event attendees and challenge winners. To learn more about the benefits and rewards of becoming a JUMP into STEM sponsor, contact Kim Trenbath.