Ten Innovative Teams Emerge Victorious in Round 4 of the American-Made Solar Prize
Finalists Are Set for the Last Contest in Round 4 of the Solar Competition
---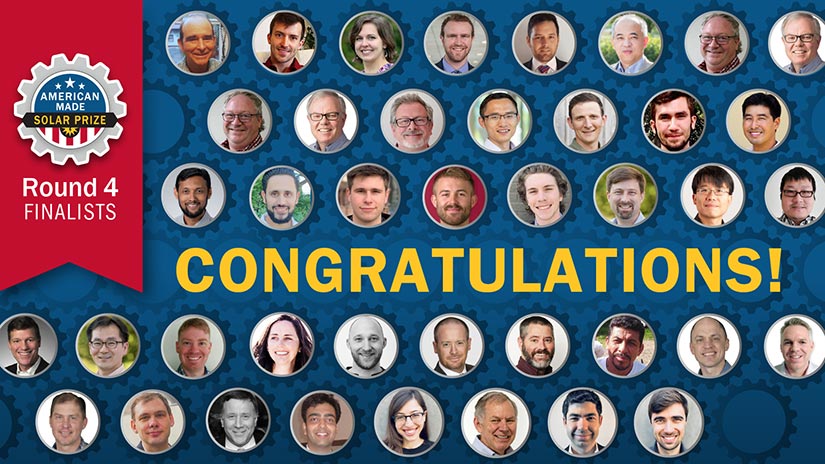 On April 9, 2021, the U.S. Department of Energy announced 10 finalist teams that are moving forward in the American-Made Solar Prize Round 4 competition.
The $3 million American-Made Solar Prize competition encourages bright minds to deliver technology innovations in the solar manufacturing space, contributing to a better, more reliable, and resilient solar future. Teams identify a critical solar manufacturing challenge, create a proof-of-concept, and secure a partner to test a prototype.
The Solar Prize competition spans three stages: the Ready!, Set!, and Go! contests. Teams pitch their ideas at national demonstration events, known as Demo Days, where panels of experts evaluate the quality of the proposed solutions and teams' progress.
In December 2020, 20 semifinalist teams moved from the Round 4 Ready! Contest to the Set! Contest, which concluded with the virtual Round 4 Set! Demo Day. Before determining the finalists, a panel of industry experts reviewed the teams' pitch videos and conducted a 10-minute question-and-answer session with each team to discuss their innovations in more detail.
After months of diligent work and a competitive Set! Demo Day, these talented teams each received $100,000 in cash prizes and $75,000 in support vouchers to use at national laboratories and other partner facilities to continue advancing their innovation from proof-of-concept to prototype. The 10 finalist teams will now move on to compete in the final stage of the competition, the Go! Contest.
"The timing could not be more critical for these finalists to be advancing their solar businesses, because we need to rapidly deploy more solar in order to achieve our clean energy goals," said Garrett Nilsen, deputy director of the U.S. Department of Energy Solar Energy Technologies Office. "The American-Made Solar Prize is a vehicle to quickly refine and potentially commercialize these innovations, helping make solar accessible to all Americans."
Congratulations to the Solar Prize Round 4 finalist teams:
Team AeroShield Materials, Aerogel Insulated Solar Collector for Process Heat: This team is developing a flat-plate solar-thermal energy collector system that operates at more than 150 degrees Celsius with efficiencies greater than 60%. Transparent aerogel insulation enables this performance, minimizes heat loss, allows for simpler receiver design, and reduces cost.
Team Cool Tech Solar, Solar Panel with Heatsink: This team is creating a nano-textured heatsink material that can be applied to the back of a solar panel. The heatsink's structure increases the surface area, helping the panel dissipate heat and lowering its peak operating temperature. The lower temperature will increase power production from the panel and may allow the solar panel to last longer.
Team Energy for All, Saving Solar Power: This cell-level battery management and reconditioning device decreases battery degradation and extends the life of new and recycled batteries by up to 30%. This improves the lifetime, performance, and cost of PV storage systems and enables repurposing of used batteries.
Team Hawaii Innovation Laboratory, Room Temperature Metal Coating for CSP Mirror: This team's room-temperature liquid metal alloy makes highly reflective films targeted for use in concentrating solar power (CSP) parabolic troughs for industrial heat applications. Their process uses spray coating, which is easier and less expensive than existing methods for making mirrors.
Team NanoSpray, NanoSpray: Low Cost Solutions for Back Contacts: This team is developing a highly conductive, spray-coated back contact for cadmium telluride solar panels, to reduce costs and increase efficiency.
Team Pellucere Technologies, MORE POWER LESS DIRT: This team is developing a nanostructured silica shield that can be applied to the front of a solar panel and prevent the buildup of dirt and other particulates to increase energy yield. By developing a robotic surface treatment and coating application process, the team can provide the shield as a retrofit solution.
Team Rocking Solar, Rocking Solar Tracker: This tracker system is designed to reduce a PV system's weight and number of required roof penetrations, so that more commercial and industrial rooftops can host a photovoltaic (PV) system. This system tracks the sun using a rocking motion, like a rocking chair, eliminating bearings and hinges from the support frame that require roof penetrations.
Team Superclean Glass, Boosting Energy Yield from Dusty Solar Panel: This team uses an electro-dynamic shield to repel dust particles from solar panels, increasing the energy production and decreasing the need for panel washing. The dust particles are repelled by creating a strong electric field, that can save up to 98% of PV energy lost due to soiling.
Team the r&d lab, Roofing for the Sol: This team is designing a new residential metal roofing product that makes solar roofs more aesthetically pleasing. This product will color-match the roof to the PV panels, increase the speed of installation, and provide an integrated solar roofing product where the lifespan of the solar and roof components match.
Team Urban Energy, Urban Energy Solar Canopy: This team has developed a rooftop solar-canopy racking system that avoids roof penetrations and increases the possible system size over a standard rooftop PV system. This application is targeted at multi-family buildings, which, with current technology, often do not have economically feasible solutions to add solar to their buildings.
"The Round 4 teams showed immense growth in preparing their proofs-of-concept in the Set! Contest," said Solar Prize Administrator Sarah Gomach of the National Renewable Energy Laboratory. "The competition is going to be tough this round as we move into Go!. I can't wait to see how the finalists further develop their prototypes and develop partnerships over the next several months."
The 10 finalists will present their technologies one last time at Go! Demo Day in September 2021. Ultimately, only two teams will win the final prize, each receiving $500,000 in cash prizes and $75,000 in support vouchers to help them bring their technology to market.
Watch the finalists' progress into the last stage of the competition on the Solar Prize Round 4 HeroX website. You can also follow @AMCprizes on Twitter for competition news and updates.