Sakshi Mishra Named One of Forbes' 30 Under 30
Artificial Intelligence Researcher Recognized as Energy Rising Star
---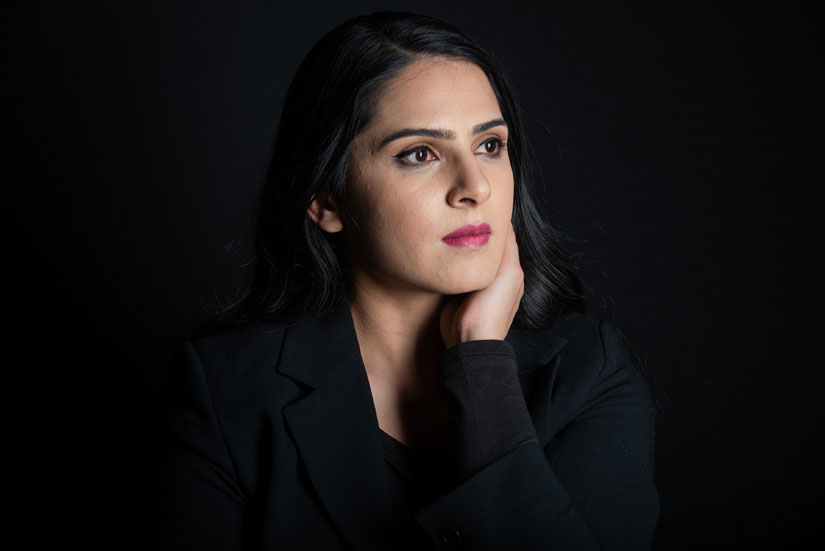 It is no secret that National Renewable Energy Laboratory (NREL) researchers are doing amazing things. Sometimes that means grinding away in the lab for hours on end, and other times it means standing in a global spotlight while accepting praise for years of hard work.
For Sakshi Mishra, energy and artificial intelligence (AI) researcher, it is time to shine. On Dec. 1, Mishra was named to the North America 2022 Forbes 30 Under 30 Energy list (Under 30). Annually, Forbes recognizes groups of 30 young professionals in areas such as health care, media, and science. Celebrity Kylie Jenner and basketball star LeBron James are also Under 30 alumni.
Mishra was nominated to Under 30 by her mentor and former manager Kate Anderson, NREL Energy Systems Integration Directorate chief of staff. Currently, Mishra is a contributing team member for REopt Lite and the Intelligent Campus project.
"I am impressed not just by Sakshi's technical skills, but also by her ability to expand our impact beyond the lab," Anderson said. "Sakshi spearheaded the open-sourcing effort for REopt Lite, which is enabling others to integrate NREL capabilities for optimizing energy systems into new tools and services to guide clean energy deployment. Sakshi has also been the primary driver behind many publications to ensure our work gets out to the scientific community."
Although Mishra was aware of the original nomination, she was surprised when she was officially named to the Under 30 list.
"This is an exciting 'checkpoint' in my journey—a reaffirmation that my efforts so far have been headed in the right direction," Mishra said. "When the goal is to push the envelope of what's possible in the realm of AI–energy nexus, Under 30 is a good platform to highlight what's been done and the tremendous potential that this technology holds for helping solve climate change problems."
Along with her work at NREL, Mishra is a Ph.D. candidate at the University of British Columbia. Her research focuses on using blockchain technology to empower energy consumers to transact energy securely and efficiently.
Although Mishra currently focuses on blockchain and AI, her original interest was in electrical engineering. She said many childhood experiences inspired her desire to become an engineer, such as watching her father tinker with their family Fiat and building a small wind turbine prototype in high school. However, growing up in India, she received pushback for her interests.
"I come from a place where STEM education wasn't that common for girls to choose," Mishra said. "So, there was some initial resistance when I was starting out—electrical engineering is not for girls, and things like that."
But she overcame those social obstacles and, with the support of her parents and mentors, pursued her dream. Mishra received her bachelor's degree in electrical and electronics engineering from VIT University, India, and conducted her bachelor's thesis at Deakin University, Australia, as a full-ride scholar. She holds a master's degree in energy science technology and policy from Carnegie Mellon University and a professional certificate from Stanford University on energy innovation and emerging technologies.
At Carnegie Mellon University, she was introduced to AI and recognized the technology's potential to address climate change. As a researcher, Mishra's current goal is to amplify the importance of AI and demonstrate how this technology can solve issues regarding the electrification of transportation and green energy integration.
When it comes to addressing climate change, Mishra recognizes that there are no silver bullets or perfect solutions. But the potential held in new, cutting-edge technologies keeps her excited and engaged.
"Childhood inclinations shaped my thinking in the early stages of my career, but as we grow up, we learn about the world," Mishra said. "Today, the whole world is seeing the impact of climate change one way or another. So, a solid solution is to bring new technologies to help decrease the carbon footprint. Electrification of transportation, powered by clean energy, is one big thing."
Mishra is grateful for her experiences and glad she has been able to pivot and build upon her research interests throughout her career. At NREL, she is happy to be surrounded by others who are as excited as she is to make the world a better place in terms of climate change.
"I am very thankful to everyone who has helped me along this journey from when I started," Mishra said. "I met great mentors and people who believed in me. I think that's why I'm here."
Read Forbes 30 Under 30 List 2022 for the complete list of honorees. For more information about Mishra's research interests, read Women @ Energy: Sakshi Mishra and Your AI Story – Sakshi Mishra from Energy.gov.