REopt Lite Adds a Fresh Dimension: Combined Heat and Power
---
The National Renewable Energy Laboratory's (NREL's) free online REopt Lite™ web tool has been used to perform feasibility analyses for grid-connected photovoltaics, wind, and battery storage for several years running. The tool crunches tailored facility data (including utility rates, billing history, and local weather) to help users identify optimal system sizes and battery dispatch strategies that minimize energy costs. REopt Lite can also be used to estimate how long a system can sustain critical loads during a grid outage, informing resiliency strategies.
In its latest release, the REopt Lite team, which includes NREL and partners at Colorado School of Mines and Clean Energy Group, has added combined heat and power (CHP), expanding the model's scope beyond electric-only strategies to include a new universe of thermal energy opportunities.
Energy-Efficient, Dispatchable, Resilient CHP
CHP systems create two forms of energy from a single fuel source. While generating electricity, the systems also capture heat that would otherwise be wasted to provide useful thermal energy—such as steam or hot water—that can be used for space heating, cooling, domestic hot water, dehumidification, and other industrial processes. Using captured heat significantly improves energy efficiency. A well-designed CHP system can be more than twice as efficient as a traditional fossil fuel plant and complementary to renewable energy and storage systems.
A major resiliency benefit of CHP is that it leverages fossil- or renewable-based fuels to provide dispatchable power. CHP's stable and reliable generation can temper renewable's intermittency or supplement it during a grid outage.
Using REopt Lite, facilities can now model and size CHP systems alone, compare CHP to renewable energy and battery storage options, or leverage all three of these systems in a complementary manner for energy efficiency and resiliency.
CHP, Renewables, Storage, or All of the Above
NREL research engineer Bill Becker coded much of the REopt Lite update. Becker said users can evaluate a number of new technologies in addition to CHP, including absorption chillers, hot- and chilled-water thermal energy storage, and hybrid systems that combine CHP with renewable systems and energy storage to address a range of electric and thermal energy needs.
"Heating in particular is typically provided using natural gas, an emissions stream that wouldn't otherwise be addressed by the electric technologies we had in the REopt Lite model," Becker said.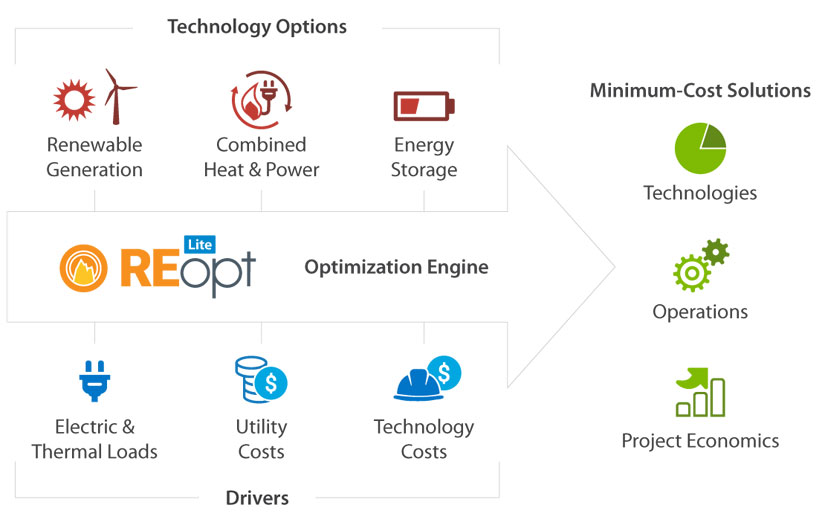 NREL's Dan Olis led model validation and analysis. According to Olis, "We're doubling the scope of REopt Lite. The user gets a broader picture of electric and thermal distributed energy technologies and how they work together to meet on-site energy needs."
Becker notes that the model improves the traditional method of screening for CHP based on averaged electricity prices and the cost of natural gas (i.e., using the "spark spread"). He said, "There are additional value streams REopt Lite brings to the analysis that wouldn't be otherwise considered—you can look at demand charge savings and synergies with other on-site technologies at the hourly level."
When it comes to choosing on-site energy systems, sometimes more is more. The REopt Lite model can help users access multiple value streams like demand reduction (using stored energy at strategic times to avoid demand charges) and energy arbitrage (buying electricity at a low cost, storing it, and then using it when the price is higher) using a combination of CHP and energy storage.
"CHP could operate to serve simultaneous heating and cooling loads, but you might also have some extra electrical load you could tap into and store using a battery for energy arbitrage," Olis said. In other cases, he said, "The value of battery energy storage is often in peak shaving, and energy arbitrage is just gravy."
The site-specific circumstances of each facility underscore the value of REopt Lite. According to Olis, "When we run the model, CHP sometimes looks like a direct competitor to storage; sometimes they work together for peak shaving; and sometimes you can ramp up the CHP system after the battery has run out of energy to continue doing peak shaving. It just depends."
An Advanced Manufacturing Boost
The U.S. Department of Energy's Advanced Manufacturing Office (AMO) funded the REopt Lite CHP project, building on the existing REopt Lite model funded by the Energy Department's Federal Energy Management Program (FEMP). AMO's CHP research and development program focuses on the development of flexible CHP systems that can improve energy efficiency, reduce carbon emissions, optimize fuel flexibility, and lower company operating costs. In addition to research and development, AMO supports a broad effort to support deployment of CHP systems, including ten regional Technical Assistance Partnerships (TAPs), an e-catalog of packaged CHP systems, project profiles, and other resources.
REopt Lite allows users to evaluate a number of new technologies—not just CHP, but absorption chillers, hot-water thermal energy storage, and chilled-water thermal energy storage.
AMO technology manager Bob Gemmer leads the CHP program. Gemmer noted that "the TAPs will use REopt Lite's expanded capabilities to help potential CHP system adopters determine the best approach to meet their energy needs. It will change how the TAPs perform CHP analysis."
Partnering with AMO benefits the REopt model as well. According to NREL's Bill Becker, "The partnership with AMO's CHP experts has ensured the best technical representation of CHP within the model, and we're leveraging the hourly granularity of REopt to improve CHP-only and hybrid systems analysis." The tool is also available via an application programming interface and open-source code, which enables scripted modeling for complex analysis, integration with other models, and customization of the REopt Lite code for expanded capabilities.
New Capabilities for Federal Agencies, Facility Managers, and Decision-Makers
The release will also include several new FEMP-funded modeling capabilities to support federal facility managers and decision-makers in planning renewable energy projects:
Third-party financing
Enhanced utility-rate modeling features
Comparison of different scenario results.
REopt Lite program manager Kate Anderson explained that these new features will help a broad set of decision-makers, including federal agencies, building owners, and industry, more easily compare across multiple potential options to meet cost, emissions, and renewable energy goals.
"NREL's goal is to transform energy systems. We hope that this expanded set of capabilities broadens the impact of REopt Lite and results in more clean, economic, and resilient energy deployment," Anderson said.
Learn More About REopt Lite's New Features
To learn more about REopt Lite's new CHP modeling capabilities, register for an informational webinar hosted by the Clean Energy Group Resilient Power Project on Tuesday, March 2, 2021, at 2 p.m. EST. A webinar recording will be shared on the REopt website after the event.
Learn more about REopt Lite at reopt.nrel.gov.