How To Solve the Mounting Problem of Plastic Waste? Focus on Its Chemical Roots
DOE Funding Pairs NREL with Academic, Nonprofit, and Industry Scientists To Transform How We Create and Recycle Plastic
---
Plastic pollution is a recognized global challenge. According to Our World in Data, since 1950, only 9% of the roughly 5.8 billion tons of plastic waste has been recycled. Experts estimate that there will be more plastic than fish by mass in the ocean by 2050.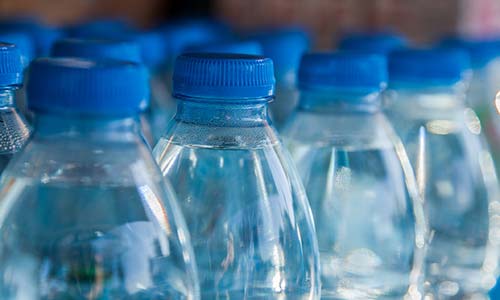 A circular economy for energy materials reduces waste and preserves resources by designing materials and products with reuse, recycling, and upcycling in mind from the start.
To help make a dent in that immense plastic footprint, the U.S. Department of Energy (DOE) recently awarded National Renewable Energy Laboratory (NREL) researchers more than $4 million to spur innovations in plastic. The funding adds to NREL's already multi-million-dollar investment from DOE for leading BOTTLE—the Bio-Optimized Technologies to keep Thermoplastics out of Landfills and the Environment Consortium—which brings together research partners to discover new chemical upcycling strategies for today's plastics and redesigning tomorrow's plastics to be recyclable-by-design. BOTTLE is jointly funded by the Office of Energy Efficiency and Renewable Energy's Bioenergy Technologies Office and Advanced Manufacturing Office.
"To help mitigate the proliferation of plastics in the environment, we have to develop cost-effective and more efficient plastic recycling and upcycling methods," said Adam Bratis, associate laboratory director for NREL's Bioenergy Science and Technology research. "NREL is proud to be working with such a strong team of research partners to help address this global challenge."
NREL will apply the new funding to explore solutions to two DOE topic areas. The first topic focuses on developing energy-efficient recycling technologies to deconstruct plastic waste into intermediates that can be upgraded into higher-value products. The second leverages the capabilities of BOTTLE to resolve challenges in plastic waste.
Novel Methods for Deconstructing and Upcycling Existing Plastic Waste
Upcycling used PET clothing and bottles with the VolCat process to create new PET
To demonstrate a scalable, economical process to recycle polyester, or PET (polyethylene terephthalate), researchers will explore and optimize IBM Research's VolCat chemical recycling process of catalyzed depolymerization, product purification, and recovery. PET is commonly used in single-use beverage bottles, carpets, and clothing, some of which are difficult to recycle. By demonstrating an effective method for repurposing such low-quality plastic waste, the team may stimulate new enterprises for creating higher-value plastic products from cheap, readily available materials.
Participants: IBM Research (Project Lead), NREL, Unifi Manufacturing, Under Armour, Milliken & Company, Husky, Oklahoma State University, and Niagara Beverages
Diverting foam waste from landfills through a hybrid chemical-biological upcycling process
To help divert plastic foam from the landfill and save energy in manufacturing, researchers will develop a process to convert waste polyurethane foam into high-quality polyols (key components for producing new furniture and bedding foams) and diamines (intermediates for nylon and high-performance plastics). The team's hybrid process, which leverages both chemical and biological techniques to break down, purify, and upcycle waste polyurethane, could potentially increase reclamation rates of polyurethane foams, a stepping-stone for creating new, recyclable products with a much smaller energy footprint.
Participants: Battelle (Project Lead), NREL, Ginkgo Bioworks, Allonnia, Whirlpool, BASF, Faurecia, and Steelcase
BOTTLE Consortium Collaborations To Tackle Challenges in Plastic Waste
Unlocking the environmental and economic benefits of recycled carbon fiber
A team of university, industry, and NREL researchers aims to show both the environmental and economic value of recycling carbon fiber composites (CFCs), an industry still in its infancy in the United States. CFCs exhibit superior properties and can reduce the weight of systems conventionally designed with metal. The researchers are targeting two long-standing obstacles to an economic recycling process: recovering the fiber and polymer present in CFCs—carbon fiber and plastic—and engineering a solution that is significantly cheaper and more energy efficient than simply synthesizing CFCs from virgin carbon fiber feedstock. To do this, they are leveraging novel catalysts to break down commercial polymer resins to help reclaim carbon fibers; high-performance recyclable resins to aid the reclamation of both fiber and resin; and the Tailored Universal Formable Feedstock process to create high-performance CFC composites from highly aligned chopped fibers.
Participants: University of Delaware (Project Lead), NREL, Colorado State University, Arkema, and Axiom
Transforming plastic waste into new biodegradable, recyclable plastics with caprolactones
Aiming to understand how renewable polymers or plastics can be broken down into reusable chemicals or produce minimal waste, a four-institution team will develop a method for creating new, advanced plastics from alkyl-caprolactones. Due to their physical properties, alkyl-caprolactones have the unique ability to form high-performance plastics that are also recyclable and biodegradable. Researchers will use NREL's existing reductive catalytic fractionation process to produce biomass or lignin-derived monomers, while researching the plastic recycling effort through catalytic and other polymer decomposition methods. The project has the potential to not only divert waste from the landfill, but also open doors for manufacturing original products using a novel class of polyurethanes and thermoplastic elastomers.
Participants: University of Minnesota-Twin Cities (Project Lead), NREL, Massachusetts Institute of Technology, and BASF
Designing biodegradable, low-cost alternatives to conventional plastic food packaging
A team of researchers will design and test polymers made from agricultural waste that can be upgraded into reliable, recyclable, and biodegradable food packaging. Low-density polyethylene is commonly used in most food packaging today, but polyethylene (PE) films are neither easily recyclable nor biodegradable. The team will synthesize a variety of biomass-based polyesters that are designed using machine learning tools. They will compare the properties of the biomass-based polyesters to conventional packaging films made with PE. Then, the team will demonstrate the properties of the materials by producing, and ultimately recycling, new food and liquid packaging plastics.
Participants: University of Wisconsin-Madison (Project Lead), NREL, Colorado State University, University of Oklahoma, Pyran, Amcor, and Stora Enso
Learn more about NREL's bioenergy research, or visit the BOTTLE Consortium website to discover more efforts to innovate plastic recycling, upcycling, and manufacturing technologies.