Gesick Embeds With Defense Innovation Unit To Expand NREL's Support To Department of Defense
Interagency Personnel Act Supports Leveraging of NREL Expertise by Partners
---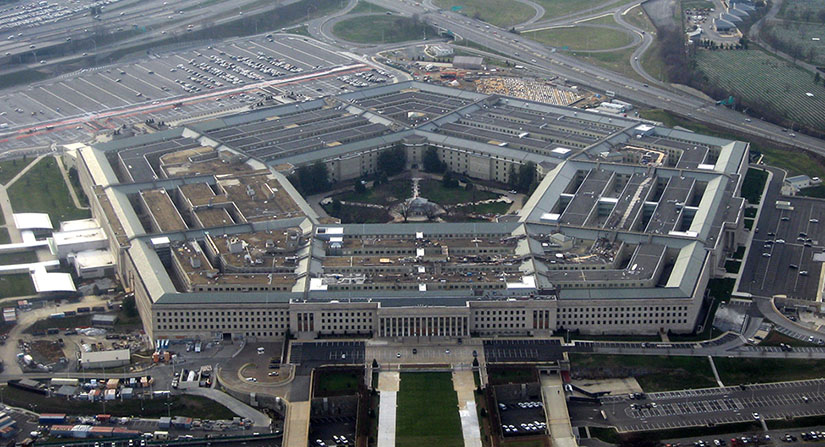 Among the national laboratories, the National Renewable Energy Laboratory (NREL) leads the way in commercial partnerships and commercialization of technologies. Integral to NREL's success is its understanding of partner needs, and embedding personnel in the day-to-day of partner organizations has proven increasingly useful to that end.
Josh Gesick, NREL researcher of more than 10 years, has involved himself in the business side of renewable energy development and integration his entire career. Since March 2021, he has been adjusting to new surroundings at the Department of Defense's (DOD's) Defense Innovation Unit (DIU) Advanced Energy and Materials (AE&M) team. He is on loan to DIU through the Interagency Personnel Act (IPA) program through at least spring of 2022.
With DIU–AE&M, Gesick works to understand the energy problems the Department of Defense is trying to solve, then explores commercial ventures, works with venture capitalists, digs deep into startup technologies, and recommends a path forward to connect DOD with these commercial organizations. In short, he supports his DIU–AE&M team in accelerating DOD's adoption of commercial technologies.
"It's a brand-new portfolio. We're in the process of identifying problems and trying to pair them with commercial solutions," Gesick said. "We're strategically located in some of these innovation ecosystems. We try to help those companies, that otherwise might not consider it, work with DOD."
Gesick applies years of expertise in this area to DOD's mission, and in return, when his loan term is complete, he will bring back what he has learned—what is not excluded through the nondisclosure agreement or conflict of interest restrictions—while at DIU to NREL. For all intents and purposes, he is a DIU employee until he returns to NREL. That provides him with a bit more control while supporting DIU, but the restrictions are a bit stronger than other arrangements. Previously, Gesick had been embedded through a different type of agreement with the Army's Office of Energy Initiatives, which does similar work specific to the Army, but Gesick described that work and work done by other NREL employees in similar situations as "reach-back" work to help leverage NREL's unique and powerful capabilities for DOD applications.
DIU is self-described as a "fast-moving Department of Defense organization that contracts with commercial companies to solve national security problems." DIU's offices are strategically located in known innovation hubs: Silicon Valley, Boston, Austin, and Washington, D.C. It is the only DOD organization focused exclusively on fielding and scaling commercial technology across the U.S. military at commercial speeds. DIU's website says it aims to move from problem identification to prototype contract award in 60–90 days, whereas the traditional DOD contracting process often takes more than 18 months. Prototype projects typically run 12–24 months and are administered according to Other Transaction (OT) authority. DIU's current areas of focus are Advanced Energy and Materials, Artificial Intelligence, Autonomy, Cyber, Human Systems, and Space.
While NREL will not be Gesick's priority while at DIU, NREL, as a leader in renewable energy innovation and applications, still plays an important role in satisfying DIU's energy initiatives.
"NREL has done a great job of establishing a formal relationship with DIU and has a formal contract with them," Gesick said. "NREL has helped with advanced battery technologies. NREL has also done a lot of work screening for applications of renewable and clean technologies. We're at this tipping point. There's the incentive and these new administration goals to transform the future of materials, and NREL has that background and will be an important piece of that going forward."
For decades, NREL has lived on the cutting edge of renewable energy innovation. The capabilities established over the 40-year-plus history of NREL are providing critical support to DOD.
"The Department of Energy has invested billions of dollars into R&D at NREL, including world-class facilities and staff to help DOD solve serious energy challenges to support its evolving global mission," said Jerry Davis, NREL's lead for DOD partnership development. "NREL's ability to provide access to its facilities and staff (literally as part of their team, in Josh's case), is evidence of increasing collaboration within the federal R&D complex."
Gesick's IPA term with DIU can last as many as five years and is currently in place for just one, but he said a one-year extension is already being arranged. While an IPA agreement is a powerful tool, it takes a bit more effort to put in place. Gesick confirmed his was a multiple-month process to get cleared for the assignment. After the evaluation, a long list of approvals needed to take place on both sides. He said they started discussing his agreement back in October/November of 2020.
Gesick's background is in chemical engineering. Prior to coming to NREL, he worked in several startup and R&D organizations. He said he built the first public hydrogen fueling station in India and that propelled him to a position at NREL in the hydrogen space.
"I had a strong interest on the business side of technology development," he said. "You need both the business side and the technology side. Technologies alone aren't going to get from good idea to a commercial solution without the business piece."
Though Gesick's bachelor's degree from Colorado State University is in chemical engineering, he has ramped up his focus on the business side of technology commercialization and is pursuing his MBA from the University of Denver. He should complete his advanced degree at the end of 2021.
"It's really that business piece that takes that technology to a business solution," he said. "I've had a lack of understanding of that business world, but it seems extremely important, so I wanted to formalize that learning and training."
After arriving at NREL, Gesick went to work in the Program Integration Office in the hydrogen program. His next move was to the Bioenergy Technology Office (BETO), helping with validation and metrics and the establishment of key performance indicators on BETO solicitation submissions. He then went to work with the Office of Energy Initiatives (OEI) for the last three years and, not long after returning from OEI, he began looking at the transition to DIU.
Gesick said he appreciates the flexibility NREL has afforded him through the years. Even on detail with DIU, he has been able to remain physically in Golden, Colorado. Upon completion of his detail with DIU, he said, he would like to find a place at NREL that makes sense for him, where he can open up doors and explore new ventures for NREL. He works a fair bit with venture capitalists and said he finds that work exciting.
Learn more about how NREL partners with the Department of Defense.