Collegiate Competition Unveils Class of 2021 Competitors
DOE Solar District Cup Collegiate Design Competition Announces 2021 List of Participating Schools
---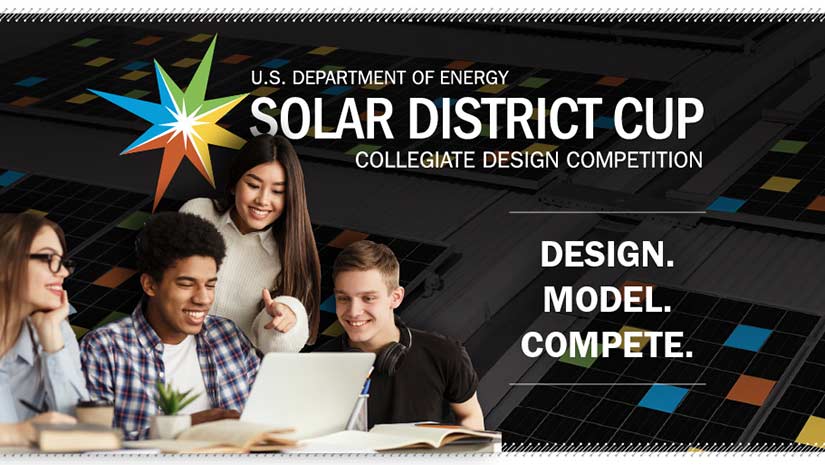 On Oct. 6, 2020, the National Renewable Energy Laboratory (NREL) and U.S. Department of Energy announced the schools participating in the Energy Department's Solar District Cup Collegiate Design Competition Class of 2021. In the second year of the program, 59 student-led teams from 57 collegiate institutions will compete over the 2020-2021 academic year.
"The Solar District Cup gives students the opportunity to gain valuable experience in a critical and cutting-edge energy area," Energy Department Solar Energy Technologies Office Director Becca Jones-Albertus said. "I look forward to seeing their innovative ideas for how to optimize distributed solar energy."
The Solar District Cup challenges multidisciplinary student teams to design and model optimized distributed energy systems for a campus or urban district. These systems integrate solar, storage, and other technologies across mixed-use districts.
The goal is to design, model, and present the most innovative and cost-effective system possible. Teams compete in one of three divisions, each of which is structured around a specific district. A winner is selected for each division based on the quality of their solar energy system design. The strongest designs provide the highest offset of annual energy and greatest financial savings, which is determined by a techno-economic analysis that the students conduct and judges evaluate.
This year's competition will be fully virtual, including the final event in April, where students will pitch their projects to a panel of industry judges.
Each team is assigned to a district use case around which they will base their energy system designs. Data on each district is provided to teams, allowing students to reimagine how energy is generated, managed, and used within that district.
The three district use cases for the 2021 program are the City of Denver/Auraria Higher Education Center, the University of Central Florida, and the University of Nebraska–Lincoln.
The collegiate institutions participating in the Solar District Cup Class of 2021 include:
Alamo Colleges District
Alfred University
Appalachian State University
Arizona State University
Boise State University
California Polytechnic State University
Chandler-Gilbert Community College
Clark Atlanta University
Columbia University
Cornell University
East Tennessee State University
Embry-Riddle Aeronautical University
Georgia Institute of Technology
Illinois Institute of Technology
Illinois State University
Indiana University--Purdue University Indianapolis
Joliet Junior College
Marquette University
Miami University
Navajo Technical University
NC State University
Prairie View A&M University
Rose-Hulman Institute of Technology
Santa Clara University
South Dakota State University
Stevens Institute of Technology
Tennessee Tech University
Texas A&M University
Texas A&M University-Kingsville
Texas Tech University
The George Washington University
The Ohio State University
The Pennsylvania State University
The University of Alabama
The University of Illinois at Urbana-Champaign
The University of Massachusetts Lowell
The University of North Carolina at Chapel Hill
The University of Texas at Austin
The University of Toledo
The University of Virginia
Triton College
Tulane University
University at Buffalo, The State University of New York
University of California, Irvine
University of California, Los Angeles
University of California, San Diego
University of Colorado Boulder
University of Kentucky - Paducah Campus
University of Maryland
University of Michigan
University of North Texas
University of Puerto Rico, Mayagüez Campus
University of Southern California
University of the Virgin Islands
University of Wisconsin-Madison
Utah State University
Yale University
"We're so excited to see so many new and returning teams from such a broad set of geographic and institutional backgrounds," Joe Simon, one of the Solar District Cup organizers, said.
The Solar District Cup is designed to inspire students to consider new career opportunities, learn industry-relevant skills, engage with the professional marketplace, and prepare to become leaders in distributed solar energy. As such, the program encourages collaboration between academia and industry.
Throughout the competition, students are supported by partnering organizations, including Aurora Solar Inc., HeatSpring LLC, and Solar Power Events. These partners provide benefits including access to design software, online educational courses, and networking opportunities with industry professionals. Their support is critical to student success in the competition as well as continuing their education and entering the renewable energy workforce.
Between October and November, teams will work on their designs before reaching their first milestone, the submission of their Progress Deliverable Packages. Finalist teams will be announced in December.
If you are interested in getting involved with the Solar District Cup as a partner or industry mentor, contact the Solar District Cup organizers. You can also follow the Class of 2021 as they advance through the competition.