New High-Rate Drilling System Could Revolutionize High-Temperature Power Electronics for Geothermal Industry and Beyond
---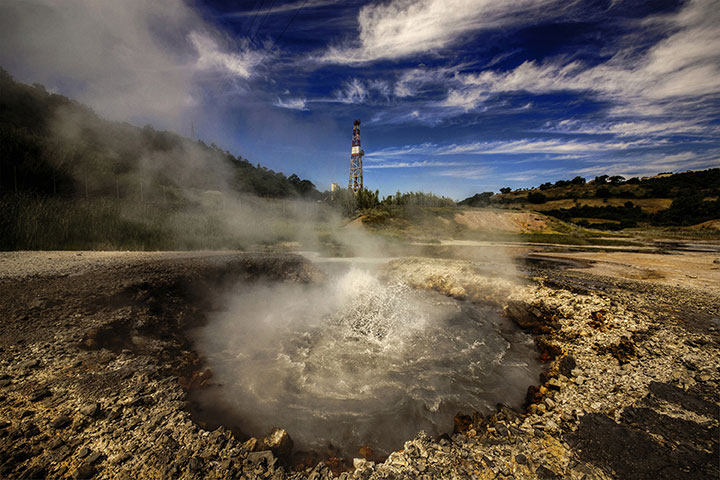 NREL has joined forces with Tetra Innovation Institute to advance a high-rate drilling system that could transform the geothermal industry. This game-changing technology has the potential to increase geothermal drilling rates tenfold and reduce well drilling costs by 75%.
Currently, it is time consuming and expensive to drill through the hard, hot rock formations typically found at geothermal sites. Conventional drill bits penetrate such formations slowly and wear down quickly, leading to an average drilling rate of 125 feet per day.
The new drilling system under development uses electric pulses to blast the rock and bore deep geothermal wells. It leverages technology in development by Tetra for oil and gas drilling in hard, abrasive sandstone formations.
"We are adapting Tetra's existing technology to enable its use in hot crystalline geothermal rock formations," said Jody Robins, senior geothermal drilling engineer at NREL. "This necessitates the development of power electronics components—alternators, capacitors, and high-voltage, pulsed-power switches—capable of surviving very high temperatures."
"This groundbreaking technology could disrupt the global drilling industry—replacing traditional drilling technologies within 10 years of commercialization," explained Tetra's Bill Moeny. "It could be a game changer for geothermal power—dramatically decreasing drilling costs while speeding up the process."
Besides its speed and resilience, one of the major advantages of the new system is that it can be implemented using existing drilling equipment. It does not require modifications to expensive equipment like the drilling rig and associated drill pipe.
"The new system tackles one of the major challenges associated with drilling for geothermal resources: drilling in hot, hard rock has traditionally been slow," said Kate Young, laboratory program manager for NREL's geothermal research. "Modeling results show the potential for an additional 50 gigawatts of geothermal deployment in the United States with advances like the cost and time improvements offered by the new system."
The high-temperature power electronics being developed as part of this project have applications beyond the geothermal industry. The petroleum, fuel cells, vehicles, smart grid, and military industries could benefit as well.
Launched in September 2019, this three-year project, Repetitive Pulsed Electric Drill (RePED) 250, is made possible thanks to a $3,682,786 award from the U.S. Department of Energy's Advanced Research Projects Agency-Energy.
Learn more about NREL's geothermal research.