NREL To Help New York Bight Fishing Communities and Offshore Wind Farms Share the Seas
---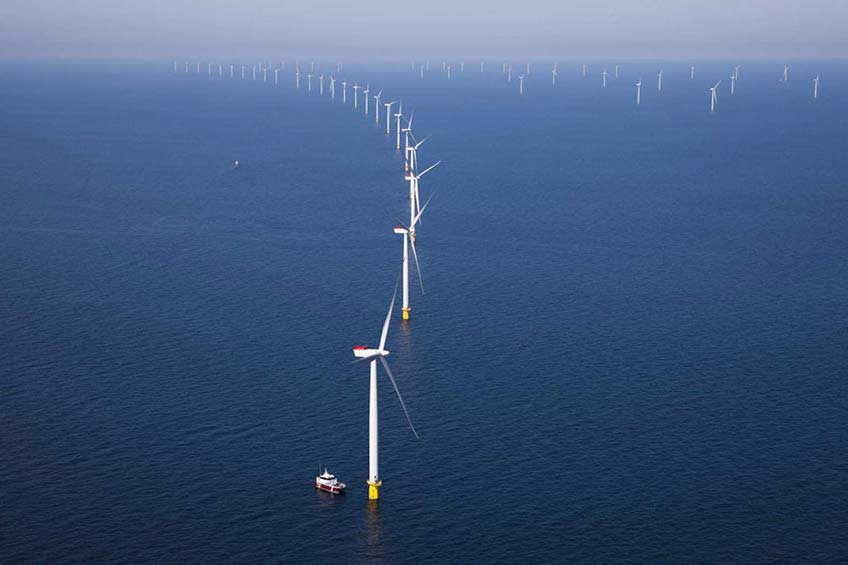 Through the "Collaborative Development of Strategies and Tools to Address Commercial Fishing" project, NREL and team will gather data and develop solutions for minimizing conflict between commercial fishing communities and offshore wind farms. Photo by Soren Kjedgaard, Siemens AG
The National Renewable Energy Laboratory (NREL) was recently selected by the New York State Energy Research and Development Authority (NYSERDA) for a two-year, $500,000 collaboration with the Responsible Offshore Development Alliance (RODA) and Global Marine Group to develop solutions to address commercial fishing access in U.S. offshore wind farms.
Offshore wind farms show great promise as major generators of renewable power in the United States. Faster, steadier offshore wind speeds mean plants can generate more power, more reliably, which is key in the nation's densely populated coastal areas. New York State, whose coast is home to nearly 12 million people, is poised to become the epicenter of offshore wind power in the United States.
But the emerging offshore wind industry shares waters with commercial fisheries who have earned their livelihood here for centuries, which raises concerns about operational interactions between the two industries. Turbines, subsea cables, and other structures can potentially present challenges to actively fishing or navigating through a wind project. The two industries must find a way to coexist and share the seas.
That's where NREL's collaboration with RODA, Global Marine Group, and other project partners will help. Through the "Collaborative Development of Strategies and Tools to Address Commercial Fishing" project, the team will gather direct input from active fishery participants and wind farm developers to collaboratively develop technical strategies and tools that help minimize the disruption of commercial fishing within offshore wind arrays. NREL's multi-disciplinary team will provide expert technical knowledge of offshore wind farm design and operations, while RODA will bring critically important fisheries expertise through its broad coalition of fishing associations and companies, and Global Marine Group brings expert knowledge of offshore cable system considerations. Analyzing this wealth of information, the project team will help identify opportunities to reduce risk for fishermen working within or transiting through an offshore wind project.
"The project team's technical expertise and connections to the commercial fishing and offshore wind industries are an ideal combination for developing models that can minimize disruption between commercial fishing and offshore wind arrays," said Rebecca Green, NREL senior project leader.
The project kicks off in early 2020 and will progress in four phases over its two-year duration. In phase one, the team will work with fishery participants in the New York Bight—the expanse of shallow water between Long Island and the New Jersey Coast—to gather data, which will be used in phase two to develop wind project design, construction, and operation scenarios that will minimize access conflicts for fishing operations. Phase three will constitute a preliminary pilot study to evaluate select mitigation measures, and phase four will focus on sharing the project's findings across all interested parties.
The project is one of five selected by NYSERDA to advance the understanding of environmental and fishery topics in support of responsible offshore wind development.