Meet the 2021 Marine Energy Collegiate Competition Contenders
National Renewable Energy Laboratory Announces 17 Teams To Compete This Spring
The 2021 Marine Energy Collegiate Competition competitors are ready to dive in.
The U.S. Department of Energy's (DOE's) National Renewable Energy Laboratory (NREL) announces the 17 teams chosen to participate in the DOE 2021 Marine Energy Collegiate Competition: Powering the Blue Economy™.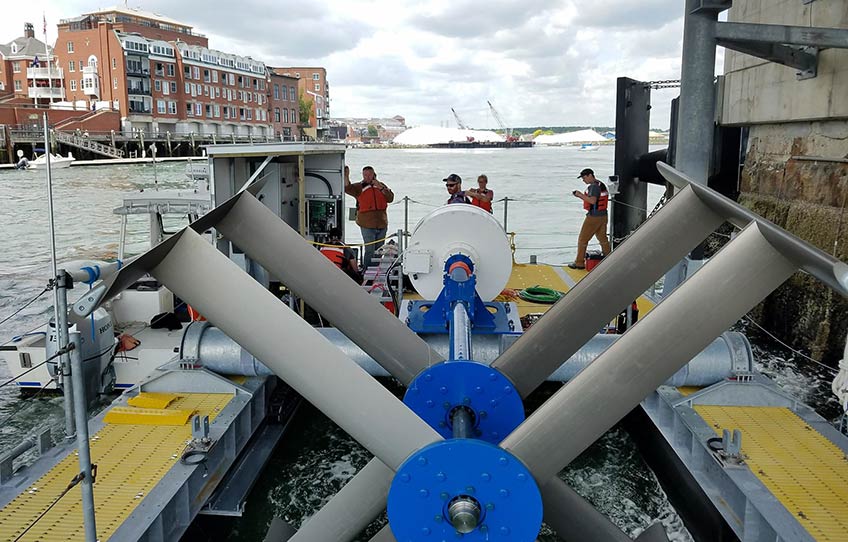 Administered by the NREL on behalf of DOE's Water Power Technologies Office, the competition enables multidisciplinary teams of undergraduate and graduate students to obtain real-world experience in exploring innovative marine energy solutions to address power needs across the blue economy.
As part of the challenge, competitors will develop, design, and test their submissions for next-generation marine energy technologies. With cutting-edge concepts to support resilient coastal communities or provide power at sea, these innovators are poised to make a splash.
In its second year, the competition appears stiff. Let's learn a bit more about the teams as they take their place at the starting line.
Top-Notch Teams
Would-be competitors submitted their applications through September. NREL chose the following teams to participate in the competition in spring 2021:
Boise State University
Institute of Engineering, National Autonomous University of Mexico, partnering with Thayer School of Engineering at Dartmouth, Dartmouth College, Autonomous University of Baja California, University of Caribe, National Polytechnic Institute, Autonomous University of Mexico State and Faculty of Accounting and Administration
Manhattan College
New Mexico State University
North Carolina Agricultural and Technical University, partnering with University of North Carolina Wilmington – Center for Innovation and Entrepreneurship
Oregon State University
Purdue University
University of California, Berkeley
University of California, Riverside
University of California, Santa Barbara
University of Massachusetts Dartmouth
University of Massachusetts Dartmouth, partnering with St. Bonaventure University
University of North Florida
University of Plymouth
University of Washington
Virginia Polytechnic Institute and State University
Virginia Tech Center for Energy Harvesting Materials and Systems, partnering with University of California, Los Angeles
Through this competition, team members will achieve invaluable real-world experience, along with the industry connections to help them pursue future careers in the marine energy sector and the blue economy. From researchers and engineers to educators and project managers, the blue economy career opportunities are as vast as the ocean itself.
Encouraging Creativity to Set Sail
Recognizing the innumerable benefits that can come from convening a divergent group of thinkers and mavericks, the Marine Energy Collegiate Competition encourages applications across a variety of technical and scientific expertise. This heterogeneous group of challengers will put their diversity of experience, education, and perspectives to work in designing the marine energy devices capable of addressing a host of blue economy challenges.
Submissions can run the gamut from concepts that aid in ocean observation and underwater vehicle charging to desalination and more, including—but not limited to—the markets identified in DOE's Powering the Blue Economy™ report.
The 2021 Marine Energy Collegiate Competition teams will be asked to:
Develop a market-research-supported business plan and conceptual-level technical design of a system that could be commercialized to address power needs for a chosen sector of the blue economy
Pitch their plan to a panel of judges and hypothetical investors
Design, build, and test a device to achieve energy production
Engage with their community through outreach and educational activities.
As part of the competition, teams will deliver written submissions, market assessment and business pitches, and detailed technology designs for their chosen markets. New to the 2021 competition is the optional build-and-test segment, which will allow interested teams to test their devices in a tank in the spring of 2021.
Join us in cheering on these teams as they unlock the power of the ocean to fuel tomorrow's blue economy.
Learn more about the competition and sign up for email alerts to keep up with the latest from the Marine Energy Collegiate Competition.