Addressing the Wind Energy Workforce Gap
---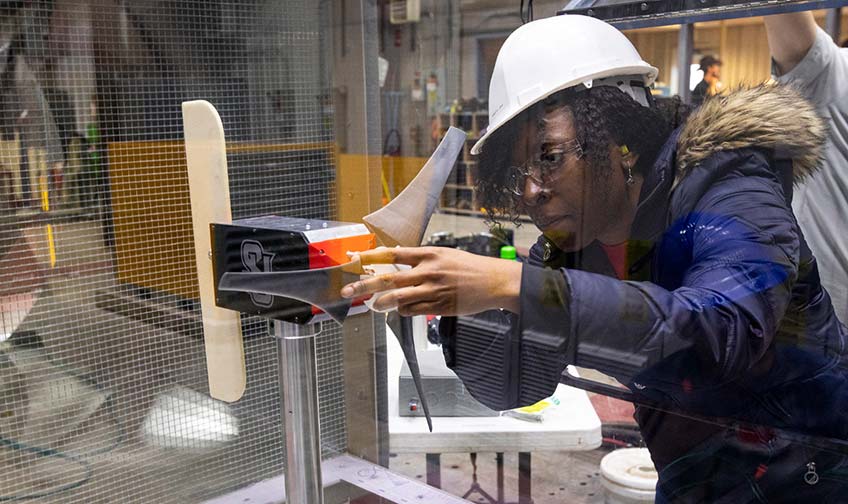 A new NREL report, The Wind Energy Workforce in the United States: Training, Hiring, and Future Needs, assesses the national wind energy workforce and the hiring needs of the industry, along with the educational programs that are preparing students for work. Researchers interviewed educational institutions offering wind programs, as well as industry representatives, to identify gaps in the workforce and path to employment.
Report Highlights
Across the country, students are entering wind-related educational programs, and jobs are available in the industry.

Hiring companies are not finding qualified applicants for open entry-level positions, and students are not being offered jobs that allow them to enter the industry. Researchers refer to this disparity as the "wind energy workforce gap."

While some programs—such as the U.S. Department of Energy's (DOE) Collegiate Wind Competition—are available to connect students with industry representatives and provide real-world experience, more solutions are needed to prepare students to enter the wind energy workforce.

The industry needs people with entry- to advanced-level skillsets in areas such as project development; component manufacturing; construction; operations; and education, training, and research. The required education levels for these positions range from high school degrees to vocational degrees and apprenticeships to doctorate degrees—highlighting the need to evaluate wind education programs along the academic spectrum.

The report highlights wind energy workforce gaps and proposes the need for creative solutions to meet the needs of job-seeking students and a growing industry.

Narrowing this workforce gap—decreasing hiring difficulty while increasing graduates' ability to find jobs in the industry—could reduce recruiting costs, better satisfy employer needs, and grow the domestic wind workforce.

In addition to assessing the current state of the wind industry's workforce and training, the report looks ahead to future needs of the industry and the potential education programs needed to support its growth.
Resources