REopt Lite Evolves To Address User Priorities
New Tool Features Help Building Owners Further Explore Costs and Benefits of Resilience and More
---
Between 2016 and 2018, there were 45 separate billion-dollar weather- and climate-related disasters in the United States—15 per year on average.
That three-year average is the highest on record, according to the National Oceanic and Atmospheric Administration (NOAA)—and more than double the long-term average. NOAA estimates the costs associated with those billion-dollar events alone averaged $150 billion per year.
The economic risk posed by power outages associated with disasters, including more frequent, powerful storms, is often compounded by aging infrastructure. As such, backup power has become increasingly important to those tasked with assessing the costs and benefits of planned energy system upgrades.
These historic costs have made resilience a top focus of building owners—one that is reflected in the latest updates to NREL's REopt Lite energy integration and optimization web tool.
In addition to incorporating time-saving features and detailed guidance for international use, the latest REopt Lite upgrades address users' growing focus on providing backup power to sustain critical load during outages. Expanded resilience capabilities enable users to optimally size new diesel generation and better understand the benefits and trade-offs of resilience.
Because diesel generators are a common backup power option, REopt Lite users can now compare the costs and benefits of various resilience options, such as diesel only versus solar+storage versus a hybrid solar+storage+diesel system. In addition, they can now use the tool to determine the optimal size of new diesel generation to sustain critical loads during outages as part of hybrid solar+wind+storage+diesel systems (as before, users can specify existing diesel generators as well).
New Graphics Highlight System Performance and Resilience
The tool's more robust resilience capabilities include new graphics that allow users to see the expected performance of a proposed system over a range of outages starting at different times of the year. Users can also compare systems that prioritize economic savings to those designed to maximize resilience to evaluate the costs and benefits of various options.
Recommendations and Results for Your Site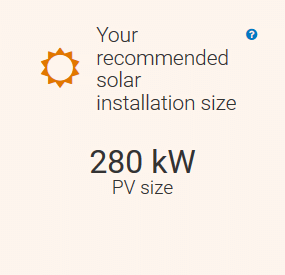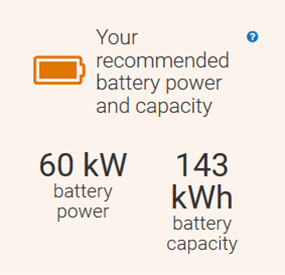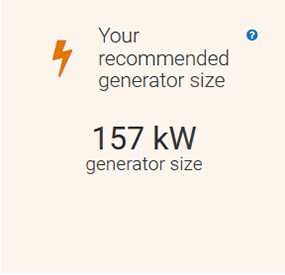 Based on the user's specified resilience goal shown above, REopt Lite delivered specifications for optimized sizing of a solar+storage+diesel microgrid. The output also shows the cost trade-off associated with the desired resilience benefits.
Resilience Benefits and Trade-Offs
The modeled system was designed to sustain the critical load during the outage period specified, at the lowest cost. The resilient system is compared to the business-as-usual system and a system designed for maximum financial benefits.
Business As Usual
Resilience
Financial
System
None
157 kW Diesel
280 kW PV
60 kW Battery
143 kWh Battery
0 kW Diesel
249 kW PV
34 kW Battery
60 kWh Battery
NPV
$0
-$5,547
$112,501
Survives Specified Outage
No
Yes
No
Average
0 hrs
99 hrs
3 hrs
Minimum
0 hrs
0 hrs
0 hrs
Maximum
0 hrs
254 hrs
19 hrs
Diesel Generator Fuel Used
0 gal
86 gal
0 gal
Outage Simulations Throughout the Year
REopt Lite can simulate system outages starting at every hour of the year, and calculate the amount of time the system can sustain the critical load during each outage. Users can compare the results across different outage starting times and months in which the outage occurs.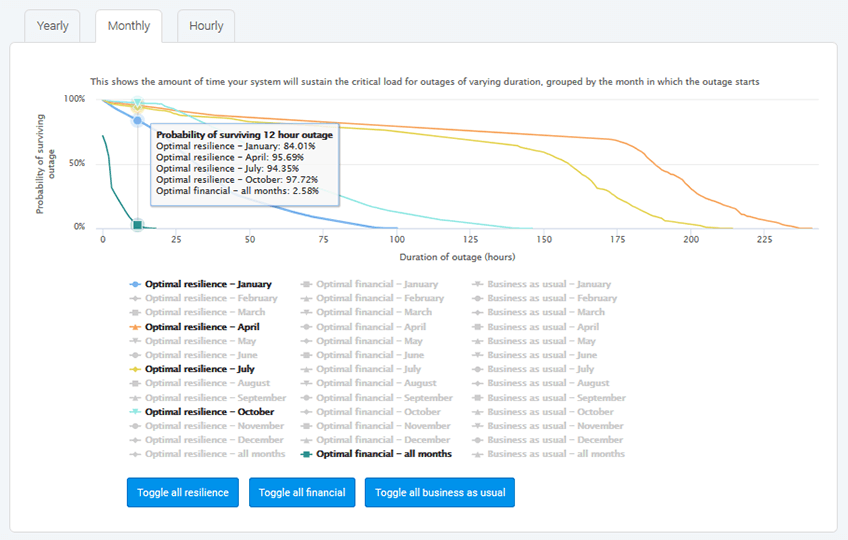 More New Features
Along with expanded resilience results, the latest round of REopt Lite updates include:
Most likely utility rates: Because there are often multiple utility rate options available in a single location, this feature is designed to save users time by guiding them to the most likely utility rates based on their location, load, and the utility's most common rates.
International guidelines: In response to increased international interest in using REopt Lite, new guidelines, linked in the upper right corner of the REopt Lite landing page, provide international users with instructions for using the U.S.-based tool at international sites.
Load profile dashboard: This feature allows users to upload and save custom typical and critical load profiles and use them in future analyses.
Updated default values: All economic assumptions have been reviewed and updated with the most recent cost data.
As building owners shift their priorities to shore up system vulnerabilities posed by extreme weather, aging infrastructure, cyberattacks, and other threats, REopt Lite's agility and responsiveness make it an increasingly invaluable staple of the energy planning toolbox.
REopt Lite is a publicly available web version of the more comprehensive REopt model, NREL's techno-economic decision support platform that evaluates a range of renewable and conventional energy technologies and performs complex grid outage modeling, among other capabilities. Learn more about NREL's REopt analysis services at reopt.nrel.gov.
The latest REopt Lite updates are also included in the REopt Lite application programming interface (API). The REopt Lite API lets users and software developers programmatically interface with the REopt Lite web tool, evaluate multiple sites and perform sensitivity analyses in an efficient manner, and integrate REopt Lite capabilities into other tools. REopt Lite's development is supported by the U.S. Department of Energy's Office of Energy Efficiency and Renewable Energy Federal Energy Management Program.
Test drive REopt Lite today and discover how the tool's new capabilities can help you address your resilience and other energy goals.