NREL Names Achilles Karagiozis as Buildings and Thermal Sciences Center Director
Feb. 11, 2019
Achilles Karagiozis joins the National Renewable Energy Laboratory (NREL) as the new director of the Buildings and Thermal Sciences Center on Feb. 19.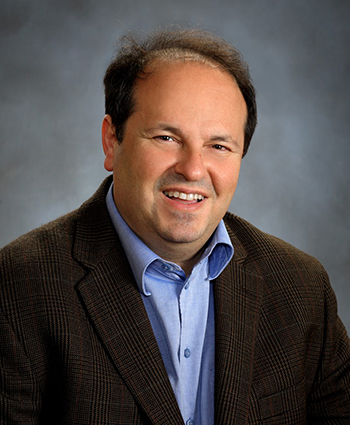 Karagiozis will manage a team of approximately 100 researchers who are advancing the lab's buildings and thermal sciences research. He will continue to develop technical capabilities that enable the Buildings and Thermal Sciences Center to perform world-class research and development, strengthening NREL's leadership role in these research areas.
"Achilles' expertise will bolster NREL's efforts to transform energy through buildings science and integration," said Johney Green, associate lab director for Mechanical and Thermal Engineering Sciences at NREL. "He will accelerate the development of strategic technical capabilities and direct world-class multidisciplinary research funded by the U.S. Department of Energy, other federal agencies, and industry partners in the areas of buildings, concentrating solar power, and geothermal energy."
Karagiozis comes to NREL from Owens Corning where he was the global director of building science and led global accountability for the company's building science strategy. During his 9-year tenure, he shaped, educated, and trained others in energy efficiency and green building science, transforming building science into a growth engine aimed at accelerating energy-efficiency improvements in the built environment.
Before joining Owens Corning, Karagiozis was a distinguished researcher at Oak Ridge National Laboratory (ORNL), where he worked for 16 years. He has more than 130 publications that have been cited more than 1,200 times and has an h-index of 18. Achilles chairs the ASHRAE Standard 160, which specifies criteria for designing high-performance buildings. He is also an Energy and Environmental Building Alliance board member and serves on the Passive House Institute US Technical Committee.
Karagiozis has received numerous awards in his career, including ORNL's Distinguished Researcher award, the National Research Council Institute for Research in Construction award, and the Owens Corning Board of Director's Cup on High Performance Attics.
Karagiozis has a doctorate in mechanical engineering from the University of Waterloo, a master's in fluid dynamics from the von Karman Institute for Fluid Dynamics, and a master's and bachelor's in mechanical engineering from the University of New Brunswick.