NREL Awards Announced in Grid Modernization Lab Call
Projects Further NREL Strengths in Systems Integration, Grid Management, Cybersecurity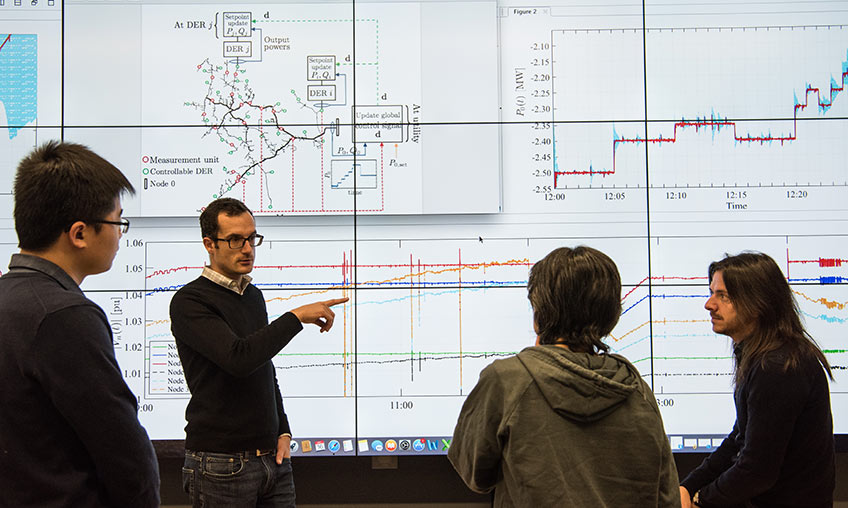 The U.S. Department of Energy (DOE) announced the awards for its 2019 Grid Modernization Lab Call, with the National Renewable Energy Laboratory (NREL) participating in more than half of the projects. The projects expand the work started in 2016 under DOE's Grid Modernization Laboratory Consortium (GMLC) and retain the vision of a secure and resilient modern grid.
Among the 14 projects NREL will contribute to, three are led by NREL teams, with support from more than a dozen partners in industry, academia, and other national laboratories. The three NREL-led projects, described as follows, will rely on NREL expertise in integrating energy systems as well as management solutions for distributed energy resources (DERs).
NREL will lead the development of a DER aggregation architecture through a project named Federated Architecture for Secure and Transactive Distributed Energy Resource Management Solutions (FAST-DERMS). For both utilities and industry, a method for aggregating the variety of market DERs—photovoltaic (PV), storage, electric vehicles, distributed generators—will provide transmission services and help wrangle the diverse generation and behavior of those devices.
Another project, on Clusters of Flexible PV-Wind-Storage-Hybrid Generation (FlexPower), will study how utility-scale wind and PV generation can transition from simple generators to full-range grid resources, providing reliability services and storage-like flexible dispatch to the bulk power system. This work will extend NREL's capabilities in utility-scale control, which is currently being studied at NREL's Flatirons Campus.
The third project is named Water Risk for the Bulk Power System: Asset to Grid Impacts. NREL and partners will create an analysis platform around the impacts and risks associated with water resources, helping utilities make short-term operational and long-term investment decisions.
NREL will also provide support to projects spanning resilience modeling, energy storage and system flexibility, institutional support, and cyber-physical security. These projects include the next generation of the Hierarchical Engine for Large-scale Infrastructure Co-Simulation (HELICS) platform, which started under the GMLC and is now a national asset for cosimulating and studying systems at a range of scales and complexity; several institutional support projects that will support market players in adopting standards and technologies; as well as a project using blockchain for energy security and management, a topic NREL previously explored using laboratory-directed research-and-development funding.
This year's lab call from DOE placed increased emphasis on energy resilience and security as well as the integration of energy systems, which is reflected in broader participation across DOE's offices. The projects total approximately $80 million, and industry participation will account for 20% of the cost-share in the portfolio.