New Study Compares, Contrasts Cleantech Incubators and Accelerators
---
Clean technology incubators come in different flavors – from those based purely on philanthropic missions, to those designed to give investors a first look at the technologies that will change world markets. The potential of cleantech is immense and the landscape is constantly changing. In an effort to help stakeholders keep up, NREL recently published a first-of-its kind comparison of some of the nation's most notable cleantech incubators and accelerators.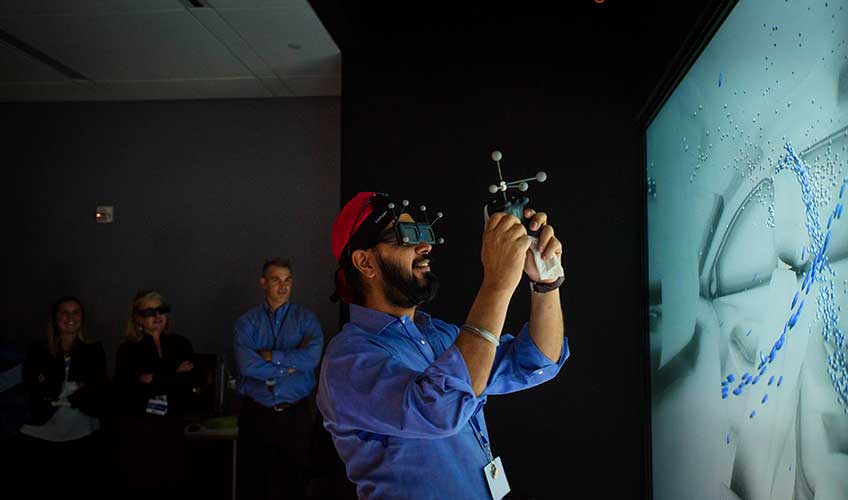 Wells Fargo IN2, co-managed by NREL, is one of several cleantech incubators that provide startups with access to lab facilities and expertise. Deepinder Singh, CEO of IN2 company 75F, is shown during a visit to NREL's Insight Center. (Photo by Kira Vos).
"New Approaches to Energy Hardware Innovation and Incubation," authored by David J. Garfield, Kate E. Moore, and Richard Adams from NREL's Innovation & Entrepreneurship Center for the Joint Institute for Strategic Energy Analysis, takes a close look at energy innovation organizations that are designed to ease the path from invention to scaleup to marketplace.
The organizations evaluated fall into three categories:
Mature organizations that focus on access to technology development facilities and expertise, like the Wells Fargo Innovation Incubator (IN2), co-managed by NREL. These organizations focus primarily on access to technology development facilities and expertise, often at national labs, non-profit science centers, and universities.
Newer organizations inspired by the successes of the early incubators. These also provide access to facilities and expertise and the non-dilutive funding to carry out the research. The Shell GameChanger Accelerator Powered by NREL is among this new class of incubators and accelerators.
Organizations that provide equity-based resources like Bill Gates' Breakthrough Energy Ventures, designed to inject patient capital into the technologies needed to address climate change.
Despite the number of energy innovation organizations—nine are featured in this study alone—the authors conclude that each organization fills a unique niche. Competition between the incubators and accelerators is not an issue. Instead, their approaches are often complementary. For example, a single startup company could benefit from Cyclotron Road, followed by IN2, with investments from Breakthrough Energy Ventures.
And, these are early days. The energy innovation organizations featured in the study are developing programs that will assist entrepreneurs in commercializing disruptive technologies. These technologies will dramatically change the landscape of energy. And in turn, the new landscape will necessitate the evolution of the very energy innovation organizations spurring its development.
Learn more about the NREL's Innovation & Entrepreneurship Center.