Former NREL Director Charlie Gay Retires from DOE Solar Program
Solar Energy Technologies Office Director Since 2016
Nov. 4, 2019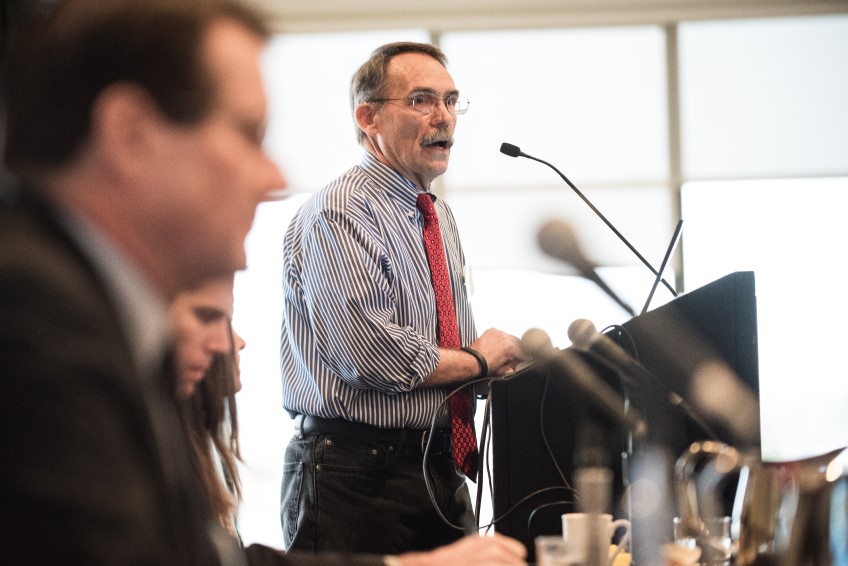 Solar Energy Technologies Office (SETO) Director Charlie Gay, an internationally recognized pioneer in photovoltaics (PV), retired from the U.S. Department of Energy (DOE) on Nov. 1. He had held the SETO role since August 2016.
Gay, who spent most of his career in private industry, also led the National Renewable Energy Laboratory (NREL) from 1994-1997.
"I've always enjoyed getting Charlie's regular insights into the solar program," said current NREL Director Martin Keller. He praised Gay's vision in expanding the reach of the program into expanded systems.
Added former NREL researcher and solar pioneer Larry Kazmerski, "Charlie's strength is his ability to motivate his colleagues with his extraordinary vision and technology innovation. He continues to instill these values in our U.S. solar energy programs."
Gay's contributions are widely recognized outside of DOE. "Charlie has a rare blend of complementary business skills," said George Burmeister, president of the Colorado Energy Group. "He is a brilliant market strategist and knows how to motivate and empower people."
In August, a nonprofit, the American Solar Energy Society, honored Gay with the Charles Greeley Abbot Award for significant contributions to the field of solar energy. He was elected to the National Academy of Engineering in 2013 for his leadership in the development of the global solar PV industry.
Fascinated by science and solar energy since he was a boy, Gay earned a Ph.D. in physical chemistry from the University of California, Riverside. In 1974, he began his career when he saw an advertisement in the Los Angeles Times for a metallurgist at Spectrolab, Inc. There, his assignments included designing solar power system components for communications satellites. Later, he joined ARCO Solar, where he established a research and development program and led the commercialization of crystalline silicon and thin-film technologies.
In 1990, Gay became president and chief operating officer of Siemens Solar Industries and served in that role until moving to Colorado, where he was recruited to replace retiring NREL Director Duane Sunderman.
Gay cites the launch of the Enterprise Growth Forum as a main accomplishment during his tenure in Colorado. The annual event, which continues today as the Industry Growth Forum, is a "way that a lab researcher or one of our industrial partners has a chance to present their business model to a panel of business and finance experts," he said, adding that this allowed "diverse stakeholders, who might not otherwise see what was coming out of the labs," the opportunity to turn a cleantech concept into a commercial reality.
Following his role at NREL, Gay returned to the private sector, serving in executive positions for a range of solar manufacturing businesses. In 1998, he helped start the Greenstar Foundation, an organization focused on building a "solar-powered community center" to deliver electricity, pure water, health and education information, and wireless Internet connections to villages in developing countries.
In 2016, Gay said he decided to join DOE because "I could bring some of the perspective of what is happening in the industry to help DOE time the rhythm of its work to match the accelerated speed of change in clean energy technologies—so our research was not obsolete before it leaves the lab."
The role suited him—and SETO. "What better way to help federally funded research along than to have somebody from industry be involved with the strategy, helping to identify the kinds of things we work on and how we invest in staying ahead of the curve?" Gay asked.
Although he was always hopeful that solar energy could make an impact, he marveled at "the speed of change in manufacturing, commercialization, and public adoption. Things have had an exponential rate of change over the past decade."
Gay, who has returned to his native Southern California, said that after leaving DOE, he will "take things as they come" in the field, consulting with solar energy startups looking to break into the market and continuing his work with Greenstar and rural electrification. He also plans to stay in touch with NREL and DOE.
His passion for solar power won't fade.
For some four decades, he's made an impact, fulfilling hopes he expressed during a 1997 interview at NREL: "Every person has the ability to achieve something important. Everyone individually and collectively has the opportunity to leave a lasting imprint on the planet with clean energy, sort of the same way Neil Armstrong left his footprint on the moon."
Gay summed up that aspiration by concluding, "In the time that we're given, we all want to leave the planet in better shape than when we got here."
—Ernie Tucker