Analysis Team Awarded for Studies of NASA-Sited Solar Project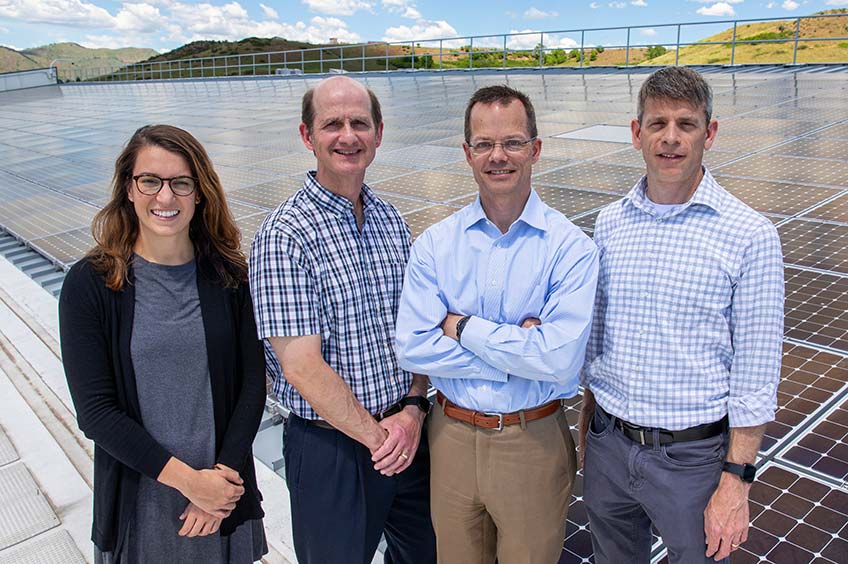 The Kennedy Space Center—iconic for images of fiery space launches—will now include a 500-acre solar photovoltaic (PV) plant on its western edge, thanks in part to NREL analyses on how to optimally structure the project for the National Aeronautics and Space Administration (NASA). The NREL team has received a NASA Group Achievement Award alongside the plant's developer, Florida Power & Light Company (FP&L), for the public-private effort to realize the 75-megawatt power plant.
NREL's team helped resolve decision-making between NASA and FP&L—which is leasing the land from NASA on an enhanced use lease—using renewable energy planning tools developed at NREL. The analyses provided estimates of the value of proposed payment structures and operational choices to NASA, supporting NASA decisions in structuring the lease with FP&L and saving the Kennedy Space Center $9 million or more over the lifetime of the project.
"We were fortunate to have the opportunity to provide analysis and consultation to NASA on a project requiring a different type of analysis," said Tom Harris, the project's lead at NREL. "The NREL analysis highlighted large differences in the parties' estimates of the present value of land and of renewable energy assets to the federal government and recommended the simplest and most transparent contract structure that effected a 1:1 exchange of value. The NREL team understood both parties' perspectives and helped them find a win-win."
The NASA award was presented to the NREL-FP&L team in September at the Kennedy Space Center and cited critical contributions toward making a very important renewable energy agreement a reality. The NASA Group Achievement Award is described by NASA as a certificate awarded for an outstanding group accomplishment that has contributed substantially to NASA's mission.
The PV plant—the Discovery Solar Energy Center—will be developed adjacent to the Kennedy Space Center Visitor Complex. It will displace less than an acre of wetlands, cost approximately $100 million, and could generate enough energy to power approximately 15,000 homes.
"The Kennedy Space Center energy team, led by Nick Murdock, was the ideal partner, facilitating communications, providing data for the analysis, and accepting the somewhat surprising results," Harris said. "Thanks to Dan Olis and Kathleen Krah of the Modeling and Analysis Group and Michael Ingram of the Power Systems Engineering Group for out-of-the-box thinking and synthesis of ideas that brought clarity to a conceptually complex transaction."
Planning tools such as REopt (Renewable Energy Integration and Optimization), the Resource Planning Model, and solar and wind data sets make NREL a go-to leader in renewable energy development. Solar energy studies from NREL have shown that solar is Florida's most abundant energy resource, creating opportunities for developments like the Discovery Solar Energy Center.