Unique Procurement Process Expands Microgrid Research Capabilities at the ESIF
---
Following a rigorous, 21-week dual-stage procurement program, NREL has purchased a Schweitzer Engineering Laboratories (SEL) microgrid controller for installation at the Energy Systems Integration Facility (ESIF), enabling new research capabilities to more effectively evaluate microgrid systems and their components.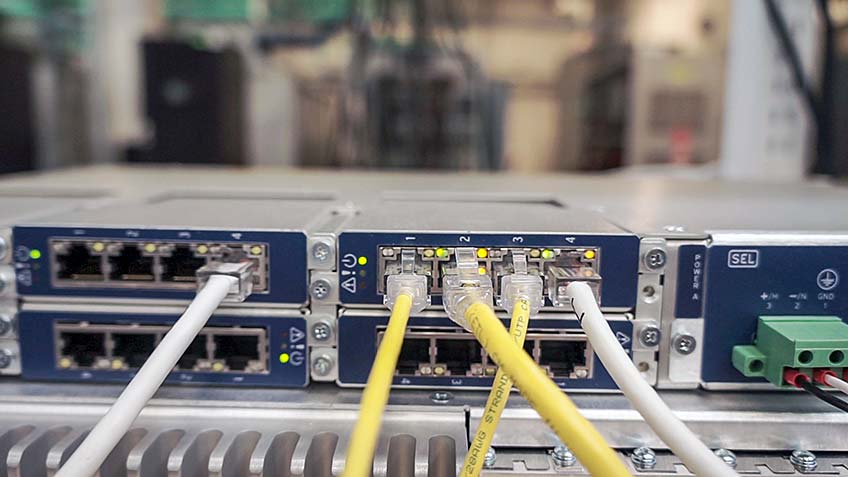 With the installation of SEL's microgrid controller, the ESIF can more readily conduct research on the hardware, communications, and security performance of microgrids. Image courtesy of SEL.
SEL, an employee-owned business based in Pullman, Washington, pitted its microgrid controller against those made by four other companies in a unique competitive procurement process, where NREL researchers ran each company's microgrid controller through a series of 100-minute simulated sequences based on a model network. This competitive procurement process provided comparative research on multiple controller technologies, which will help shape industry standards for advanced microgrid functionalities.
"We were interested in developing a permanent microgrid testbed at ESIF and found that the currently available controllers did not meet the needs of our research facility," said Sarah Truitt, who oversees the ESIF User Program. "We designed the procurement selection criteria to push vendors to advance their technology, address very challenging boundary cases, and deliver us a product that was as open, flexible, and user-configurable as possible."
The SEL controller is programmed to handle any problems that may surface during the operation of a microgrid, protecting it from outages and cybersecurity threats. Until now, microgrid research at the ESIF has largely been focused on evaluating controllers themselves or on relying on third-party controller technologies to validate other microgrid components, such as inverters. With the installation of SEL's microgrid controller, the ESIF can more readily conduct research on the hardware, communications, and security performance of a microgrid and its components--from small, local levels to those interfaced with utilities.
"By building out the ESIF's microgrid research platform, we can expose where the industry stands in terms of microgrid research and development," said John Fossum, an NREL electrical engineer who helped oversee the research operations of this competitive procurement program. "There's still a lot of research to be done on how to effectively control microgrids and have them interface with utilities, address shortcomings, and re-evaluate the relevant standards."
As part of the competitive procurement process, controllers were tested at the ESIF against key performance measurements to ensure the critical flow of electricity under multiple disruptive scenarios.
"Each controller was challenged during 100-minute sequences with multiple contingencies that required quick decisions," said Przemyslaw Koralewicz, an NREL electrical engineer who developed the test sequences. To keep the power on, the controllers were programmed to automatically make the correct decision, such as what to do when clouds suddenly cast shadows over solar power plants. How well each controller responded was evaluated and two companies were chosen to move into the final stage. The two top-performing controllers moved to the second stage of the procurement, where they received the Request for Proposal (RFP) and were vigorously evaluated with power hardware.
"This was a challenging project that generated a lot of enthusiasm at SEL. We were able to leverage our expertise in protection, communications and automation with our deep understanding of power systems to meet the demanding requirements of NREL's microgrid research facility," said Dave Whitehead, SEL's chief operating officer. "The software-defined network (SDN) technology that is part of our solution enables us to pre-engineer communication networks to provide optimal protection, control and security for microgrids."
Insights gleaned from this project will be published later this year and be offered to IEEE to expand the current standards for microgrid controllers. The 100-minute sequences along with a real-time model of a microgrid will be made publicly available on GitHub.
"We always set out to design and build innovative solutions and are delighted that our system achieved ESIF's objectives," said SEL President Edmund O. Schweitzer III. "Working with ESIF resources, along with our ongoing research, will help us continue to advance the design and performance of controls for future microgrids, and of the larger U.S. power system."
Funding for the pilot procurement program was provided by the U.S. Department of Energy (DOE) Office of Energy Efficiency and Renewable Energy's Technology-to-Market Program. Guidance and support came from the DOE Office of Electricity Delivery and Energy Reliability, and the DOE Grid Modernization Initiative. MIT Lincoln Laboratory transferred its Hardware-in-the-Loop Laboratory Testbed and Open Platform (HILLTOP) to NREL as the foundation for the ESIF microgrid test setup.