NREL Transportation and Hydrogen Researchers Recognized by DOE for Outstanding Achievements at 2018 Annual Merit Reviews
---
The U.S. Department of Energy (DOE) recently honored 16 NREL researchers for their outstanding achievements at the Annual Merit Review and Peer Evaluation Meetings for the Hydrogen and Fuel Cells Program and Vehicle Technologies Office. The annual meetings provide researchers leading projects funded by the Hydrogen and Fuel Cells Program and the Vehicle Technologies Office with an opportunity to share accomplishments with representatives from DOE, industry, and other labs.
Distinguished Achievement Award — Gilbert Moreno
Gilbert Moreno received the 2018 DOE Vehicle Technologies Office Distinguished Achievement Award for inventions and innovations of heat transfer and thermal management technologies for vehicle electric drive power electronics and electric motors. Gilbert's work on developing a power-dense, two-phase cooled inverter (CRADA project with John Deere) and his work with the Wolfspeed WBG project that resulted in a R&D 100 award were noted as reasons he was chosen to receive the award.
Team Award — EV Charging Infrastructure Team (Eric Wood, Clement Rames, Matteo Muratori, Sesha Raghavan, and Marc Melaina)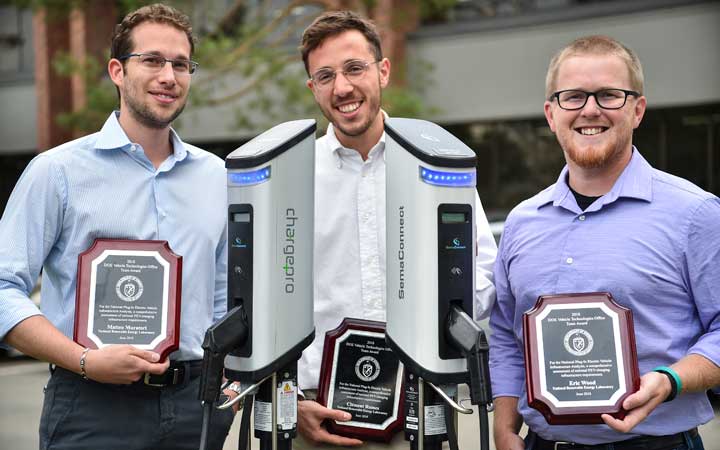 NREL's Eric Wood, Clement Rames, Matteo Muratori, Sesha Raghavan (now with University of California, Davis), and Marc Melaina (now with Great Wall Motors) earned a Team Award for their in-depth assessment of the charging infrastructure needed across the country to accommodate various market growth scenarios for plug-in electric vehicles (PEVs). Today, most PEV charging occurs at home, but widespread PEV adoption requires the development of a national network of non-residential charging stations. Strategically installing these stations early would maximize their economic viability while enabling efficient network growth as the PEV market matures. The team's findings suggest that a few hundred interstate corridor fast-charging stations could enable long-distance PEV travel between U.S. cities. Compared to interstate corridors, urban and rural communities are expected to have much greater charging infrastructure needs—about 8,000 fast-charging stations would be needed to provide a minimum level of urban and rural coverage nationwide.
Hydrogen and Fuel Cells Program Award — H2@Scale Team (Bryan Pivovar, Mark Ruth, Paige Jadun, Josh Eichman, Wesley Cole, James McCall, Nick Gilroy, and Elizabeth Connelly)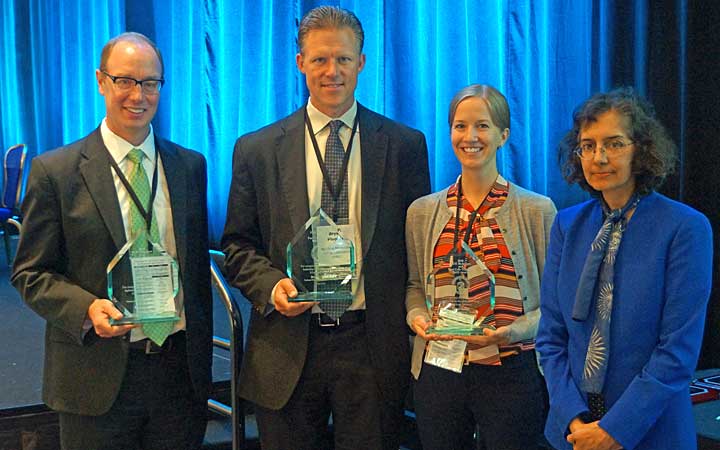 NREL's Bryan Pivovar, Mark Ruth, Paige Jadun, Josh Eichman, Wesley Cole, James McCall, Nick Gilroy, and Elizabeth Connelly were recognized along with other researchers from Idaho National Laboratory, Argonne National Laboratory, and Lawrence Berkeley National Laboratory for their leadership in the development of the groundbreaking H2@Scale initiative. H2@Scale aims to advance affordable widescale hydrogen production, transport, storage, and utilization to unlock revenue potential and value across sectors. DOE recognized the team for its tireless work to develop world-class grid simulation and electrolyzer testing capabilities, conduct outreach to engage key stakeholders from industry in developing the H2@Scale vision and supporting research and development efforts, and complete techno-economic analysis to define the H2@Scale value proposition.
Hydrogen and Fuel Cells Program Award — Chris Ainscough
Chris Ainscough was recognized for his outstanding dedication and invaluable contributions to advancing technologies in DOE's Hydrogen and Fuel Cells Program. For nearly two decades, Ainscough has led Fuel Cell Technologies Office activities spanning the full spectrum of early stage R&D, from project management and laboratory research to strategic development of program plans and roadmaps. Ainscough was commended for his initiative, dedication, enthusiasm, and collaborative spirit that consistently leads teams to innovative, outside-of-the-box thinking and solutions.
Hydrogen Production Award — Huyen Dinh
Huyen Dinh was recognized for her exceptional leadership, dedication, and commitment leading the HydroGEN Advanced Water Splitting Materials Consortium, focused on accelerating the research and development of advanced water splitting technologies for clean, sustainable hydrogen production. Part of the DOE Energy Materials Network, HydroGEN fosters collaborations between national laboratories, industry, and academia to address the key materials challenges critical to all water splitting technologies. Dinh's efforts to establish and operationalize the consortium were recognized as being instrumental to HydroGEN's realization and impressive initial success.
Technology Acceleration Award — Bill Buttner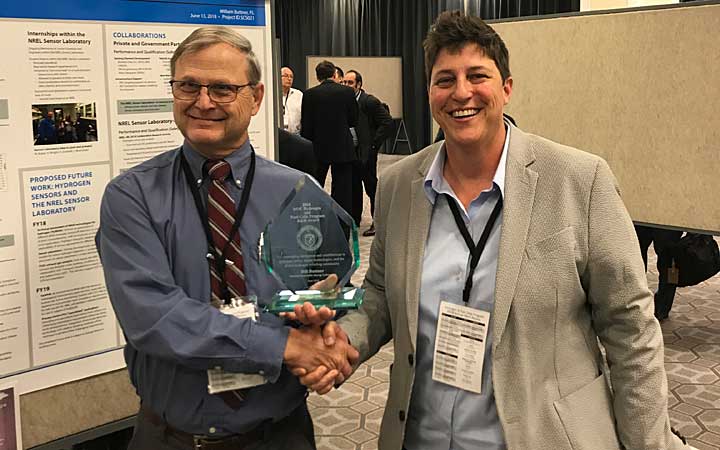 Bill Buttner was recognized for his outstanding dedication and contributions to hydrogen safety, sensor technologies, and the global hydrogen refueling community. His collaborative work with international and industry stakeholders has led to the validation of sensor placement—including for indoor spaces—enabling the widespread deployment of fuel cell electric vehicles. Buttner was also recognized for his work as a dedicated mentor and teacher and his strong commitment to inspiring the next generation of hydrogen and fuel cell technology leaders through his ongoing work with interns and co-op students.
Distinguished Achievement Award — Trish Cozart
NREL's Trish Cozart was honored with a Distinguished Achievement Award in recognition of her former role as Manager of the Alternative Fuels Data Center (AFDC) website. During her time in the role, she transformed the AFDC into one of the top-ranking government websites, boasting high usability scores and 1.5 million users annually. She also worked to advance data sharing and open standards across websites by supporting the development of application programming interfaces—or APIs—for web developers. Cozart's tireless innovations and well-designed websites allowed renewable energy and energy efficiency data to become easier to use and more clearly understood. Although Cozart recently moved on to become Senior Web Project Leader for NREL's Wells Fargo IN2 program, her work continues to have a positive impact for AFDC users and other government-led websites.