Middle School Students Take the STEM Wheel
---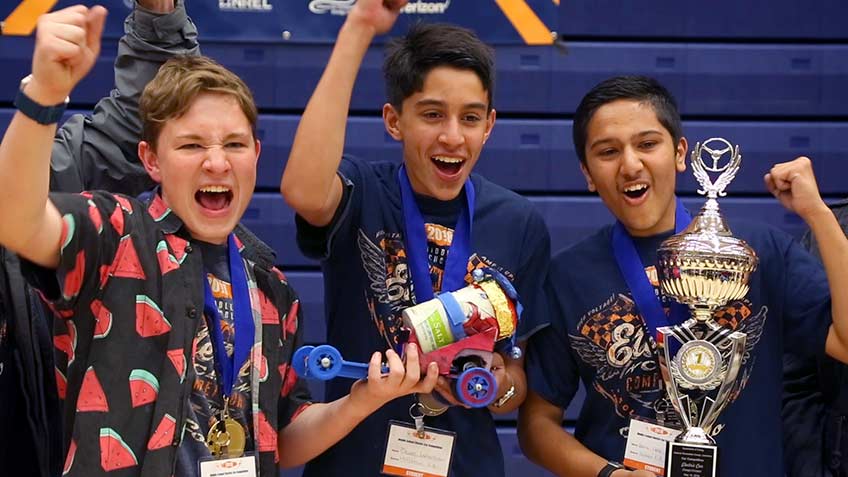 On May 19, Colorado middle school students exchanged books for batteries and became true engineers, cheering on model electric cars they designed and constructed for the National Renewable Energy Laboratory's (NREL's) annual Middle School Electric Car Competition. Not even gloomy weather could dampen the students' palpable excitement as they prepared for the races.
"I'm nervously optimistic," said Mai Sakabe from Team Kawii Aqua Angel. One of 41 teams registered at the competition, the Kawii Aqua Angels from Littleton Academy were not the only ones excited to watch their science, technology, engineering, and math (STEM) rubber meet the road.
Off to the Races
Held at Dakota Ridge High School in Littleton, NREL's 28th car competition offered students the opportunity to design a car powered by either a solar panel or a lithium-ion battery. Due to the untimely thunderstorms, however, the competition was moved from the school's parking lot to its gymnasium, and NREL provided the solar competitors with AA batteries to power their vehicles.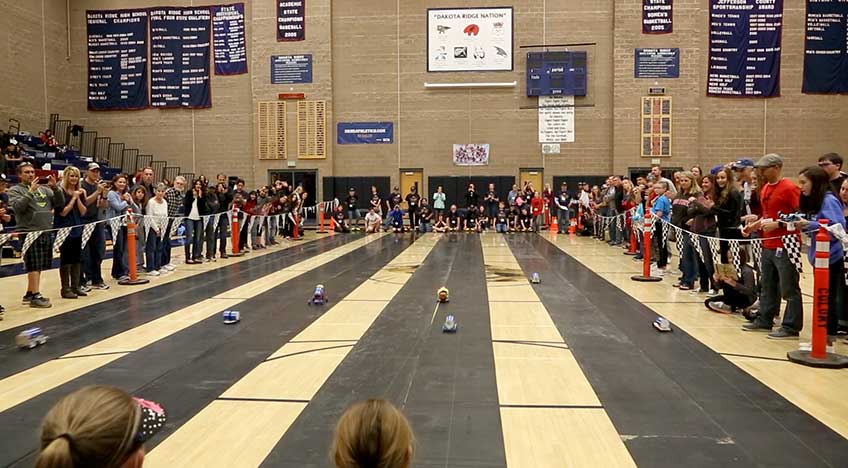 In all, the 41 teams from 14 schools prepared to compete in time trials followed by rounds of double eliminations to determine the winners in five different categories: Lithium-Ion Battery Design, Lithium-Ion Battery Race, Solar Sprint Design, Solar Sprint Race, and finally, Spirit. After a close inspection to ensure that each car had the necessary components, the students gathered around a 20-meter rubber track to discover the fastest, most aesthetic, and most sportsmanlike competitors.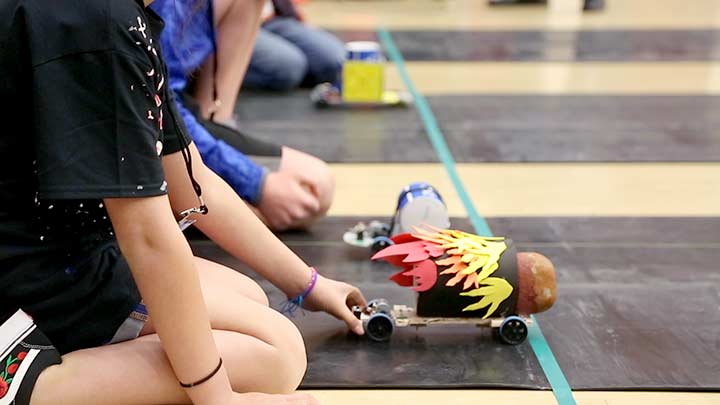 While only five teams would win trophies that day, the true reward of the competition was the journey, not the destination. Through months of tinkering with axel ratios, hot glue, LEGO wheels, and other tools, preparing for the competition helped students learn about mechanical engineering, physics, and renewable energy, as well as project management, creative problem-solving, and—most importantly—themselves.
A Whole New Hot Rod
Resurrection Christian School performed strongly in both speed competitions. One of the school's teams, Cougars 3, stole first place in the battery race with a time of 6.610 seconds, while Cougars 2 scorched its rivals to earn first place in the solar race with a time of 5.588 seconds. Surprisingly, this was the very first––and last––time that the Cougars 2 team participated in the competition; its members will be moving on to high school next year.
"This was our first time and it's kind of exciting because at the beginning of the year, we didn't think our car was going to do anything," Caedon McLaughlin said. "Our first car was super slow, second car was super slow, and this one was really fast. I was certainly not expecting it to be so fast."
While speed is undoubtedly part of the competition, it isn't everything––the diversity of this year's cars proved that something must also be said for creativity in design.
LUV2XCLR8: Taking Full Creative License
A Harry Potter-themed cube. A cloud. A skyscraper. These are just a few examples of the myriad car designs that students invented for the competition.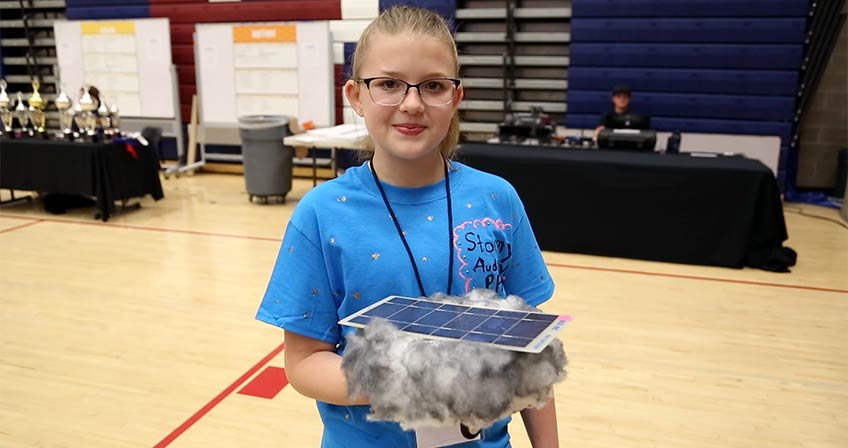 The winners of the Solar Design category, Marlo and Caitlin's Wild Ride from Hulstrom K-8, opted for a minimalist approach with only a 3D printed chassis and empty Smart Water bottle acting as the body of the car. "We decided to use this water bottle because we thought it would be a nice, sleek design and very aerodynamic," Marlo Weber explained to inspectors. She also described challenges the team had overcome in designing the car's wheels: "This was really our first design, but the chassis, we 3D printed it, and we had to go through it about five times before we could get it completely right."
Lithium-Ion Battery Design winners We Forgot to Name Our Car (also from Hulstrom K-8) used the same 3D printer to design the entirety of their red-and-blue model, outfitting the required cargo, a 26-ounce cylinder of salt, with a jaunty jester's cap. While Marlo and Caitlin's Wild Ride had trouble developing the perfect chassis, We Forgot to Name Our Car struggled with balancing the weight of their prototype evenly across all four wheels.
In fact, most teams had to test multiple designs before finally arriving at a functional model. For Castle Rock Middle School Teacher Paula Dutenhoeffer, that's what the car competition is all about: the ride. "To just watch them grow—sitting and looking at a pile of parts and thinking, 'I have no idea what to do with these'—and watch them coming up with a whole project is just amazing."
Keith Sousa, father of competitor Tyler Sousa, also remarked that his son "has done some engineering-type stuff before, but this has been more of a hands-on approach and he really enjoys it...I think the excitement of actually having the tangible results of your work is paying off for him."
The hands-on approach exemplified in the Middle School Electric Car Competition may be just what these students need to propel them towards a future in science.
Gearing Up for an Engineering Future
When asked about their professional ambitions, many students responded that the car competition has inspired them to consider pursuing careers in STEM.
"I definitely think that NREL is great because it sparks engineering in kids," stated Devin Lemercier, a member of We Forgot to Name Our Car. "It's really fun because you actually get to learn hands-on, whereas a lot of other times in school you're just taught with a book or a laptop and you're not really getting to experience it. This really ignited a lot of engineering for me, so I definitely think something with engineering, and probably in the automotive sector, will be in my future."
Even those students who hadn't previously considered a future in science seemed inspired. Audrey Holt from Parker Performing Arts explained, "We're not big scientists but we're really into technology because we get to discover stuff we never thought we would, like building cars. I never thought that I would make a car, but we did it and I really liked doing it. So, maybe…"
As for the solar speed winners?
"That is my adult plan, is to be an engineer [in] mechanical engineering," McLaughlin said.
So maybe there were rain clouds that, figuratively, stole the thunder out of race day. And perhaps some students' cars refused to leave the starting line. But in the end, if the Middle School Electric Car Competition has students fired up about STEM and renewable energy, then consider that everyone truly is a winner.
Visit NREL's Energy Education website to learn more about the ways the laboratory inspires students to explore solutions for future energy needs.