International Partnership Revolutionizes Cross-Continental Travel with Alternative Fuels
July 31, 2018
From electric vehicle chargers in the Florida Keys to propane stations in Canada's Northwest Territories, finding alternative fuels for cross-continental road trips is now as easy as selecting a fuel with the updated Alternative Fueling Station Locator.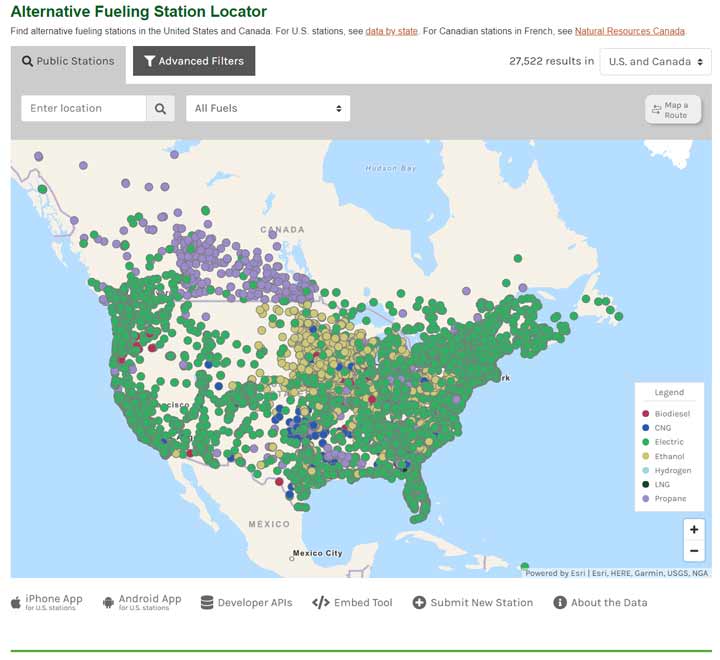 Building on momentum from launching the Natural Resources Canada Electric Charging and Alternative Fuelling Stations Locator, the National Renewable Energy Laboratory (NREL) combined station data for the United States and Canada to update the U.S. Department of Energy's station locator into one unified transcontinental tool. This reliable, easy-to-use tool builds confidence for drivers relying on vehicles that run on electricity, ethanol (E85), biodiesel (B20 and above), natural gas, propane, and hydrogen.
"Combining the U.S. and Canadian stations in one tool just made sense because it leverages the funding spent by two countries to collect data, and the result is an integrated tool that helps people travel across borders," said Matt Rahill, web project leader for the Alternative Fuels Data Center. "The updated tool leverages the same comprehensive data collection methodology and alternative fueling industry partnerships that have made the Station Locator a reliable source of robust station information for years."
When the Canadian tool launched in March, Natural Resources Canada and NREL were quick to recognize the benefit a combined tool would offer in allowing fleets to more easily transport goods between countries using alternative fuels. Breaking down this barrier between neighboring countries demonstrates the dependability of alternative fuels for people who are capitalizing on the vast alternative fuel resources produced in the United States and Canada.
Facilitating seamless travel between the United States and Canada for alternative fuel drivers also maximizes the benefit of alternative fuel infrastructure in both countries, inviting profit from transcontinental fleets and individuals. Industry on both sides of the border continue to be key contributors to the station locator, providing critical data to keep the station information up to date.
"With this new capability, the tool becomes more flexible," said Johanna Levene, team lead for the project. "Formal transcontinental alternative fuel corridors can be considered. Fleets operating in both countries can investigate using alternative fuels to move goods and people. Fuel providers can easily plan infrastructure build out across borders."
This NREL-Natural Resources Canada partnership is a highlight of continuing upgrades to the Alternative Fueling Station Locator. Keep an eye out for news of an Alternative Fuel Corridor tool—based on a partnership between NREL and the U.S. Federal Highway Administration—as the next step in evolving this tool to keep pace with the rapidly progressing arena of alternative fuels and advanced technology vehicles. Corridor mapping will allow transportation planners to monitor existing alternative fuel routes and determine where to invest in fueling infrastructure for new and extended corridors.
Explore stations near you on the Alternative Fueling Station Locator.
Learn more about NREL's transportation research.