Denver Business Journal Recognizes Richard Adams for Convening Innovators and Investors
November 23, 2018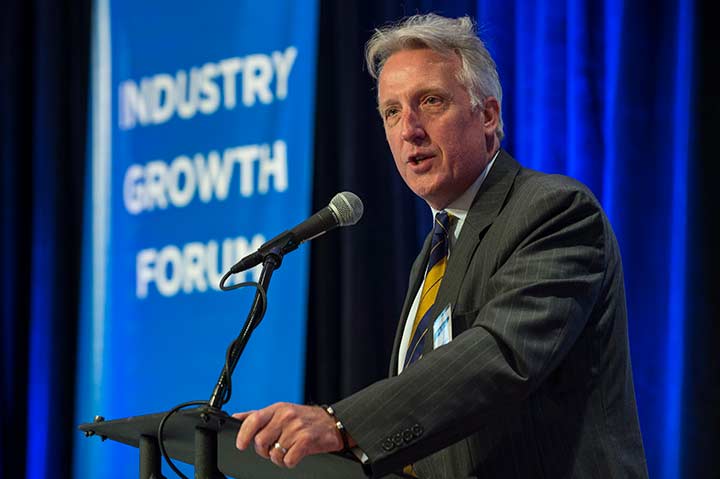 Richard Adams builds energy—around technology, among investors, and through foundations. Long recognized at the National Renewable Energy Laboratory (NREL) as the convener of innovators and investors, Adams' efforts to bring clean tech to market were recently lauded by the Denver Business Journal, which named Adams to its list of Who's Who in the Energy Industry.
The Denver Business Journal annually recognizes the best and brightest of the city's energy professionals. The publication selects executives from multiple sectors involved in energy—finance, utilities, oil and gas, and education, among them. Several NREL staff have been named to the list for their research savvy and efforts to transform the energy industry. Adams is one of the first who can list his accomplishments in terms of startups launched and investments multiplied.
Adams is the Director of the Innovation & Entrepreneurship Center at NREL. In this role he oversees the Innovation Incubator (IN2), a technology incubator partnership with Wells Fargo. His team also conducts the Industry Growth Forum and Emerging Markets Day and manages NREL's Investor Advisory Board and relationships with the financial community. Adams is NREL's coordinator of foundation partnerships and manages programs dedicated to regional and national incubators and the clean energy and cleantech startup communities.
Most recently, his business acumen resulted in Shell, the global energy company, partnering with NREL to administer and provide technical expertise in the Shell GameChanger Accelerator program. The multimillion dollar, multiyear program is setting out to discover and advance emerging clean energy technologies that have the potential to alter global energy.
Collectively the programs managed by Adams have raised almost $8 billion in follow-on funding and resulted in more than 3,000 jobs.
"I'm honored to receive the recognition from the Denver Business Journal," said Adams. "My work with startups, foundations, and the energy industry has always been a labor of love. I'm lucky to work at NREL among world-class energy researchers and in the Denver community where energy innovation is thriving."