A Hidden GEM of NREL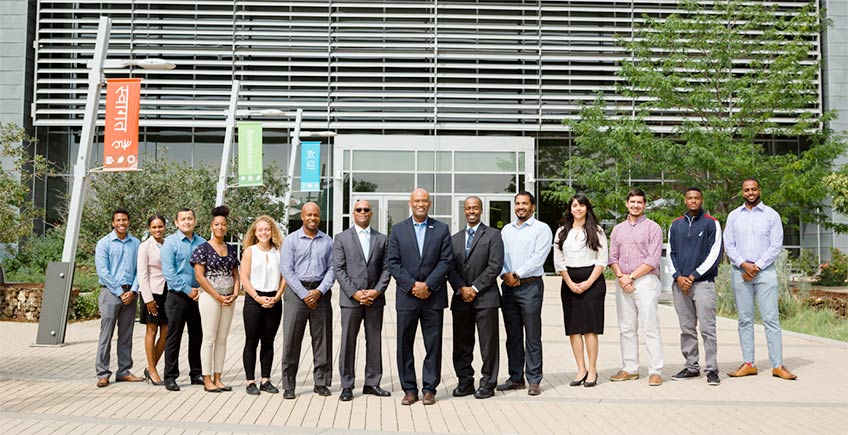 It's impossible to know if the solar-powered car Haley Lewis built from Legos as a kid is what ultimately inspired her to pursue a career in engineering, but her passion to turn her research into tangible societal impact is unmistakably clear. Lewis, a Research Participant Program (RPP) intern and Graduate Education for Minority Students (GEM) fellow, returned to the National Renewable Energy Laboratory (NREL) for the second time after completing a Science Undergraduate Laboratory Internship (SULI) in the summer of 2015.
The GEM program recruits underrepresented students looking to pursue graduate education in applied science, technology, engineering, and math (STEM). As a part of their fellowship, GEM students are matched to fitting partner organizations where they can transform their education into action by working alongside world-renowned researchers and with cutting-edge technologies.
"A lot of things in my life have really come full circle," said Lewis, who begins her Ph.D. in environmental engineering at Northwestern University this fall. "Returning to NREL this summer as a GEM fellow gave me the opportunity to continue to expand my research and skill set."
Working in the Strategic Energy Analysis Center with Garvin Heath, Lewis completed a life-cycle assessment analysis on greenhouse gas emissions for a municipal utility attempting to provide 100% renewable energy. "This research, putting renewable energy into the grid, has countless public health benefits," said Lewis, "I want to ultimately leverage my research to help make a social impact and help communities that are disadvantaged."
Likewise, Lewis' summer roommate and fellow GEM intern, Emily Penn, is ready to take on her next adventure after completing her internship at NREL. Penn, a chemical engineering graduate from the Massachusetts Institute of Technology, first discovered GEM after one of her professors mentioned that he was a GEM fellow and suggested Penn look into the program. Soon after, Penn committed to pursuing her Ph.D. at Stanford University in chemical engineering. During her internship, Penn worked in the Chemistry and Nanoscience Center in the Energy Systems Integration Facility focusing on integrating new and improved cathode materials into fuel cells. The new cathode materials--made of nanowires containing less platinum than the currently used catalysts--improve the performance of fuel cells.
Originally from Maryland, Penn enjoyed hiking in the Colorado mountains and a work environment that allowed her to connect and collaborate with fellow interns and researchers. "Coming to NREL as a GEM fellow and getting to experience the national laboratory environment has been a great opportunity to grow as a researcher," said Penn. "I am excited to stay in energy."
Looking Toward the Future
NREL associate lab director for Mechanical and Thermal Engineering Sciences Johney Green is the GEM Executive Committee Vice Chair. Having once been a GEM fellow himself at Oak Ridge National Laboratory (ORNL), Green recognizes the impact GEM has for talented youth. "NREL is committed to our GEM partnership and would like to see it be a pipeline to recruit, attain, and support diverse talent," Green said. Familiar with recognizing talent, Green mentored NREL Buildings Laboratory Program Manager Roderick Jackson when he was a GEM intern at ORNL.
Jackson credits the GEM fellowship for helping him gain exposure to the national laboratory environment and further develop his career. "Many of these early-career candidates with great technical expertise do not have prior knowledge of the national labs," said Jackson. By coming to NREL, GEM students continue to pursue their passions in STEM while cultivating a vast network of resources designed to help prepare them for future endeavors.
"We are proud to see top-tier graduate students grow as key research contributors through the GEM program here at NREL and at other national labs," said Chief Human Resources Officer Deb Doel-Hammond. "By fostering a pipeline of talent, GEM continues to support NREL's mission in tackling today's energy challenges through research, development, and exceptional partnerships."