iiESI Wraps Up First International Conference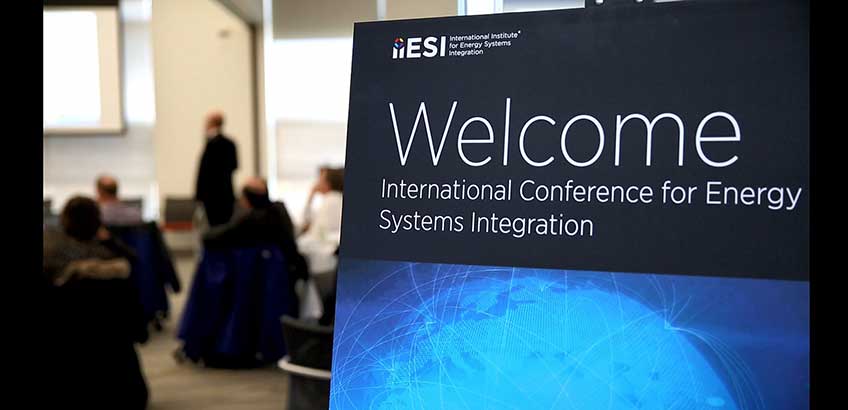 On December 5-6, the International Institute for Energy Systems Integration (iiESI) hosted its first International Conference on Energy Systems Integration on NREL's campus, convening more than a hundred scholars and practitioners that crossed scientific and engineering disciplines.
Over the course of the event, presentations touched on sub-topics of the conference theme, "Infrastructure for an Integrated Energy System," such as sector coupling, the role of energy demand in energy systems integration (ESI), infrastructure resilience, and electrical infrastructure. Following the first day of presentations, iiESI hosted an evening reception and poster session that featured research from students of partner institutions.
"I was very pleased with the number of colleagues from a multitude of disciplines and from across the globe, who sat attentively to listen and learn how their expertise can be complimented by and shaped by their colleagues' expertise," said Mark O'Malley, director of iiESI and senior research fellow at NREL.
The conference sessions represented the multidisciplinary concepts of energy systems integration; one panel included Henrik Madsen, a professor of stochastic dynamical systems, seated alongside Linda Steg, a professor of psychology, to address the role of energy demand in ESI. The inclusion of social science in the conversation helped expand the scope of the conference, as other sessions featured a similar spread of researchers.
"Overall, the diversity in topics and research interests resulted in a truly useful and productive exercise," said O'Malley.
Such a range in topics was reflective of the institutions that compose iiESI ­­­– an international blend of industry, government, and academia. Representation and input from diverse sectors is critical for tackling the complex nature of infrastructure in integrated energy systems, which spans environmental, economic, technological and political domains.
Since 2014, iiESI has been active as a nexus of the integrated energy community by providing resources, events, and a channel of communication between partners. To learn more about iiESI, visit their website. For conference slides and posters, visit the event page.