NWTC's Grid Capabilities Providing Value for Partners
---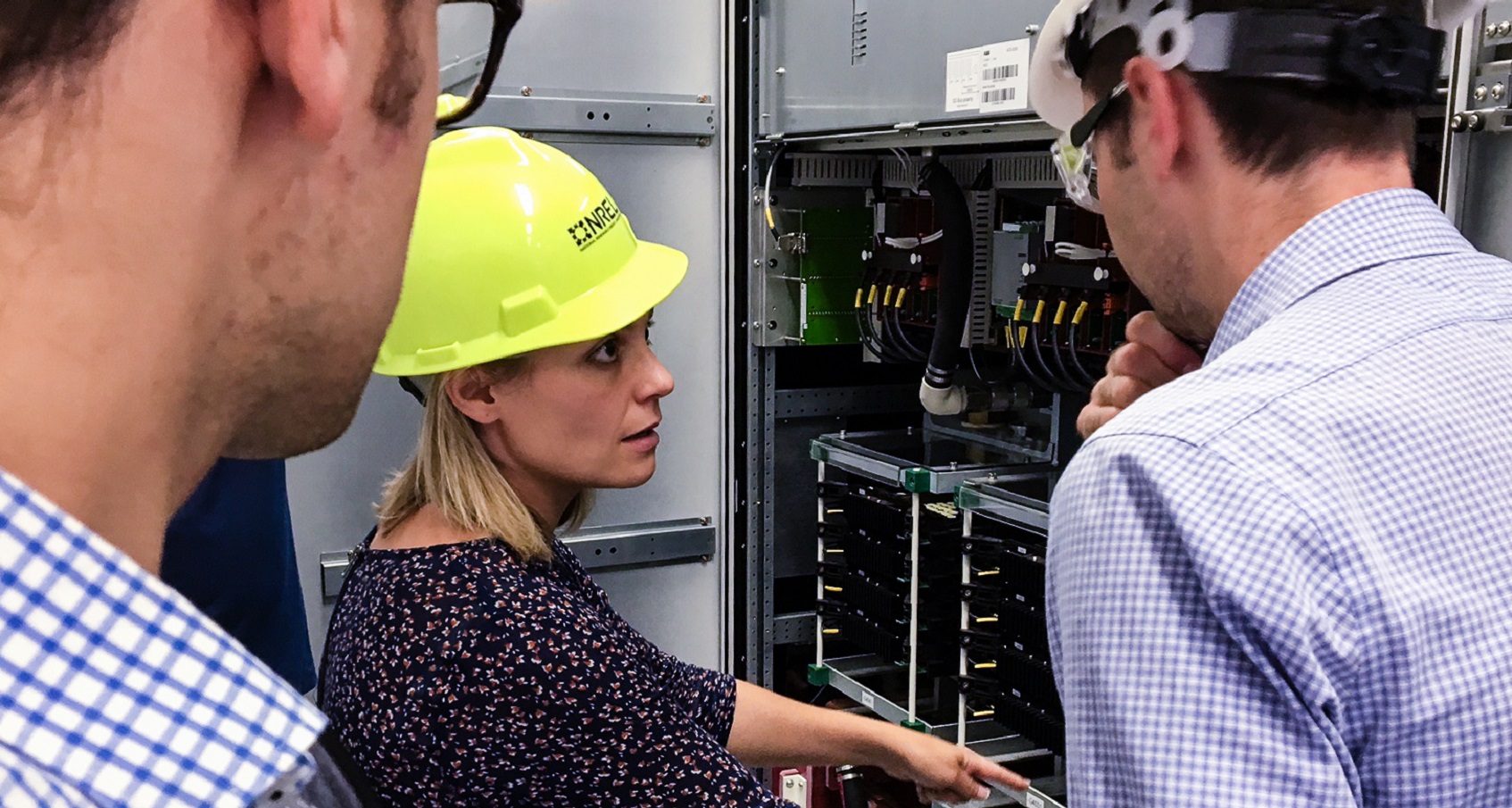 Ester Guidi, sales engineer at ABB, explains the functionality of the NWTC's controllable grid interface to potential grid research partners. Photo by Mark McDade, NREL
When the National Wind Technology Center (NWTC) at the National Renewable Energy Laboratory (NREL) commissioned a new 5-megawatt dynamometer facility and controllable grid interface (CGI) in fall 2013, it created a unique opportunity for the Energy Department, industry, and other partners.
"The simulated grid capabilities at the NWTC are really a strong point because you can test generation on a multimegawatt scale at medium-voltage levels and couple that with the resource variability," said Vahan Gevorgian, an NREL principal engineer who is involved in much of the work. "In other words, you utilize full-sized wind turbines and other generator systems under controlled grid conditions where you can research interactions of grid impacts and resource variability impacts on the system at the same time."
This capability creates an unrivaled asset. "That's what makes this place unique. Nobody in the world can do what we can," Gevorgian said. Even though other places can offer bigger grid simulators, "they can't test end-to-end types of setups at the scales like we do."
Wind and ocean power industry partners and researchers are increasingly taking advantage of the opportunity to conduct a wide range of trials on the mechanical and electrical power-producing systems of wind and ocean wave turbines. Further, various agencies, including several offices of the Energy Department, are also making use of the facility.
"We think it's a real success," Gevorgian said. "It has been confirmed by the Energy Department, and we get a number of projects funded by the Office of Energy Efficiency and Renewable Energy under the Grid Modernization Initiative and other programs that use this facility."
Part of the benefit of the NWTC facility is that a wind turbine being examined can be connected either directly to the grid or to the CGI, giving system engineers a better understanding of how wind turbines react to grid disturbances. The wind turbines can be offline from the grid while being verified for compliance with standards.
Researchers and industry partners can access a virtual link with the Energy Systems Integration Facility supercomputer, allowing them to visualize complex systems in a virtual environment and observe real-time testing schemes. This connection has helped advance the understanding of energy storage. Additionally, the Energy System Integration Facility was the first U.S. test site with fault-simulation capabilities.
The idea of the CGI was conceived over a decade ago, when NREL researchers were testing different types of wind turbine drivetrains on a smaller 2.5-megawatt dynamometer. They started to realize that grid impacts also need to be considered in the system design. "The understanding grew that wind has to provide services to the grid, to enhance grid stability and reliability, so that all played along with our understanding of the role of NREL research, and contributions we could make."
The expansion of capabilities coincided with funding opportunities in the Recovery Act, so that NREL was able to receive enough funding to build these systems. "We were able to deliver a system that is still a sufficient size to provide research impact on industry and be a valuable asset to the whole U.S. energy community," Gevorgian said.
These facilities aren't only for renewable energy technologies. "What we developed is a multitechnology asset," he said, adding that it can test wind energy, water power, photovoltaic, fuel cell systems, combined heat and power units—even diesel generators. "It's a good interface that allows validation of any type of technology. Another valuable part of it, you can evaluate several technologies in parallel in grid-connected or stand-alone microgrid modes." Finally, researchers can investigate interactions and controllability issues in real scale, not in a model.
With these capabilities, industry can now partner with NREL to validate, optimize, and visualize the grid-integration-related performance of a unit before it is deployed. Findings at the NWTC are disseminated throughout the renewable energy industry. Gevorgian said, "The knowledge and awareness of this capability is growing among different industry members, so we are getting more and more phone calls and inquiries about possibilities to collaborate." Further, all stakeholders can tap into this progress. "We provide an impartial approach that is going to benefit everyone, not just one vendor. From that perspective, the impact is very holistic and comprehensive."
From the controllability aspects, performing validation in the field is really complicated because the projects deployed are owned by companies that are obligated to provide a service and profits. "There are really limited opportunities in the field to do this type of testing, compared to what we do here," Gevorgian said.
Down the road, Gevorgian and others would like to see an increase of power capacity of the NWTC system. "If we want to grow larger, we could add another system in parallel, using a coordinated control design," he said. In that way, as the wind industry continues to expand by deploying larger wind turbines and photovoltaic inverters—NREL will continue to offer a unique opportunity. "We'd see growth in both power and voltage capability," he said. NREL, he added, is open to making its suite of capabilities at the forefront, meeting partnership needs as they develop with an unparalleled facility at the NWTC.