NREL Facilitates Installment of Advanced Hydrogen Fuel Station in Washington, D.C.
July 28, 2016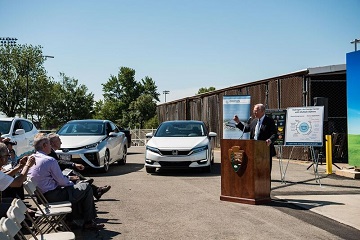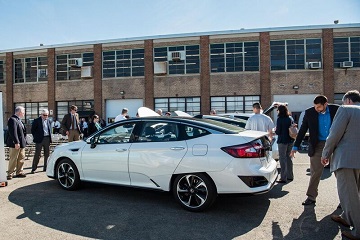 The U.S. Department of Energy's (DOE's) Fuel Cell Technologies Office and Department of Interior's National Park Service recently established a partnership to demonstrate hydrogen technologies in the Washington, D.C. area for up to four years. Kicking off the partnership, the two agencies unveiled a modular demonstration hydrogen fueling station during the Sustainable Transportation Summit on July 11, 2016, supporting the first phase of their collaborative efforts to accelerate deployment of advanced hydrogen fuel cell technologies.
This phase of the demonstration provides opportunities for federal agencies to gain hands-on experience by showcasing and using fuel cell electric vehicle (FCEV) technologies throughout the D.C. metro region. The National Renewable Energy Laboratory (NREL) helped with installation of the technology from the project's inception to its grand opening—hiring contractors through a competitive bid process and selecting Werken Architecture & Planning, LLC and Anderson Burton Construction to complete design and installation. Planning and deploying the new station—including assessing and documenting the current level of knowledge on hydrogen fueling technologies for contractors, first responders, authorities having jurisdiction, and the general public near Washington, D.C.—has provided NREL with valuable insight on the unique aspects of hydrogen station permitting and construction. NREL is compiling these insights into a report, which will serve as a guide for future installations.
"The hydrogen fueling station in Washington has already given NREL valuable information on existing knowledge gaps to install such technology," said NREL Transportation and Hydrogen Systems Center Director Chris Gearhart, who attended the opening event for the new station. "That information, combined with the data we're collecting on the station's performance, will continue to enhance our efforts in making hydrogen fuel cell technologies a viable option for consumers."
Acting DOE Office of Energy Efficiency and Renewable Energy Assistant Secretary David Friedman, former U.S. Senator Byron Dorgan, and National Park Service Director Jonathan Jarvis provided opening comments before the official ribbon-cutting ceremony, with several key automakers in attendance showcasing their commercial FCEVs as a sign of their support. Original equipment manufacturers such as Hyundai, Toyota, and Honda are contributing to the effort by offering their newest FCEVs to demonstrate the station's performance and vehicles' drivability—including long range and fast refueling—to the public. Hyundai and Toyota are already providing their commercial FCEVs, the Tucson Fuel Cell and the Mirai, to the agencies to support the demonstration. Honda's Clarity Fuel Cell will be available beginning in late 2016.
The station equipment was supplied by Proton OnSite, a Connecticut-based company that manufactures hydrogen generation systems based on proton exchange membrane electrolysis technology. Part of a $1.4 million DOE-funded project that was awarded to Proton OnSite, the station's electrolyzer will produce up to 43 kilograms of hydrogen a day, enough to fully fill roughly seven cars a day with an approximate 300-mile driving range each. In support of the demonstration, Proton OnSite is loaning their state-of-the-art SunHydro fueling station to the Fuel Cell Technologies Office and will oversee operation and equipment maintenance. NREL is collecting data on the station's performance throughout the lifetime of the demonstration, and because the equipment is easily relocated, it can also be used to support FCEVs elsewhere in the region after the demonstration project concludes. It is also the first modular station that the laboratory has helped to install and analyze for its performance.
"Proton OnSite is proud to be working with DOE, NREL, and the National Park Service to provide hydrogen fueling capability to our nation's capital," said Proton OnSite's Senior Vice President of Engineering John Zagaja. "In order to support the early market development of fuel cell electric vehicles, it is important that sustainable transportation stakeholders in Washington experience the technology firsthand." Zagaja added that the electrolysis process used has the potential to produce renewable hydrogen with zero carbon emissions, providing the ideal combination of FCEV technology with green hydrogen.
This collaboration and demonstration fueling station is just one milestone on the path to a more sustainable future and a critical step in developing greater access to fuel cell and hydrogen technologies, as well as a crucial resource for NREL to collect data on deployment of the technologies. The partnering agencies plan to deploy several demonstrations in the Washington, D.C., region around clean energy and hydrogen fuel cell technologies in the years to come.
Learn more about the new hydrogen fuel station demo and NREL's hydrogen and fuel cell research.