News Release: NREL Announces Participants for 2018 Executive Energy Leadership Program
---
The Energy Department's National Renewable Energy Laboratory (NREL) has selected 19 leaders to participate in its 2018 Executive Energy Leadership program (Energy Execs), which provides non-technical business, governmental, and community leaders throughout the country an opportunity to learn about advanced energy technologies, analytical tools, and financing to guide their organizations and communities in energy-related decisions and planning.
The four-month program, which begins this month, offers executive decision-makers from throughout the U.S. an in-depth opportunity to learn from some of our laboratory's most prominent scientists, engineers and professionals, tour our research facilities, and visit local renewable energy installations.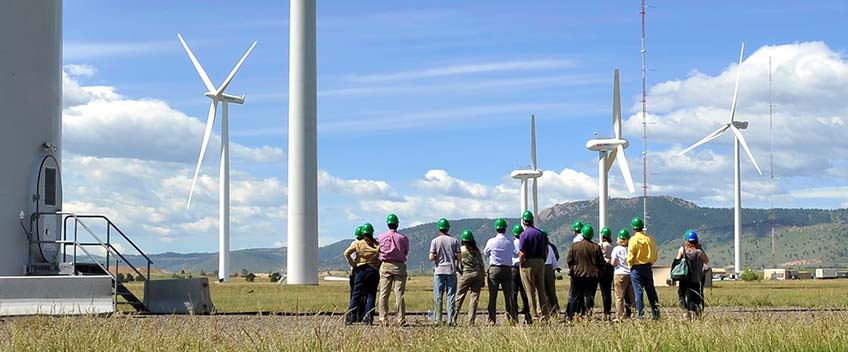 "The NREL Energy Execs program was a profoundly valuable experience which exponentially enhanced my knowledge base on renewable energy and emerging technologies," Missouri Public Service Commissioner Scott Rupp said. "The hands-on interaction with researchers and renewable energy experts provided the opportunity to take deep dives into many different technologies and to get a better understanding of what exists currently, what is on the horizon and what is a possibility when it comes to the future of energy in the U.S. The ability to network and learn from fellow program attendees added to the quality of the program."
At the conclusion of the program, participants will demonstrate what they've learned by presenting a feasible innovative energy project that is relevant to their organization or community. Since its inception in 2007, more than 280 representatives of industry, government and non-profit organizations have completed the Energy Execs program, delivered through the Executive Energy Leadership Academy. For more information, visit https://www.nrel.gov/workingwithus/energyexecs.html.
Editors please note: A complete list of this year's Energy Execs participants follows.
Cameran Bailey – Metropolitan Council (Minnesota)
Britta Beckstead – Western Governors' Association (Colorado)
Susan Blythe – Brendle Group (Colorado)
John Cattles – Gunnison County (Colorado)
Zachary Friedman – Black Bear Energy (Colorado)
John Gavan – Delta Montrose Electric Association (Colorado)
Kyle Gumto – Cardinal Health (Ohio)
Mark Hartman – City of Phoenix (Arizona)
Amanda La Brier – City of Chicago (Illinois)
Julianne Laue – Mortenson (Minnesota)
Susan Lewis – Delaware Army National Guard (Delaware)
Craig Mays – Johnson Controls (Kansas)
Spencer Nelson – ClearPath Foundation (District of Columbia)
Alex Polo – Costco Wholesale (Washington)
Thomas Quasius – APTIM (Illinois)
Anna Siefken – Carnegie Mellon University (Pennsylvania)
Jared Soncrant – Senator Cory Gardner (District of Columbia)
Jeffrey Tu – RE2H2 Energy Development LLC (New York)
John Widerman – Town of Minturn (Colorado)
NREL is the U.S. Department of Energy's primary national laboratory for renewable energy and energy efficiency research and development. NREL is operated for DOE by The Alliance for Sustainable Energy, LLC.