NREL Teams With Australia's Fortescue Future Industries on a Colorado Innovation Center
---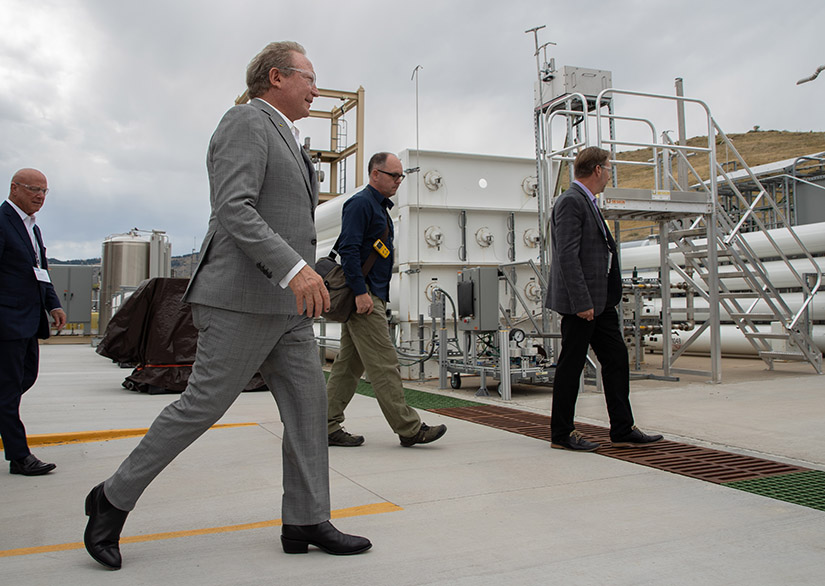 It is about 10,000 miles between the main campus of the National Renewable Energy Laboratory (NREL) in Golden, Colorado, and Western Australia. But that distance shrank considerably in September 2022 when West Australian Fortescue Future Industries (FFI), a subsidiary of globally leading resources and energy company Fortescue Metals Group Ltd. (Fortescue), announced a partnership with NREL for the Fortescue Colorado Innovation Center, a U.S.-based FFI Worldwide Green Hydrogen research and development center in Colorado.
The purpose is clear and timely: Hydrogen can provide clean fuel for hard-to-decarbonize sectors like transportation, agriculture, and industry. FFI, a global green energy company committed to producing zero-emission green hydrogen from 100% renewable sources, is driven to achieve this vision.
The initial collaboration between NREL and FFI will be three years, but ultimately FFI expects to invest $80 million over 10 years in research projects with NREL—a partnership with the potential to create more than 350 Colorado jobs.
"It is exciting to contemplate how NREL can assist FFI and Fortescue in achieving their very aggressive Scope 1, 2, and 3 carbon emission reduction goals and help them build their clean hydrogen business," said Bill Farris, NREL's associate laboratory director for Innovation, Partnering, and Outreach.
"Over the next several years we will work together on these goals and utilize a broad set of NREL capabilities ranging from energy systems integration and hydrogen fueling to PV and membrane materials and high-performance computing," Farris said. "Watching the joint innovations of this partnership go from the lab to broadscale commercialization will be rewarding to see."
"The NREL team is eager to get to work with FFI and our collaborators and partners across the Colorado hydrogen ecosystem," Laboratory Director Martin Keller said.
And that work begins now, as the first FFI team members arrived in Colorado in early 2023 and are getting settled in to collaborate with NREL on an initial set of projects, including an extensive R&D program for water electrolysis, in support of FFI's electrolyzer manufacturing effort.
"For Fortescue, it means we are now examining capability at national scale for solar technology, battery, and electrolyzer manufacturing in America," said Barbara Van Bossuyt, head of the Fortescue Colorado Innovation Center. "This will be complemented by our deep integration into the American science and technology community."
When the partnership was launched on Sept. 24, 2022, Fortescue Executive Chairman Andrew Forrest said at the Global Clean Energy Action Forum in Pittsburgh, Pennsylvania, that "NREL's dream is to have its green technology commercialized. Our dream is to commercialize their green technology." Forrest added, "We are planning this investment because of NREL's exemplary scientific and research competence in this technology."
At the same meeting, Keller concurred, "NREL is committed to making sure our research gets to market—where it can improve everyday life and strengthen our global economy."
Keller continued, saying, "To do that, we continually seek partners equally interested in advancing lowest-emissions energy technologies that can be brought to commercial scale. We know that the swiftest pathways to achieve impact are by working with motivated partners, such as FFI, with the resources and intent to drive global change."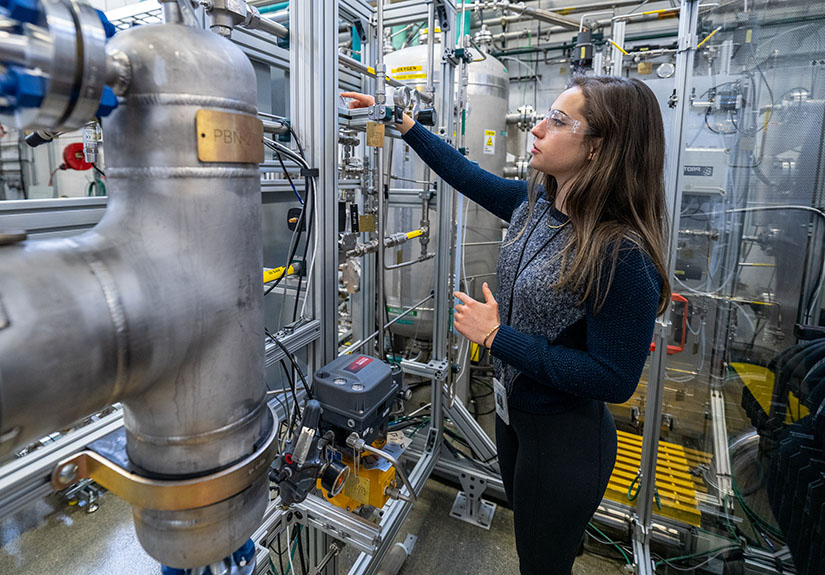 NREL's hydrogen research supports the H2@Scale vision, the U.S. Department of Energy's (DOE's) vision for clean hydrogen to be a central component of a clean, sustainable, efficient, and economic energy system. This vision encompasses all aspects of hydrogen research: making it, moving it, storing it, and using it.
FFI leaders said they chose NREL in part because of the fertile ecosystem not only in the United States but particularly in Colorado. Alongside the NREL collaboration and establishment of its U.S. center, FFI also intends to forge relationships with the Colorado School of Mines, University of Colorado, and Colorado State University, as well as other leading research labs and universities across the United States. The rich hydrogen research expertise and capabilities built at NREL over its decades-long relationship with and investment from DOE's Hydrogen and Fuel Cell Technologies Office also supported FFI's decision to come to Colorado.
Local and state officials applauded the announcement, which had been months in the making.
"This exciting announcement brings good-paying jobs to Coloradans, builds upon our work to achieve 100% renewable energy by 2040, and reflects Colorado's role as a global hub for innovation," Colorado Gov. Jared Polis said.
"With our access to a diverse energy portfolio and Colorado's unwavering commitment to preserving our beautiful land, we are a perfect hub for clean energy," Metro Denver Economic Development Council President Raymond H. Gonzales said. "Fortescue Future Industries' partnership with the National Renewable Energy Laboratory puts Colorado in a leading position to further clean energy initiatives and strengthen our collective efforts for a more sustainable future."
FFI officials said that there is a global demand for green hydrogen and the technology being developed. Research at NREL already has showcased the potential for hydrogen to support a clean energy transition.
Hydrogen has a variety of applications that NREL researchers are exploring. It can be:
Used directly as a fuel or converted to sustainable fuels for applications like trucks, rail, ships, and aviation
Blended directly with natural gas in pipelines or used as a feedstock in processes to produce renewable natural gas
Combined with waste products such as carbon dioxide to form high-density liquid fuels and valuable chemicals
Employed to provide energy, heat, and chemical building blocks for industrial processes.
Hydrogen is also an energy storage medium, available even for long-duration seasonal storage, and can enable larger-scale deployment and use of renewable electricity.
Because water electrolysis to generate hydrogen is a controllable electric load, hydrogen production can improve the operation and stability of the grid, support increased penetration of wind and solar electricity generation, and support vehicle electrification.
The major challenges for hydrogen relate to cost, scale, durability, and manufacturability. NREL researchers, along with those in other national laboratories and in partner organizations, have been pursuing ways to tackle those barriers.
Despite the cost of renewable energy falling while fossil fuel prices continue to rise, there is still work to be done to lower the cost of hydrogen at large scale. Current large-scale clean production costs are $5–$6/kg or higher. DOE's Hydrogen Shot initiative seeks to reduce the cost by 80% to $1/kg hydrogen in a decade, which could unlock new markets for clean hydrogen, including steel manufacturing, clean ammonia, energy storage, and zero-emission heavy-duty trucks.
The Fortescue Colorado Innovation Center is only the first step. As Forrest said to reporters on Sept. 24, 2022, "This relationship will catalyze hundreds of millions of dollars of value and investment in the North American energy transition." And the path to widespread adoption of hydrogen, once considered a long one, can—like the span between Colorado and Australia—shrink, putting the United States and global economy on the road to a cleaner future.
Learn more about hydrogen research at NREL and how to partner with the laboratory.