---
In 2019, Christy Schuneman got a job as tribal family coordinator with the Native Village of Unalakleet, a small community sprawled on Alaska's northwest coast. Unalakleet is remote, with no roads in or out, and the winds blowing off Norton Sound can chill the temperatures to minus 50°F in the winter. But Schuneman had grown up there, fishing for salmon and picking berries on the tundra, and was excited to move back to her roots.
However, when she looked for somewhere to live with her boyfriend and 4-year-old son, it was hard to find. Her dad's house was already full, with her four siblings and their families living there, but he had a sauna in his backyard—a 10-by-9-foot plywood box with a small window and almost no insulation. On a recent fall day, she walked through her dad's backyard, where two legs of moose meat hung from a wooden rack, to the tiny shack on the edge of his property.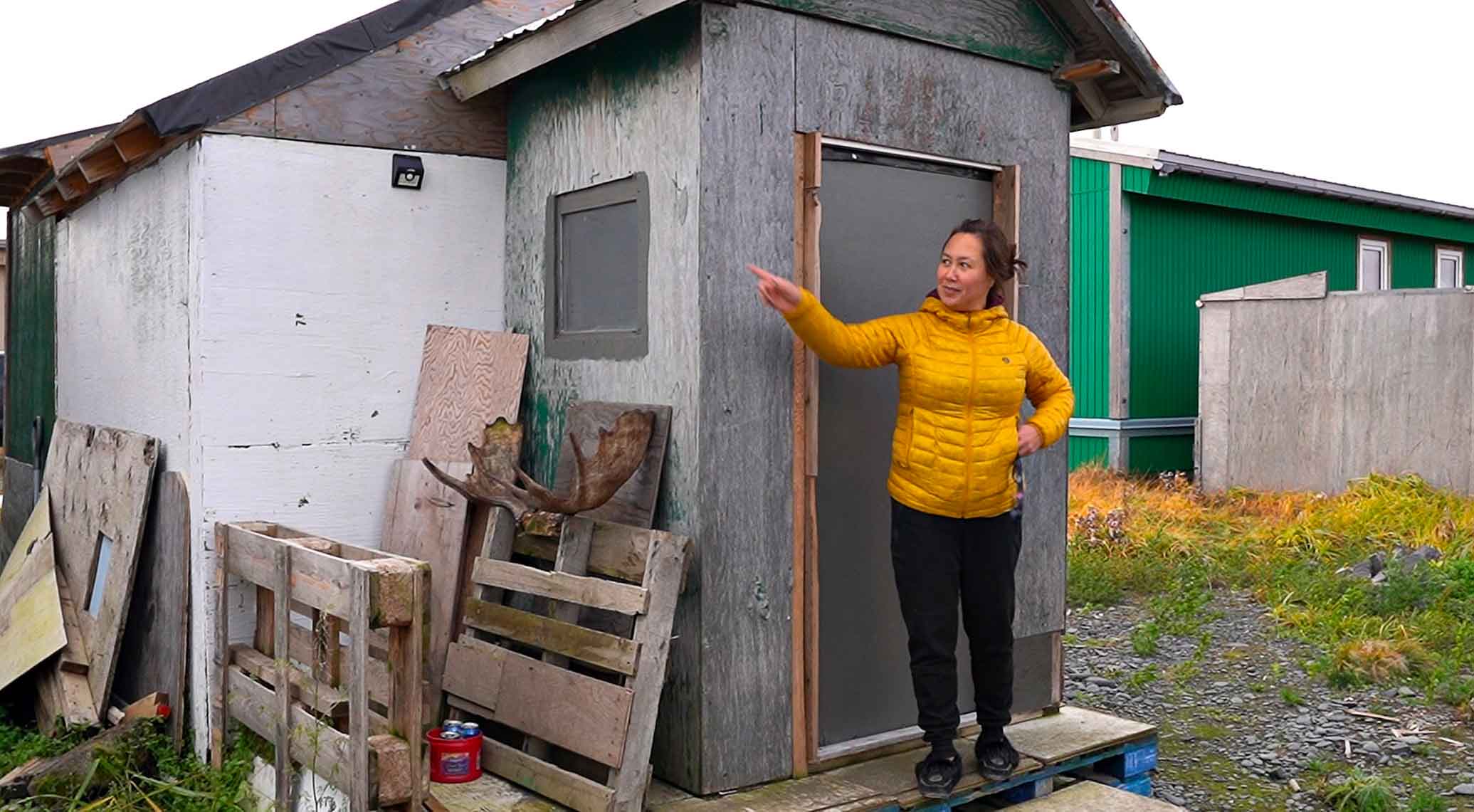 "We were basically camping in the sauna for two years," she said.
Her son slept on a platform next to the coffeepot and kettle. They added another small bedroom to the shack and filled it with shelves, pictures, curtains, and other homey touches. It gave them a roof over their heads, but it was cramped and cold.
"It was really hard. I was on the verge of leaving Unalakleet because we couldn't find our own place," Schuneman said. "My dad kept telling me, 'Be patient. Be patient.' But it's hard to find a home here."
Due to the extreme cost of building in rural Alaska, where nearly all materials must be barged or flown in, similar overcrowding rates plague much of the state. Lack of housing has created an outmigration to urban areas over the past decade. Often, Elders and young people are first to leave.
"Our younger folks really can't afford to go out and rent their own place, even if somebody did have something for rent," said Tracy Cooper, president of the Native Village of Unalakleet.
The housing shortage not only limits growth of the community: By taking Elders away, it threatens the Indigenous languages and traditions that have sustained these cultures for millennia.
That is why Cooper's organization is working with the National Renewable Energy Laboratory's (NREL's) Cold Climate Housing Research Center to create a new model of housing—an affordable, energy-efficient, adaptable house that meets the myriad challenges facing rural Alaska including high transportation costs, skilled labor shortages, and the accelerating march of climate change.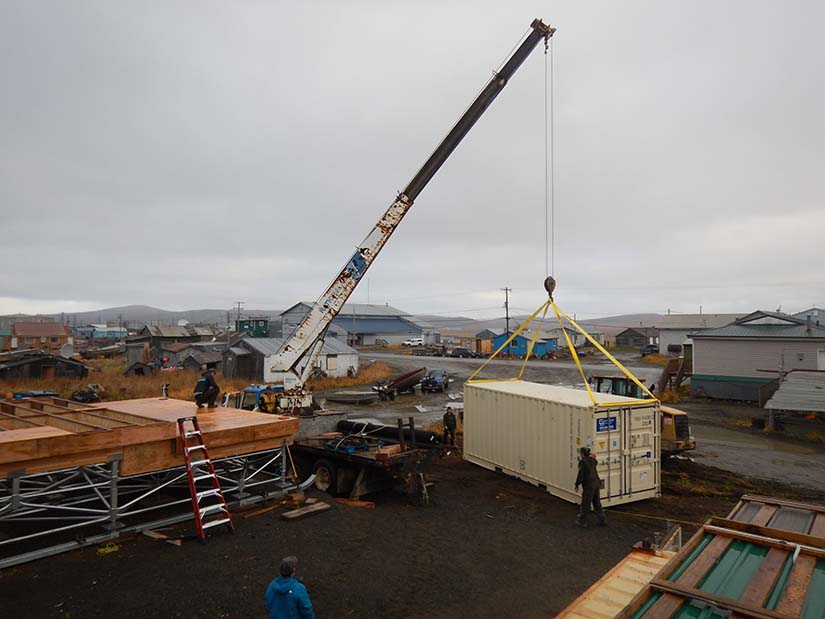 On an unseasonably warm day in October 2022, a boom truck lifted a shipping container into the air and set it down on a newly constructed floor. The shipping container was fully equipped with a bathroom, kitchen, and mechanical room. It had traveled over 2,000 miles to reach the building site: assembled in Fairbanks, trucked to Anchorage, and barged around the Alaska Peninsula and up the Bering Sea.
"We were joking that it was a year and a half of planning for an hour and a half of execution," said Aaron Cooke, the NREL architect who led the project. "It was fun to see."
The container arrived fully plumbed and wired, with penetrations marked for water, sewer, and HVAC so it could be easily connected to the rest of the house. This dramatically reduces costs, because plumbers and electricians would otherwise have to be flown into the village. But rather than building the entire house in the lab, NREL worked closely with the tribe to create a semi-modular design that leaves most of the jobs in the community. If the project goes according to plan, it will reduce construction costs by 40% while leaving 75% of jobs in the community.
"You do the village a disservice if you take all those jobs away just to address the housing crisis," Cooke said. "You end up addressing one problem by exacerbating another problem."
From Subsistence to Wage Economy
When the container was set in place, the crew installed floor decking, then built the walls and tipped them up. Within a few weeks, as snow began to fall, the home was closed in. One of the workers, Kurt Auliye, was grateful to have a job for the winter.
"It can be hard to find jobs here. They usually are taken up pretty quick," he said.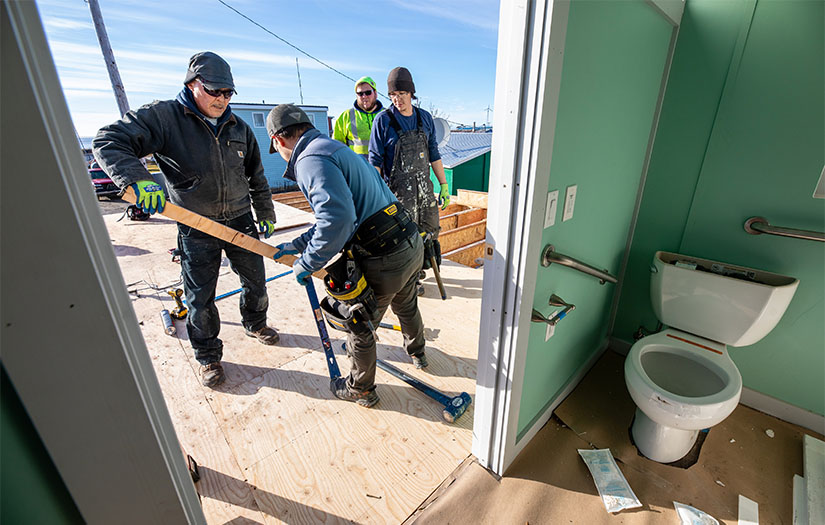 Auliye grew up in Unalakleet and has been a carpenter for most of his life. His grandparents were nomadic, traveling seasonally to harvest fish and game.
"My grandpa on my mom's side was a reindeer herder," he said. "My two uncles brought 30 reindeer all the way down from Egavik Creek (55 miles) to Stebbins."
Today things are different. Like many in rural Alaska, Auliye supports his family with a combination of wage labor and subsistence, living off the seal, walrus, fish, caribou, moose, and birds that abound here. In a place where a head of lettuce exceeds $10, much of the local diet comes from the land and sea.
Housing used to be built from local materials too. Well into the 20th century, when suburbs and tract housing were taking over in the Lower 48, the Iñupiat still lived in skin tents and semi-underground sod "iglus" (Iñupiaq for "house"). When Alaska officially became a state in 1959, the U.S. government made a big push to modernize the Bush. But instead of using building designs that had been proven to work in these climates, agencies imported housing from California and other temperate places.
Housing Falls Prey to Arctic Conditions
The housing has not held up well. Schuneman's sauna was streaked with water damage from poor sealing, and she spent $700 on heating fuel last winter in just one month. Auliye's bills also skyrocketed when his floor flooded and he had to tear out the insulation. He has worked on many other homes that have fallen prey to the Arctic climate.
"I changed an Elder's roof last week. She almost started crying because she was so thankful. She had a bucket on her bed because the roof was leaking for quite a while," he said.
Despite the quality of these aging homes, it is prohibitively expensive to build new ones. On top of that, federal funding has tapered off.
"There's not going to be those great big projects you saw in the early '80s where 20 homes went up. That's not going to happen," said Cooper, with the Native Village of Unalakleet. "And so we need to look at refurbishing and then also energy-wise and how we can quickly put a home together."
The new house is extremely energy efficient. The walls are wrapped in six inches of foam insulation, which acts like a big parka around the house, preventing the kind of moisture damage seen in Schuneman's home and keeping the interior warm and dry. Energy models predict it will use 200 gallons of heating oil a year—80% less than average for the region. The air-source heat pump water heater minimizes electricity use, and a heat recovery ventilator will preheat plenty of fresh air to keep the living space healthy.
Building for an Uncertain Future
In September 2022, as construction was breaking ground, Typhoon Merbok slammed the west coast of Alaska, inundating villages, flooding buildings, and tearing apart power systems. While Unalakleet's seawall kept most of the town from flooding, the storm washed away the barge landing where roofing materials for the new home were being stored. Luckily, a worker drove there in the middle of the night to check on them.
"We were able to get them to a safe location before they were decimated," said Damien Williams, construction foreman for the project.
With the decline of sea ice across the Arctic, these storm surges are getting worse at the same time as thawing permafrost is reshaping the land. On Alaska's long list of "at-risk" communities, Unalakleet is No. 8 and has voted to eventually move to higher ground.
That is why the new house is sitting on long pieces of steel that look a lot like skis. While most buildings in the Arctic are elevated to avoid thawing the permafrost, the new house is especially high, with a web of steel posts that can be adjusted in many directions to keep the building level and straight if the ground moves. Additionally, three long skids along the bottom can carry it to an entirely new location, just like the dog sleds that slide through the village during the Iditarod.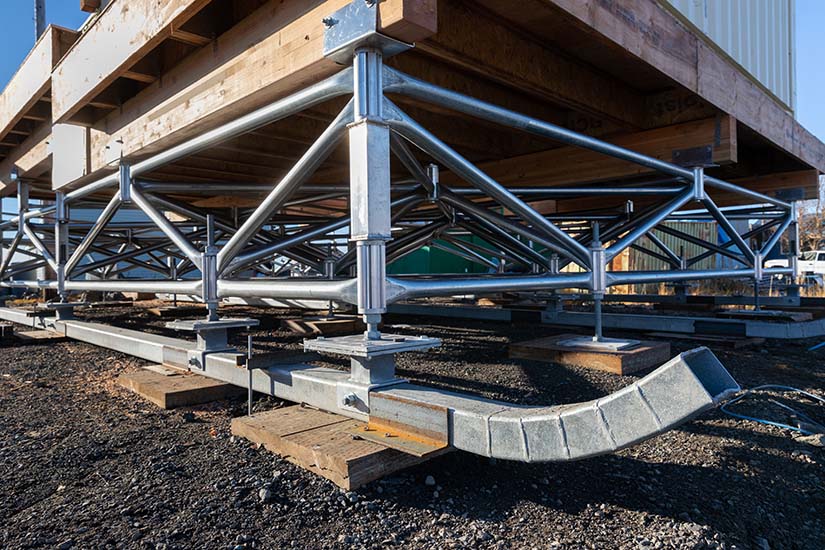 When the building is finished in spring 2023, it will become the home for a single mother and her children. Ultimately, the tribe hopes to build more of these to alleviate overcrowding. The innovative approach could make a big difference, Williams said, not just in Unalakleet but across the region.
"When I first heard I was going to put a Conex [shipping container] on a house, it sounded kind of crazy," Williams said. "But if these things really work, it could change the future of this town. Not just here but everywhere around here."