Combined 'SuperLab' Demonstrates Unique Hybrid Power Plant
Two National Laboratories Connected by High-Speed Network Bring Renewables and Nuclear Together
---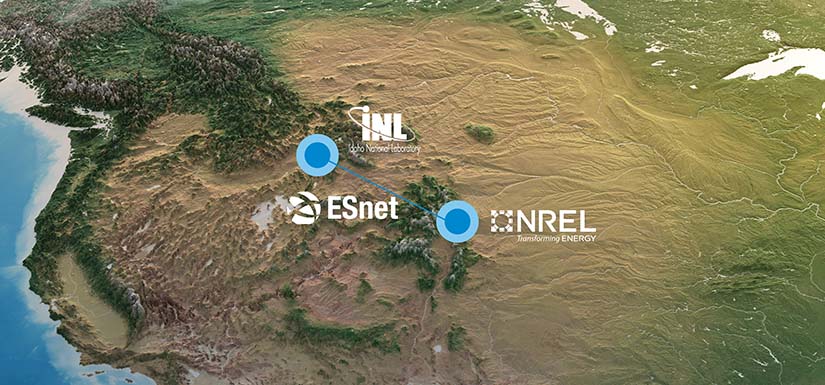 For a 60-minute period in January 2023, a power plant like no other existed in the U.S. Mountain West. It contained a solar array, lithium-ion battery, hydrogen electrolyzers, and a nuclear reactor, all coordinating with each other to provide reliable power. Even more unusual, the plant combined real and simulated technologies hundreds of miles apart.
This unique power plant was part of a national research and development project to remotely connect energy assets in real time using the Department of Energy's (DOE's) Energy Sciences Network (ESnet). By linking capabilities at the National Renewable Energy Laboratory (NREL) and the Idaho National Laboratory (INL), the researchers created a collaborative "SuperLab," which allowed them to study energy systems currently not in existence. In this case, they demonstrated that renewable and nuclear energy, combined within a hybrid system, can complement each other well to support the grid.
"Integrating nuclear assets deployed at INL and connecting them with renewable energy assets at NREL showcases the power of energy hybridization technology and underscores the importance of connectivity in achieving sustainable energy solutions," said Rob Hovsapian, ARIES research lead in hybrid energy systems at NREL. "Innovation without implementation is merely an idea, but at-scale validation is the bridge that makes ideas a reality. The Advanced Research on Integrated Energy Systems (ARIES) platform at NREL is the engine that powers this evolution, connecting multiple assets and de-risking complex energy systems for faster adoption of novel clean energy technologies."
A Virtual Hybrid Plant
The SuperLab demonstration successfully linked energy grid and power production simulations from two laboratories:
At NREL (Golden, Colorado), the ARIES platform provided a solar array, battery storage system, hydrogen fuel electrolyzer, and a controllable grid interface. Digital real-time simulators enabled the researchers to connect the models and responses on both NREL and INL sides.
At INL (Idaho Falls, Idaho), researchers readied simulations of a small modular nuclear reactor and high-temperature electrolysis in the Human Systems Simulation Laboratory (HSSL).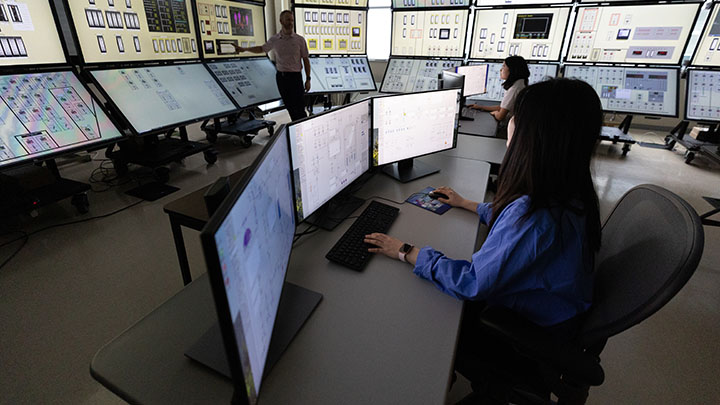 ESnet-operated fiber-optic cabling provided high-speed, low-latency, and low-jitter data connections between the two laboratories. This connection synchronized simulations and control signals, providing "virtual proximity" of the assets.
This SuperLab demonstration followed months of preparation by several dozen researchers at INL, NREL, and ESnet. The demonstration was attended by over 60 energy experts, including representatives from other national laboratories and DOE representatives from the Office of Science, the Office of Nuclear Energy, the Office of Electricity, and the Office of Energy Efficiency and Renewable Energy.
Renewable-Nuclear Hybrid: A Complementary Pairing
The SuperLab demonstration showed that nuclear power and renewables could be used in combination for the electric grid. Nuclear reactors operate best in a steady state as a source of baseload power but cannot respond quickly to changes in demand. Wind and solar power can provide intermittent power but are not always dispatchable. Together, they provide stable power during abrupt changes in demand or weather conditions. And for an extra-functional design, the researchers added hydrogen electrolyzers and thermal batteries to store excess power.
"A hybrid plant that incorporates both nuclear and renewable assets allows us to leverage the unique benefits offered by each of these clean energy technologies," said Shannon Bragg-Sitton, Integrated Energy & Storage Systems Division director at INL. "It ensures that grid demands are met reliably and affordably at all times while taking advantage of the heat provided by a nuclear thermal generator to produce clean hydrogen and support the decarbonization of industry."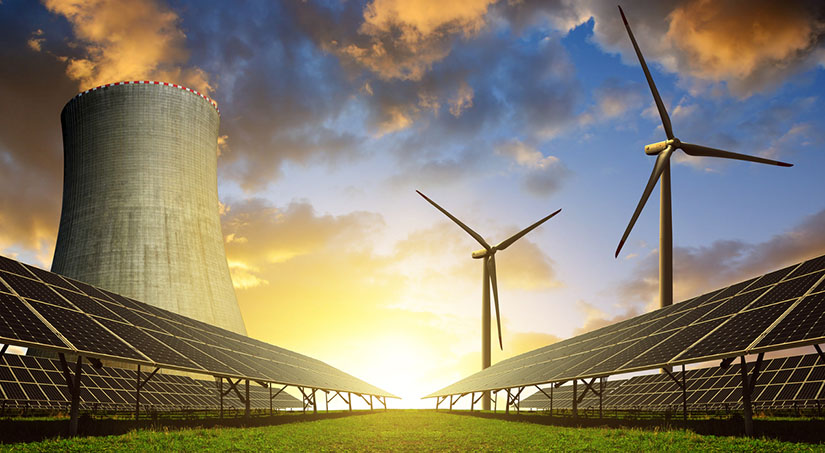 During the demonstration, the researchers found that their hybrid plant performed as desired. First, they simulated a sudden loss in solar power from a passing cloud, and the nuclear reactor stepped in to support grid demand. Then, when they simulated a storm knocking out neighborhood power lines, the nuclear reactor ramped down its power to the grid and redirected it to increasing hydrogen production and storage. These scenarios provide developers a baseline and high-quality operational data for how hybrid renewables-nuclear designs might operate together for a reliable power grid.
"Demonstrating integrated use of diverse generation assets in a controlled experimental facility allows us to better understand how these systems can mutually support a varying energy demand before major investments are decided," Bragg-Sitton said. "These demonstrations can emulate performance under both expected and off-nominal conditions to gain confidence in their operations. Through this SuperLab, each laboratory in the DOE complex brings unique expertise to the challenge of clean energy systems of the future."
Not the First SuperLab
The January demonstration was not just an achievement for hybrid power plants, as it also made strides for the network backbone supporting SuperLab: ESnet. This demonstration was one of several, with more ahead, to connect megawatts of power hardware using ESnet. In 2017, eight laboratories connected for the first demo using virtual private network connections, shown in the video below. It was a successful proof of concept, but varying latency made it difficult to cosimulate power signals requiring millisecond sensitivity.
The ESnet team reduced latency variance, bringing it down from 11.5 milliseconds to 0.02 milliseconds, which was useful in 2021 when another SuperLab was assembled to support a remote Alaskan city with its microgrid controls, shown in the video below.
During the January demonstration, the researchers were treated to another improvement when ESnet6 was unveiled, which features higher data capacity, real-time data visualization, and new automation and cybersecurity tools. It is the latest improvement to an extraordinary scientific platform that has steadily grown since 1986.
"ESnet is proud to support the ARIES project," said Eli Dart, Science Engagement Group lead at ESnet. "These demonstrations effectively use the OSCARS virtual circuit capabilities of ESnet6. ARIES requires low jitter and deterministic behavior, which OSCARS can provide over dedicated point-to-point connections. Together, ESnet and the ARIES team worked on both demonstrations, and we look forward to continuing this collaboration in the future."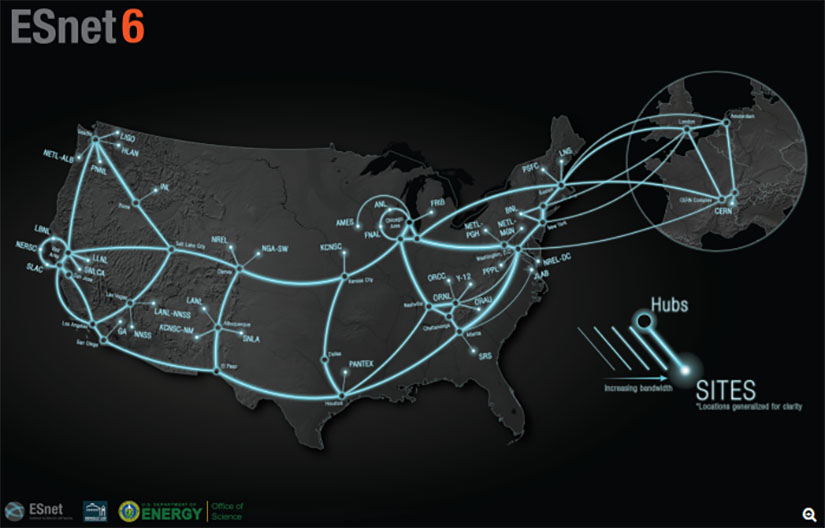 From its headquarters at Lawrence Berkeley National Laboratory, ESnet branches and converges at laboratories around the nation, reaching many powerful research nodes that include several in Europe. It is really a continental laboratory, with NREL and INL's experiment as one small (but no less super) link; meanwhile, other researchers using ESnet are synchronizing genetic data and simulating quantum materials. ESnet brings their physical capabilities closer together so that laboratories can share their supercomputers, particle reactors, and wind turbines, regardless of their geographic location.
"As ARIES scales up to thousands of devices and many more laboratories, we are excited to be a part of this team," Dart said. "The goal is to ensure that the U.S. has a power grid capable of reliably integrating the modern energy technologies we need for the 21st century. Codesign with the SuperLab program allows ESnet to ensure our advanced network supports the success of power grid research. Bringing together the complementary expertise of the national labs is what we do best—everyone brings their best game, and we all work together."
The renewable-nuclear hybrid demo also provided something in return to ESnet: a blueprint for how to build similar experiments. The next experiment is already in the works since NREL, INL, and other laboratories have already validated and established their SuperLab connections.
More Power, More Devices, and a Major Outage
In the spirit of resilience and with an interest in pushing the limits, the next SuperLab demonstration will simulate a national-scale disaster across eight national laboratories. The researchers plan to study how a major outage from a hurricane or cyberattack would play out on a distributed energy system. The scale of this experiment will be much greater than anything before; while the 2017 demo ran 80 devices, the upcoming demo, scheduled for late 2023, will aim for 10,000 devices.
Once the demonstration is complete, it will be a milestone for the SuperLab concept: The research community will have the capability to emulate national-scale scenarios on real power hardware, helping to reduce risk for future energy transition strategies. And that is just the start of what can be achieved when all U.S. research capabilities are combined.
"By connecting multiple labs through ESnet by 2024, we'll unlock the full potential of our national laboratories, their research assets, cutting-edge technologies, and talented scientists," Hovsapian said. "This SuperLab 2.0 infrastructure will prepare us to address large-scale emergent challenges to meet the nation's clean energy goals and to reinforce the energy security needs of every community."
Learn more about NREL's ARIES platform for power system emulation or contacting Rob Hovsapian or Steve Hammond.