NREL's 6th Partner Forum Digs Deep on Sustainable Aviation Opportunities
Industry and Regulatory Leaders Come Together To Discuss Successes, Challenges, Opportunities in Decarbonization Push
---
Options for decarbonizing aviation present significant challenges compared with other modes of transport, but achieving carbon-free air travel is critical for reducing the environmental impacts of global transportation. So the National Renewable Energy Laboratory (NREL) is putting its research weight behind efforts to bring new aviation technologies to market.
On Aug. 9–10, 2022, NREL convened its sixth Partner Forum at its Golden, Colorado, campus, pulling together public and private sector leaders to collaboratively explore solutions for sustainable aviation.
Over the past decade, NREL has secured more than $1.2 billion in partnerships, adding another $91 million in FY21 alone, pushing its active partnership agreements to more than 1,000. As a leader in partnerships within the national lab system, NREL works diligently throughout the year to identify and cultivate meaningful partnership opportunities at every technology readiness level (TRL), from low-TRL, early-stage technology work through market-ready technology testing and validation, in projects across its two Colorado campuses. NREL also manages multiple technology accelerator programs and, with the help of industry partners, has learned a great deal about commercializing technology and accelerating the path to market. Where sustainable aviation is concerned, the challenge may be great, but the industries are willing, and the path is no different—collaboration is key.
Aviation is different from other modes of travel. Aircraft fly in the upper atmosphere, which makes the emissions as much as three times more harmful to the environment, however the challenge is not without solutions. On the table right now is a mixed bag of hydrogen-based and battery-electric options that can rework or replace the way airplanes fly, but the technology is still in development and likely will remain in development for some time.
Adding to the challenge is the realization that many of the proposed solutions require new aircraft designs, which comes with lengthy lead times and uncertainties, when the technology itself is still being researched and improved upon.
With current battery technology, batteries big enough to power aircraft engines are too large—more specifically, too heavy—to place in long-haul aircraft, but short-trip and EVTOL (electric vertical takeoff and landing) applications have already been prototyped and proven.
Primarily because of the scope of the redesign required for long-haul, electric aviation and the design and manufacturing lead times for new aircraft, many at the NREL Partner Forum indicated a strong need for a right-now, drop-in solution, perhaps to persist as a viable carbon-free fuel source or at least to buy time until long-haul electric aviation technologies, airport infrastructure, aircraft design, and regulation can fruitfully merge. That here-and-now solution is sustainable aviation fuel, also known as SAF.
"SAF is the solution today. That's going to be what we can do today," said Amanda Simpson, vice president of Research and Technology at Airbus Americas. "We're talking about aircraft that aren't going to be flying for another 10 years or more. The airlines are going to be deciding what they're going to buy and operate, and they're not going to buy an airplane they can't refuel, so they're talking to airports. There's a lot of planning going on."
There is a wide variety of stakeholders involved in that planning, from airplane manufacturers and those working on fuel conversion technologies, to those managing airports and seaports and those charged with integrating it all in a safe and secure way.
In short, airports need to know airlines are going to use infrastructure they install on-site. Airlines need to know the aircraft they lease or buy from the manufacturers are going to reliably work so they can continue normal operations. Manufacturers need to know airlines are willing to operate aircraft with next-generation, alternative fuel sources. And a very important fourth leg is that of the policymakers, who need to understand how all of this is evolving in parallel to the point where they can set forth regulations to keep aviation evolutions safe for the public. To a degree, everyone is waiting on someone; and as slowly as it appears to be moving, it is actually moving quite quickly, while some closer to the developments note it is still not moving nearly quickly enough.
"We have to stop burning [fossil fuels] in the upper atmosphere," JoeBen Bevirt, founder and CEO at Joby Aero Inc., said emphatically. "Many people say the solution is to stop flying. I don't believe that. It's our fastest, safest, and lowest-cost mode of transportation. The lead time on this chain is really crucial, and we need to front-load it. Every research dollar and development dollar we have needs to go toward true zero-emission aircraft."
Christine Weydig, director of sustainability for the Port Authority of New York and New Jersey (PANYNJ), who sat on a panel at the Partner Forum, expressed a similar sentiment for urgency, indicating multiple times that she feels there is not enough focus on the details and how we are all actually going to meet the rapidly approaching and aggressive goals set by PANYNJ and countless others around the globe.
A low rumble rose up as the roughly 200 in attendance shifted in their seats when Bryan Sherbacow, chairperson, president, and CEO for Alder Fuels, used the closing remarks from his time on a panel to explicitly state, "Today, we can deliver cost-competitive Jet-A (jet fuel). It's already here."
That said, while short and medium-haul aircraft will begin using hydrogen within a few years, Simpson said it is going to be awhile before we see a long-haul aircraft that burns hydrogen, calling it both a multigenerational and multidecadal project. Since 2016, NASA has been working with its X-57—a small, experimental electric-powered airplane—to demonstrate the aircraft's electric-propulsion-focused design and share its airworthiness process with regulators in order to advance certification approaches for distributed electric propulsion in emerging electric aircraft markets.
In fact, several demonstrator projects from a variety of manufacturers and private parties have proven the viability of electric- and SAF-powered aviation, but viability alone cannot move the needle. Global supply chain issues, rare-earth metal limitations, and inflation, among other factors, contribute to challenges with producing SAF at an acceptable price point. Beyond the cost is the availability. Producing SAF at scale is a real challenge and is one that came up repeatedly throughout the Partner Forum. Incredible demand is only compounding the issue. Highly competitive and SAF-hungry airlines have already signed deals with several early SAF producers to receive large amounts of SAF for the next several years, essentially buying out most of the early, operational industry's stock.
Michael Dolan, director of Science and Technology at Fortescue Future Industries (FFI), said during his forum-opening keynote, "This transition needs scale. We want to drive scale. Most of the projects we're looking at have a very significant size."
FFI is, globally, a top-10 mining company, based in Australia, founded in 2003, and like many others, shooting for net-zero emissions by 2030. Its founder recently identified green hydrogen as a new growth pillar. Dolan said FFI came late to mining, but when it comes to green hydrogen, they want to learn from the hard-earned lessons from 20 years ago and get out there and lead in the green space.
Fortescue relies on heavy equipment, rail, shipping, and aviation for its operations. In addition to FFI, two others sitting on panels represented seaports, with several more, including an entire panel of people, representing the interests of airports. They discussed solutions for ground transportation, by way of efficiency modeling, electric and alternatively fueled airport vehicles, building upgrades and optimization, and new infrastructure required for the transition to carbon-free aviation, particularly where electric applications could suddenly see charging put a tremendous peak load on the airport's grid are concerned.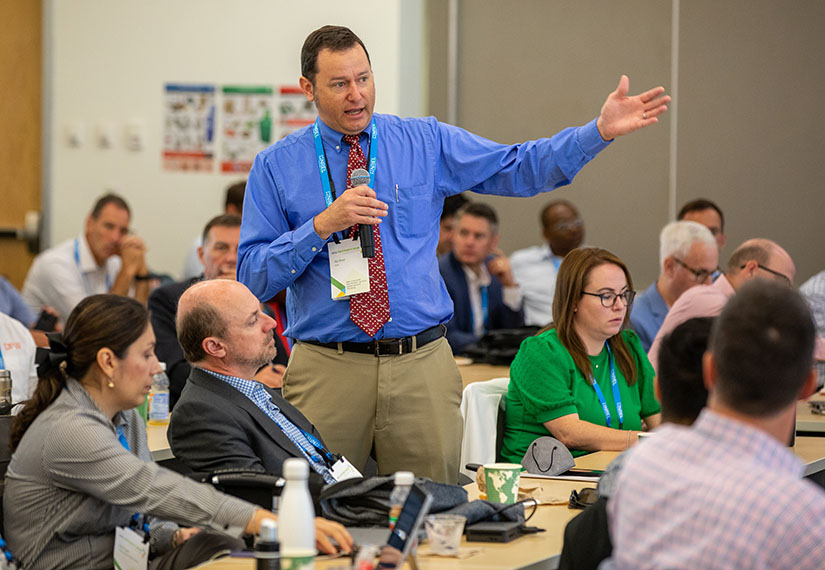 Decarbonizing aviation is extremely crosscutting and touches stakeholders across the entire spectrum of transportation. Most everyone at one point or another during the Partner Forum iterated on the theme that nobody can do this alone—it takes partnerships. Even companies with big war chests, such as FFI, that have the potential to move the needle across many, if not all models of transport, are looking for opportunities to collaborate. In March of 2022, FFI signed a memorandum of understanding with Airbus to collaborate on implementing green hydrogen as a fuel for aviation by focusing on addressing the challenges surrounding green hydrogen infrastructure, regulations, and global supply chains.
Weydig said, "When it comes to our communities and equity and moving people around in a manner where they all have opportunities for economic advancement and we're really serving all of our communities, we need to make sure we're investing in all modes, ideally, and in the most optimal way. How are we investing in our mass transit systems, and are they the legacy systems?"
Robert Horton, vice president of Environmental Affairs and Sustainability at Dallas Fort Worth International Airport, said, "We're one of the youngest airports in North America, and we're approaching 50 years old. So much of our focus is on evaluating energy use across infrastructure assets and developing strategies for building high-performing energy infrastructure to meet the needs of our business partners, whether it be rental car companies or airlines."
San Francisco International Airport, represented by panelist Erin Cooke, who is the airport's Sustainability and Environmental Policy director, is five years from celebrating its hundredth birthday and, in addition to facing the same challenges as DFW and many others, is also watching its more than 5,200 acres of land increasingly impacted by sea level rise and wildfires.
How NREL Can Help
While addressing the room during his opening remarks, NREL Laboratory Director Martin Keller said, "This will require a holistic approach. Nobody can do this alone. We need to build these partnerships and work across the traditional pillars of industry to accomplish this. Our driver is really to be the integrator. In the end, we want to see you all successfully moving these new business models forward. Whatever we can do to help, to be the integrator, to bring parties together, that's what we want to do. We feel this specific area needs integration across the pillars."
The result of a collaboration fostered through one of its first Partner Forums, NREL has already helped Dallas Fort Worth International Airport make strides toward modernizing its infrastructure, optimizing its ground transportation, increasing its resilience, and more. While digital-twin modeling (including experimenting with and de-risking of solutions) was at the forefront in that portfolio, NREL can also help in less obvious ways. Several attendees, during Q&A periods, as well as panelists, touched on the difficulty of moving forward with carbon-free aviation, while navigating what appear to be antiquated policies.
Sean Simpson, co-founder and chief scientific officer at LanzaTech, summed it up well, saying, "We are somewhat saddled by policies that were written in a different era for a different outcome. Policies stipulate how to produce a fuel instead of regulating the outcome."
NREL Associate Lab Director for Bioenergy Science and Technology Adam Bratis pointed out NREL is capable of producing volumes of SAF for partners to help them get it through certification.
De-risking renewable energy and energy efficiency technologies is a critical capability for NREL and one that plays very strongly in this urgent, crosscutting push to decarbonize aviation, which appears so full of uncertainty.
Chad R. Makovsky, director of Aviation Services at the city of Phoenix, was very open about risk-related concerns from an airport management perspective.
"I do worry as an executive," he said when referring to the pursuit of electrification and resilient infrastructure. "I see us moving down a path of putting all of our eggs into one basket—I get really nervous about that. I have to place my bet now. All the help I can get to make sure I de-risk that, I want to sign up for that. Do I need to be laying down hydrogen infrastructure? Are we still going to be talking about that in three years? I need to de-risk that. We're talking about a lot of money."
He went on to acknowledge collaboration as key, adding, "I've always viewed SAF as being transitional, but I'm hearing that may not be the case anymore. The brain trust—the collaboration is really key. Coming together with thought leaders like this has allowed me to think about our charge going forward."
Bill Farris, NREL associate laboratory director for Innovation, Partnering, and Outreach, noted that through the years the Department of Energy has invested $15 billion dollars with NREL toward reaching energy transition goals, and, as a convener, it is a high priority for NREL to make sure its partners have full access to that.
Keller concluded, "We have about 10 years to fill the innovations gaps we have. Time is ticking, and it's ticking fast."
Learn more about how your organization can partner with NREL to help create environmentally friendly skies.