NREL Partnerships Transform Energy in Response to Global Needs
Relationships Across Sectors Unleash Market Impacts To Build On
---
2021 begins for most as the new year always does, with hopeful optimism for change, renewal, and achievements to come. The energy industry is not excluded, with current events, demands, and needs across the planet breeding myriad new opportunities in renewable and energy-efficient technologies. The growing sense of excitement is palpable, but at the National Renewable Energy Laboratory (NREL), we have been preparing for the coming energy renaissance for nearly 45 years.
As one of 17 U.S. Department of Energy (DOE) national laboratories, NREL provides direct support to numerous DOE initiatives, while also leading the national laboratory system in market-facing activities to commercialize technology and partner with government, academia, and industry. These partnerships will help move the energy needle in a way that our planet is demanding, and the foundation for increased partnership activity has been carefully built over the past several years.
More than 12 years ago, at the start of NREL's current management contract with the Alliance for Sustainable Energy LLC (Alliance), NREL's partnership outreach accelerated. During that period, the laboratory has generated partnership projects totaling more than $1 billion in research-and-development contract value.
In fiscal year 2020, NREL delivered a single-year milestone, booking $102 million in new partnership agreements, and that activity continues to grow. The impacts can be measured in many ways. In 2016, 119 full-time NREL employees were dedicated to technical partnership program projects, and by FY 2021, the number had grown to over 200 employees. To complete the scheduled partnership work, NREL will expand dedicated staff to an estimated 300 full-time employees. Beyond the additional jobs created, the notable outcomes are numerous, and in many cases these projects will quickly translate to tangible market impacts.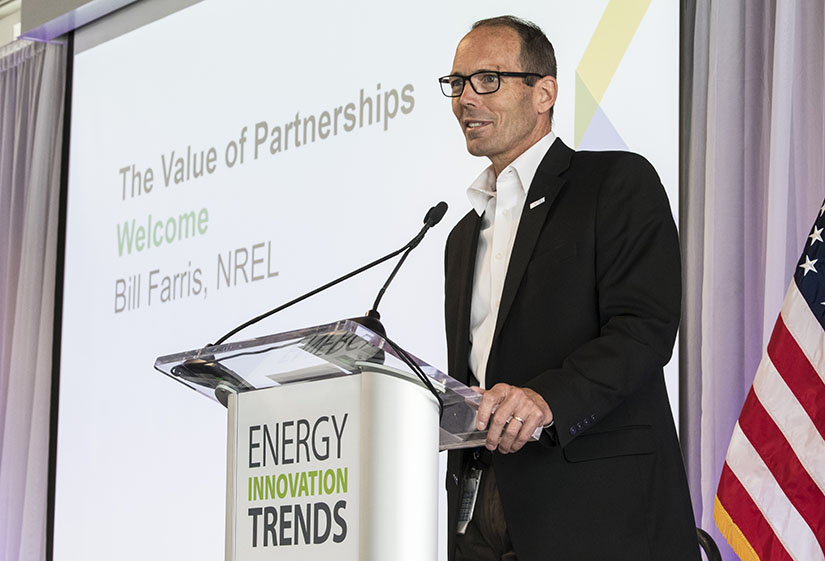 "NREL's purpose is to explore and develop research opportunities that improve and advance energy solutions for all. In the past four decades, we have also shown that acting as a convenor and collaborator to achieve multiplier impacts across the energy landscape is part of our DNA," said Bill Farris, NREL associate laboratory director for Innovation, Partnering, and Outreach. "We know that we can do much more together than on our own, and we are steadfast in constantly finding new mechanisms and systems to make meaningful partnerships and collaborations happen."
As part of NREL's constant effort to achieve market impact, each year the laboratory holds the annual Partner Forum to discuss future renewable energy technologies with contributors from a broad cross section of industries and disciplines. Participants have included former Secretary of Energy Rick Perry and former Senator Cory Gardner, along with leaders from ExxonMobil, Shell, Wells Fargo, the city of Los Angeles, Hewlett-Packard Enterprise (HPE), Dallas-Fort Worth (DFW) International Airport, the U.S. Department of Defense, and many other organizations who dedicate time to networking, sharing knowledge, and exploring new research opportunities while coming up to speed on the latest in clean energy technology. NREL proudly serves as a catalyst for these conversations and the collaborations that follow.
Just one example of how NREL catalyzes relationships for energy transformation is through the Athena project with DFW International Airport, which is redefining the way busy ports and airports schedule and move people to maximize efficiency and promote energy savings. NREL's Athena team runs the DFW models on the laboratory's latest and greatest supercomputer, Eagle, delivered in 2018 by HPE—the same year HPE's Chief Technology Officer Mark Potter spoke at the NREL Partner Forum about the company's long-standing relationship with NREL and the powerful impacts the two organizations have achieved together. Through this network of partnership success, Athena is becoming a model for energy solutions for ports and airports across the nation.
Partnering with FEMA for Recovery and Resilience
One of NREL's longest-running partnerships is with the Federal Emergency Management Agency (FEMA), dating back to 2012 when Hurricane Sandy made landfall and ravaged the Eastern Seaboard. NREL's initial mission assignment to assist with recovery efforts was for three months and $100K. That portfolio has grown significantly through the years, and for its role in Puerto Rico's recovery and resilience planning alone, NREL received $2 million.
Eliza Hotchkiss, senior resilience analyst in NREL's Energy Security and Resilience Center, has led the partnership with FEMA since Hurricane Sandy efforts. She explained how this work has real impact and value to the communities NREL supports after disasters.
"With the recovery and resilience work we do," Hotchkiss said, "we're seeing our recommendations implemented within 3–5 years, and it feels really great to know our recommendations are being valued and implemented."
One strong example is the work NREL did with FEMA to assist in recovery after floodwaters carrying massive ice chunks from the Yukon River inundated nearly 90% of the homes, businesses, and government facilities in the small town of Galena, Alaska. Residents of Galena ultimately were paying high energy costs of 67 cents per kilowatt hour (kWh). Fluctuating fuel prices, expensive delivery costs, and hard, unforgiving weather complicated matters further.
Through the partnership agreement, NREL provided technical assistance and conducted energy audits to identify opportunities for improving local energy systems. NREL also participated in an energy summit to discuss the community's priorities. In the end, the effort identified opportunities in the areas of distribution line loss reduction; upgrades to HVAC, lighting and plug loads, water use, and building envelopes; and renewable energy that provided savings of $165,000 annually that would pay back the upgrade investments in fewer than 4 years. NREL staff were able to verify a biomass plant feasibility study, which has allowed the plan to be built and is helping the community lower energy costs by using a local, renewable resource for fuel instead of relying solely on barging fuel in during summer months.
"This work is meaningful to a lot of our staff," Hotchkiss said. "There's a lot of destruction, so there is a shock factor for those who haven't experienced disasters previously. Our staff find a lot of meaning in the work we do. Most NREL staff work at the lab because they believe in the mission. They really appreciate seeing their recommendations implemented and their work is going somewhere. This has real impact and value to the people we're working with in these communities."
Helping New York State Innovate
From small-town Alaska to the Big Apple, NREL is meeting energy challenges head-on. Despite the impacts of COVID-19, NREL forged ahead with a noteworthy new partnership agreement with the New York State Energy Research and Development Authority (NYSERDA) that is flexible enough to cover a wide swath of project types and allow them to spin up more quickly. NYSERDA's mission is to advance innovative energy solutions in ways that improve New York State's economy and environment, while NREL's mission is to advance the science and engineering of energy efficiency, sustainable transportation, and renewable power technologies and provide the knowledge to integrate and optimize energy systems. Like in many NREL partnerships, the missions align well.
After a meeting at NREL, NYSERDA Chairman Richard Kauffman decided to stay an extra day. Kauffman met with several people at NREL, which kicked off a contracting process that would allow for deep, cross-cutting, strategic engagement around multiple sectors and areas of clean energy innovation. Scott Haase, the business development lead who authored the original draft of the scope of work, called this partnership unique for how broad the agreement was, allowing for flexible development. NREL now has four ongoing projects under the agreement, which started in January 2020. Projects like those NREL is undertaking with NYSERDA often expand the capabilities of the laboratory and those working on the projects as well.
One of the projects under the master agreement is to help New York understand options for electrifying its transportation system. New York State has identified widespread adoption of zero-emission vehicles as a key goal in decarbonizing the transportation sector. A barrier to that goal is insufficient charging infrastructure for electric vehicles (EVs) in New York City. One of the tools New York City used to develop estimates for charging demand was EVI-Pro Lite, an NREL-developed tool. NREL has now been tasked with using the full, in-house version of EVI-Pro to refine those estimates, which Eric Wood, the NREL principal investigator working on the project, said has never been done with a metro area as dense and with so many mobility options as New York City.
"The analysis we've set up is to look at the state as a whole, but also to look at New York City," Wood said, "and understand the potential for electrification of light-duty vehicles, what that would look like, and what barriers would need to be overcome to electrify the fleet."
He said that some barriers they know include access to parking and access to electrical distribution of power to the charging stations.
"Some things never stop, and New York's goal for progress and transforming its energy landscape doesn't stop with COVID," said Jessica Lau, an NREL researcher leading one of the projects for NYSERDA and serving as NREL's point of contact managing the portfolio of work. "On the tech side, our outreach teams find engaging with them is invigorating and motivating at the same time. It takes what we do in research and bridges that to reality, either by directly deploying or helping inform decisions."
The master agreement is for 5 years and is renewable for another 5 years, but Lau said the hope is that the partnership would not end.
Bringing Energy Materials Full Circle
NREL has made a huge push to take one of its strategic pillars—circular economy for energy materials—outside the lab. In the last couple years, highly cited NREL researcher Gregg Beckham has collaborated with interested industry partners and other universities and laboratories through the Bio-Optimized Technologies to keep Thermoplastics out of Landfills and the Environment (BOTTLE™) consortium, for which he serves as CEO.
Ron Schoon, the business development lead working on BOTTLE, said, "Folks have come to us because they've seen articles on what Gregg and other researchers are doing with BOTTLE. People want to understand who we are in the pantheon of people working on plastics and recycling. It's been an almost-universally positive response when they find out some of the innovative things we're doing. We're dealing with today's waste and designing tomorrow's plastics, so we don't continue to have this same project for the next several generations."
BOTTLE had a kickoff meeting in October 2020, and Bob Baldwin, a principal scientist in NREL's National Bioenergy Center working with Schoon on the partnership, said there were around 90 people on the call, including participation from the United Kingdom.
BOTTLE's bright future includes a plan to develop scalable, cost-effective, and efficient processes to deconstruct and upcycle commodity plastics that are discarded in large quantities today. The consortium is also working to design new bio-based polymers that will enable processes for recycling tomorrow's plastics and composites, as well as working with industry to catalyze a new paradigm for plastics that are recyclable-by-design.
"The world needs NREL right now," Farris said. "If we're doing important things today and growing bigger tomorrow, it means we're doing more and having more of an impact—all to make the world a better place."
Learn more about NREL's partnership opportunities.