---
Buildings Research

Sets Foundation for

Future Design

Earth Day, Research Support Facility Share Hallowed Ground
---
Ten years ago, the National Renewable Energy Laboratory (NREL) made history. Working through an innovative design-and-build process, the laboratory erected what was at that time the world's largest net-zero energy building—its Research Support Facility (RSF). NREL showed the world that zero energy at scale was possible and that energy use reduction and energy efficiency technologies had a prominent place in the design and construction of buildings, solidifying NREL's position as a leader in the building technology space.
As Earth Day approaches each year, people around the world unify voices and align goals to draw attention to a common, critical cause. These change makers share a vision of a clean energy future and follow a process of rare cohesion and innovative collaboration to move closer to their goals. NREL used such a process to reiterate its presence as a change maker more than 10 years ago when breaking ground on its RSF. The highly collaborative and successful design-and-build process enabled the magnitude of energy savings embedded in the building; a process very much like the approach adopted by Earth Day participants to further their agenda.
"Earth Day is about looking at how we use energy and how we can increase sustainability by reducing our negative impact on Earth," Roderick Jackson, Laboratory Program Manager, Buildings Research, said. "Our goal is a clean energy future. That is dependent on a clean energy mix. Buildings are the largest consumers of energy. If a building can be designed in a way that allows us to accelerate that clean energy future… that's what we're doing here."
The design team for the RSF was unique, according to Rois Langner, Architectural Engineer, and Shanti Pless, Senior Energy Efficiency Research Engineer. NREL assembled everyone in the same room and focused on common goals, thinking through each challenge together. Langner recalled that the team decided to rotate some of the I-beams to allow more light to pass through, and interior designers arranged the floorplan in a way that prevented the dipping, winter sun from blinding occupants.
Reflecting on the RSF's design team, in the spirit of Earth Day, Langner said, "When you can pull together multiple minds into a space and work toward the same goals, we can creatively solve a lot of problems that positively shape our environment. I think it does take a village to get this stuff done. It takes open communication. It takes push and drive from design teams—and a passion to make big impact. When we are all on the same page and work together in a positive, creative manner, we can accomplish large goals and be leaders in this space."
The team baked energy efficiency and energy use reduction technologies into the RSF. Some examples include an underfloor air ventilation system, a roof-mounted photovoltaic system, and an exterior wall system that is modular, thermally massive, and carried on an efficient structural bay. At the time of design, these practices were not the norm, and to a degree they still are not, but NREL's showcase demonstrator building has proven it is possible. And while woes in the construction industry make more widespread adoption difficult, many noteworthy organizations have replicated the process, following NREL's lead. The RSF was an example of approaching the procurement process in a creative way that, Langner said, enabled the team to get to zero energy without going over budget.
"We piloted a strategy with RSF-1 using an energy performance-based design-build process. We repeated it for RSF-2 [the building expansion], ESIF [NREL's Energy Systems Integration Facility], and the parking garage, and will continue to repeat it," Pless said. "GSA [U.S. General Services Administration] now does this. The Army Corps of Engineers does this. A lot of universities do this. It's really the secret sauce in all this—having an educated building owner and a contract behind it with a project management team to make sure it happens. Nobody had design-build contracts with energy performance requirements built in back then."
The design team had plenty to consider when mapping out the RSF, too. NREL's Buildings Group saw to it that no opportunity was wasted—a healthy M.O. that NREL has come to expect from this group as the campus continues to expand.
How Has NREL's South Table Mountain Campus Changed Over Time?
Through more than 40 years, NREL's campus, first known as the Solar Energy Research Institute (SERI) campus, was not always smattered with high-performance, net-zero buildings. Pless has worked at the laboratory since he was a graduate student in 1999. He noted that, when he started, there were not any high-performance buildings on campus. The campus was not the showcase for sustainability it is today.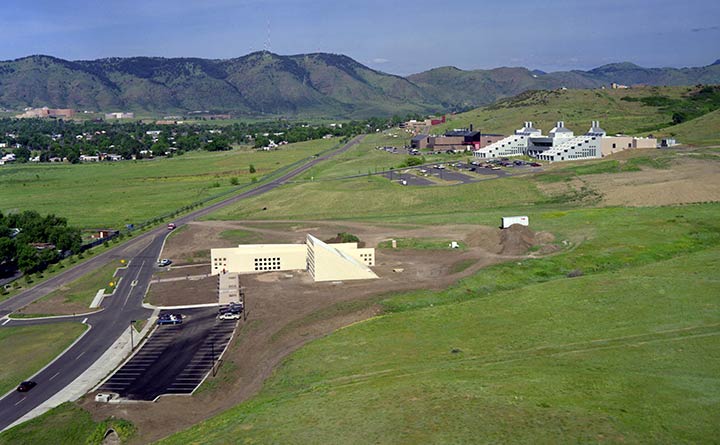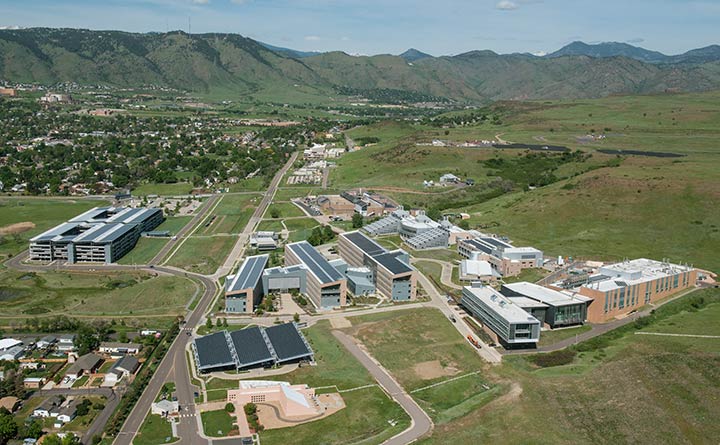 Over time, NREL's researchers have participated in the design and construction of the buildings on campus that birthed the novel effort to push boundaries and demonstrate new technologies. As Pless put it, every new building is an opportunity for NREL to derisk new technologies.
The laboratory took some chances with the creation of the Science and Technology Facility (S&TF) in 2006. Some worked, others did not pan out, but the S&TF became the federal government's first LEED Platinum certified building—LEED being Leadership in Energy and Environmental Design, a non-profit that independently certifies buildings that meet predetermined energy efficiency and energy use standards.
The RSF came next and today—10 years later—it continues to lead the way. This spring, it achieved the new, highest LEED certification, called LEED Zero, which requires an organization to prove the building actually has operated at net-zero energy levels. It remains the only building in Colorado with that certification and one of only a handful nationwide.
In fact, most new buildings on NREL's campus are LEED Gold or Platinum certified, from the guard buildings at the gates, to the parking garage and the cafeteria, to various lab buildings. The ESIF, which NREL constructed after the RSF, again shifted the paradigm. At the time of its construction, ESIF's data center led the way, with efficiency technologies enabling a nearly one-to-one power usage effectiveness (1.03-1.06 PUE today), with live PUE dashboard—virtually unheard of at the time. A PUE of 1.0 means all energy goes to computer power, with no energy used for cooling. PUE of 1.5 to 2.0 is typical for other supercomputers and data centers. Since construction of the ESIF, other big companies, such as Amazon, also have adopted and incorporated these NREL devised technologies.
To achieve its low PUE, NREL's data center uses warm-water liquid cooling and captures waste heat to reuse as the primary heating source throughout its facility, offices, and laboratory space. Cooling water is supplied indirectly from evaporative cooling towers, and the recently installed thermosyphon—an advanced dry cooler that uses refrigerant in a passive cycle to dissipate heat—is reducing onsite water consumption in the cooling towers without causing any negative impacts on the data center's efficiency.
Thriving in a Living Laboratory on an Intelligent Campus
The RSF, the ESIF, the S&TF, and the many other buildings on NREL's campus that establish it as a leader in building technologies and make it the living laboratory it is all benefitted from technologies designed or tested at NREL. NREL continues to push boundaries and remains on the forefront of building design—large-scale as well as residential.
"The international energy codes of today are probably 40%–50% more efficient than they were 30 years ago and are the result of our work with residential efforts through DOE's Building America Program to show it can be done," Jackson said. "As it becomes more mainstream and finds its way into those codes, it's no longer leading-edge; it's the floor of what can be done."
NREL also recognizes the need to improve the way energy is consumed by buildings to match updates on the power generation side, particularly as more renewable energy sources come online and integrate with the grid.
"We see a transition to a more diverse and clean energy mix," Jackson said. "Buildings consume about 75% of electricity in the current grid. Any significant transition in how energy is generated that doesn't consider how that energy is used would be suboptimal and likely problematic. We're trying to identify how we can accelerate the transition to a clean energy economy in the most feasible and affordable way possible."
NREL is attacking that problem in a few ways. One is through smarter buildings—buildings that interact directly with the grid, using building equipment to shed and shift loads to more dynamically respond to grid signals. Electric vehicles pull energy from the grid. Buildings that can work in concert with electric vehicles can help optimize the relationship.
Storage is another consideration. As grids integrate more renewable energy sources, thermal and electrical storage systems come into play and further complicate the orchestra. NREL is exploring ways to optimize Behind-the-Meter Storage (BTMS), an effort led by researcher Tony Burrell, to determine how to design battery storage or thermal storage systems that would integrate with building automation. BTMS research targets the development of innovative critical-material-free energy storage technologies to minimize the need for significant upgrades to the electric grid.
Through the End-Use Load Profiles project, NREL principal investigator Eric Wilson is exploring how to better understanding the temporal nature of our buildings—how they use energy on a one-minute time scale. The team is working in partnership with other institutions, utilities, and building owners to present the load profiles, so going forward they can predict and understand how the loads match the generation. The challenge, Jackson said, is that we do not have insight into the high-resolution load profiles of our buildings, making it hard to predict how best to match generation with the load when the load is unknown at the required resolution.
Applying Technology Advances Beyond NREL
Builders across the nation have integrated technologies proven and demonstrated by NREL research and development, developed along similar concepts and in the same labs as these. NREL has a presence in California, where energy goals are beginning to drive new design and construction, and a presence in New York, which now has similar, statewide goals.
Pless noted that ASHRAE (American Society of Heating, Refrigerating and Air-Conditioning Engineers) is remodeling its headquarters in Atlanta using the innovative design-and-build-process NREL created for the RSF, as well as two office buildings in Washington, D.C., which designers are retrofitting with influences of the RSF. According to Pless, this process has enabled Washington, D.C. to adopt zero-energy building codes.
NREL also supports a DOE program called the Zero-Energy Schools Accelerator that works with school districts to retrofit existing buildings and build new facilities efficiently across the country.
"Once they [potential adopters] see it can be done and done cost-effectively, we can start to get others to do it and replicate it," Pless said.
Part of how "they see it" comes through tours. The RSF is 10 years old, and tours of the facility remain in high demand. Jim Bosch, of the NREL Visits Team, routinely leads tours for industry, academic, and government representatives through the RSF, fielding questions about the building's design and construction and observing all types of reactions to the structure.
Some post-tour responses from visitors to the RSF:
It's so cool that solar powers the RSF. I wish more buildings in America integrated solar. It's just logical.
I love how you guys are tracking efficiency of the RSF to see if the design intention matches performance.
A building professor, researcher, and author from India said, "Coming to NREL and seeing the RSF [and ESIF] was the highlight of my [professional] life."
After seeing this building, I am filled with hope. I feel better about the future. Design like this needs to be part of every community.
I'm so glad I came on this tour and saw this building. This has changed my life.
"There are few buildings in the world that incorporate as much advanced building technology as the RSF," Bosch said. "So many people have visited the NREL RSF. Overall, responses are overwhelmingly in favor of the building's ecological and sustainability attributes—even more than the RSF's net-zero energy and energy efficiency."
To learn more about the work NREL is doing in buildings technology, visit NREL Buildings.