50th Anniversary of Earth Day Puts NREL Research in Focus
Transition to Clean Energy Future at Heart of NREL Technologies, in Alignment with Earth Day Network's Mission
---
Five decades ago, an idea sprouted into an event that grew into a movement, which today, on its 50th anniversary, we recognize as Earth Day—a global day of awareness and a celebration of principle, responsibility, and sustainability.
The National Renewable Energy Laboratory (NREL), originally the Solar Energy Research Institute (SERI), has always enjoyed strong ties to Earth Day. NREL's second laboratory director, Denis Hayes, played a key role in its creation, coordinating the first Earth Day in 1970, in collaboration with Earth Day founder and U.S. senator from Wisconsin Gaylord Nelson.
Hayes founded the Earth Day Network. The research NREL conducts every day aligns seamlessly with the network's mission to build the world's largest environmental movement to drive transformative change for people and planet. Hayes recognized this, observing "… a huge part of the answer was with the issues SERI was addressing then and NREL is addressing now—the transition to a super-efficient world that was run largely by renewable energy sources."
"At NREL, people can enjoy the fact that they get up every morning and work on solving the most important issue that is facing humanity," Hayes said. "Be brilliant, creative, and collaborate, and give us the options we can embrace as society."
Earth Day Evolution
In 1970, Nelson and Hayes struggled over what to call the event. They considered several options, including E-Day, Green Day, and Ecology Day, before finally settling on Earth Day.
"'Earth' just had something about it that appealed to people," Hayes said. "Interestingly, it translated fairly transparently into every language. In 1970, it was a purely national event. It would have been 'U.S. environment day.' In 1990, we took it international, and now it has truly become a planetary day and Earth Day and now we have moved into a series of issues that cannot be solved by any one country working alone."
According to Hayes, the 1970 New York City demonstration was the largest demonstration ever in the city at that time. In 1990, the Earth Day Network had expanded to 141 countries. In 2000, the network grew to more than 180 countries, including China for the first time. Earth Day 2010 saw 75,000 partners from 192 countries engaged in activities.
Similar to the Earth Day Network, NREL partners with companies and organizations all over the world, from industry and academia to federal, state, and local governments advancing clean energy technologies.
"The people who are working at NREL are working in precisely the areas with solar energy—including sophisticated 'leapfrog' tech, superefficient buildings, battery technologies—that are at the core of how we solve the climate problem," Hayes said.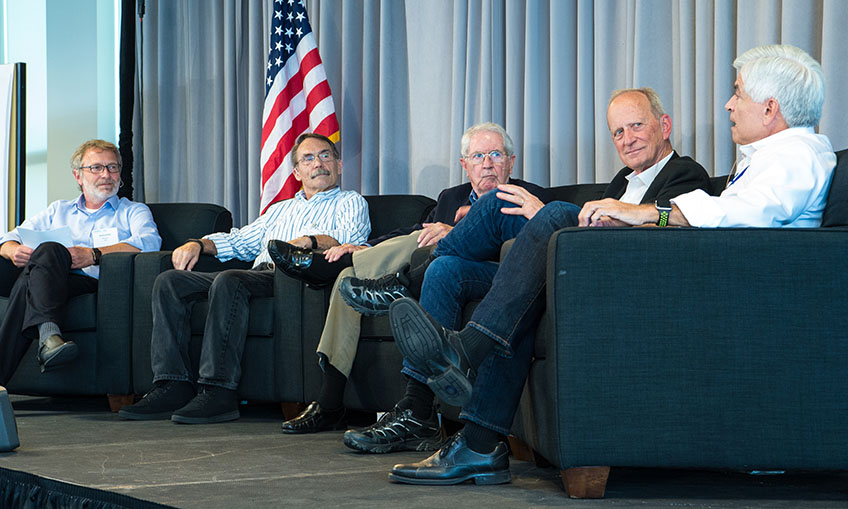 Earth Day 2020
Researching technological pathways to a sustainable, clean energy future makes every day Earth Day at NREL, but during Earth Week and on Earth Day, "NRELians" work to engage people in discussion, celebration, and recognition of the event's mission. Throughout the years, Hayes has even returned to NREL's campus to participate in Earth Day festivities, most recently making his way to the laboratory in 2015 for Earth Week. This year, because of the COVID-19 outbreak, Earth Day 2020 and events leading to Earth Day have been and will continue to be digital.
At NREL, the Earth Day team has lined up a full itinerary of activities and opportunities, including information on how to enter the Department of Energy's haiku contest, how to perform an energy audit of one's homes, a sustainability treasure hunt, and a link to an Earth Day livestream of the Department of Energy's "Action for Earth" celebration video.
Earth Day 2020 beyond the energy-efficient walls of NREL is also subject to a modified format, much to the chagrin of Hayes, who has been leading a team of around 80 people for the past two years planning the 50th anniversary event.
"COVID-19 came along as the ultimate black swan for anybody organizing events," Hayes said. "Within a week to 10 days, everything we spent the last two years building craters. There's not going to be groups of even three or four doing anything."
While social distancing threw a wrench into the best-laid plans for Hayes and his team, like NREL's agenda, the global event is pivoting nicely, and the show will go on.
"We have a lot of things coming down now," Hayes said. "It's the 22 activities you can engage in as the things you can get involved in to celebrate Earth Day—changes in diet to changes in transportation. The average person who is a stockbroker or a teacher, what you can do tends to be buy the most efficient car that meets your need and shift to electricity as soon as possible. Power your car with the solar panels on your roof, eat less meat, consider what kinds of fibers are in your clothes, and energy efficiency with how your house operates."
The Earth Day website has a great deal of event-themed information, including how to tune into the live program, during which the Pope, along with heads of state and climate scientists, will address celebrants, Hayes said. He said he expects the program to include entertainers as well.
Despite the global, digital event, part of the disappointment for Hayes is that this, the 50th anniversary, "was going to be where I signed off," he said. "After 50 years, this was my final hurrah."