NREL and Partners Highlight Collaboration and Explore Future During Partner Week
---
Partner Week at the U.S. Department of Energy's (DOE) National Renewable Energy Laboratory (NREL) explored disruption—an approaching world of "net zero" energy districts, exascale computing, more efficient photovoltaics, and next-generation wind turbine blades, to name a few. And while the vision was futuristic, the focus was on NREL's collaboration with more than 700 partners.
NREL researchers, experts, and representatives of companies collaborating with the laboratory paused during panels to celebrate accomplishments of NREL's first 40 years—and to consider avenues of progress for the next 40. "Look around the room—you are all very important to where we want to go in our next 40 years," Laboratory Director Martin Keller told the Partner Week audience at the September event. "We feel it is our job to take clean energy technology, partner up with industries, non-governmental organizations, and others, and then push it forward and bring it into the market." Keller said questions abound: "Can we make solar panels like newspapers? Can we make turbine blades on site? What does this do to our grid?"
At sessions across NREL's South Table Mountain campus as well as its National Wind Technology Center (NWTC), evidence of collaborations—past and future—were on display. For example, NREL's Laboratory Program Manager for DOE's Wind Program, Brian Smith, began a discussion of wind and water technologies under the shadow of a 42-foot turbine blade. The blade was manufactured using state-of-the-art 3D printing as part of a public-private partnership, in which NREL's role is to validate the structural characteristics prior to installing at the DOE-funded Scaled Wind Farm Technology (SWiFT) facility in Lubbock, Texas. Smith humorously noted he moved to the side of the looming presence of the suspended blade, a tangible emblem of partnership.
As he introduced representatives of wind power leaders GE Power and SIEMENS Gamesa, he added that NREL deserves credit as a "matchmaker" for the precursors of the two global renewable energy leaders. The current firms are the result of mergers among four independent firms: SIEMENS and Gamesa, as well as GE and Alstom's power and grid businesses. By way of explanation, Smith said "the GE turbine is located next to the Alstom turbine at NREL, and the Siemens turbine is next to the Gamesa turbine—so the NWTC is your matchmaker," adding with a smile "it's part of the long-term strategy we have."
"GE has multiple experiences working very effectively with NREL, under various types of agreements," said Roger Schonewald of GE Power. An example he cited was working with the lab on drive-train testing at the NWTC's drive train facility. "It was a win-win opportunity." Looking forward, he said that GE Power will continue to work with NREL and partners to refine wind farms so that these farms are more efficient, lowering the cost of electricity.
Panelist Hans Jespersen of Vestas, a Denmark-based wind energy company, said the firm is interested in expanding its ties with NREL. Already part of the NREL-initiated Gearbox Reliability Collaborative, which consists of manufacturers, owners, researchers, and consultants, Vestas is open to future collaborations. "We don't do enough with NREL," he said. "But we plan to send a team to NREL this fall to discuss opportunities for expanding our cooperation."
Another classic example of partnership is the work of NREL and Hewlett Packard Enterprise (HPE). Together, NREL and HPE preserved through ups and downs to create Peregrine, a supercomputer at NREL that uses warm water to cool its servers, and then re-uses that water to heat its building. It was so successful that it earned HPE and NREL an R&D 100 Award in 2014. "We shared risks and changed an industry," said Steve Hammond, director of the Computational Science Center. Partner Week keynote speaker Meg Whitman, CEO of HPE, noted the benefits of having linked up with NREL on a journey which has helped HPE launch a successful high-performance computing line. "The work we do together is so incredibly important and is central to the topic of disruption in the marketplace," she told the audience. And because of those bonds, they can look toward the challenge of exascale computing—computing systems at least 50 times faster than the nation's most powerful supercomputers in use today.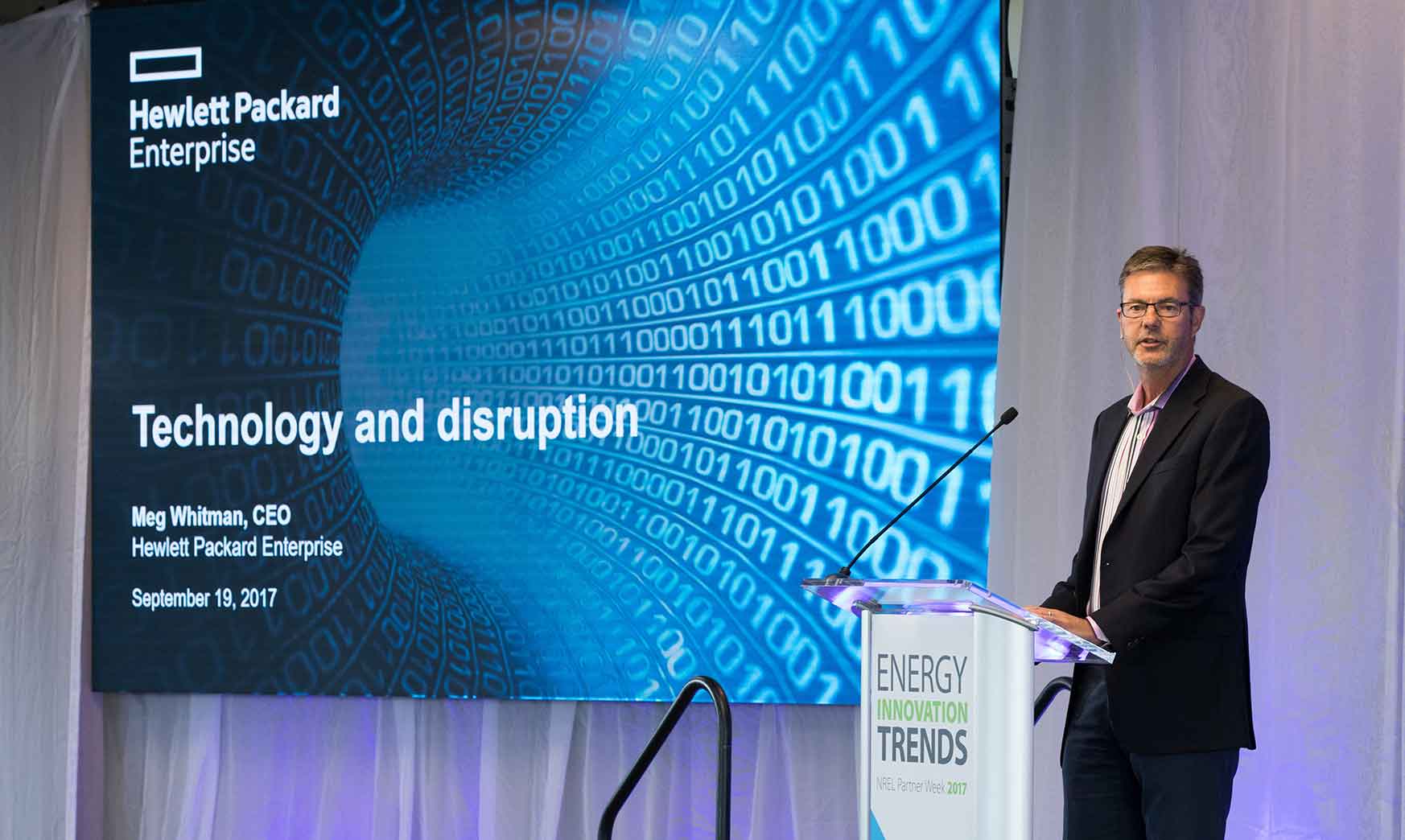 NREL's Energy "Family" Has Grown Over the Years
Today, there's a real pride at NREL on how its extended "family" has grown over the years. From a start as the Solar Energy Research Institute (SERI), the lab and its research partners have helped shape the energy landscape and drive the economy in Colorado and beyond. These synergies are certainly paying dividends. The lab's home state certainly benefits. "Colorado is a leader in diverse energy innovation, and having a national lab here keeps us in the forefront of research and helps retain top talent," said Katie Woslager of the Colorado Office of Economic Development and International Trade. Yet as many noted, the impact has a ripple effect well beyond the state's borders.
For example, long-time partners attest to those benefits. First Solar's Raffi Garabedian detailed NREL's long involvement with First Solar, a leader in photovoltaics and thin film solar modules. His presentation took the audience through work which began in the early 1990's, spanning the time cadmium telluride (CDTE) cells developed—guiding future research as efficiencies become greater. Garabedian called NREL the "glue from a research perspective." One slide shown by First Solar's chief technology officer summed it all up: "Over the decades of CDTE innovation, NREL has been there with us."
Yet the lab has forged relationships with others, too. An array of NREL partners were present to testify about the lab's commitment to intelligent transportation. As Wes Mauer of the Colorado Department of Transportation (CDOT) said, "NREL is a strong partner to CDOT in its efforts to transform the state into an open laboratory for innovation and technological advancements. Combining the lab's progressive research and thought leadership with Colorado's pioneering spirit will allow us to go farther and achieve greater things."
That type of impact goes beyond the state's border. Various vehicle manufacturers, from relatively new self-driving shuttles to established automakers, were part of the discussion. "I can't say enough about the fruitful and productive relationship Toyota has had with NREL," said Toyota's Chris Hostetter, who is currently engaged with the lab on a project to research and innovate the high-capacity hydrogen fueling stations of the future. "We have collaborated on multiple projects with the lab, and the results are always more than we expected." The scope of collaborations is as varied as the participants. Gale Wichmann of Amyris, a California-based industrial bioscience company, joined with NREL to explore ways to turn feedstocks into a number of products, including diesel and jet fuels as part of the National Advanced Biofuels Consortium. "Their technical expertise and willingness to be flexible as the project evolved was fantastic."
"The lab's message that all are welcome is gaining traction, and we are having mission impact," noted Bill Farris, associate laboratory director of Innovation Partnering and Outreach. In fiscal year 2017 alone, the lab developed 282 new or expanded partnerships worth $80 million.
It was fitting that Partner Week showcased the importance NREL places on its power partners. "We are reaching out to show how we connect what we are doing through our partnerships," Keller said. And in reaching out, NREL is reaching towards the next 40 years.
Learn more about partnering with NREL.