Industry Growth Forum Goes Swimmingly for Cleantech Innovators
---
NREL's Industry Growth Forum convenes venture capitalists, government representatives, and cleantech experts.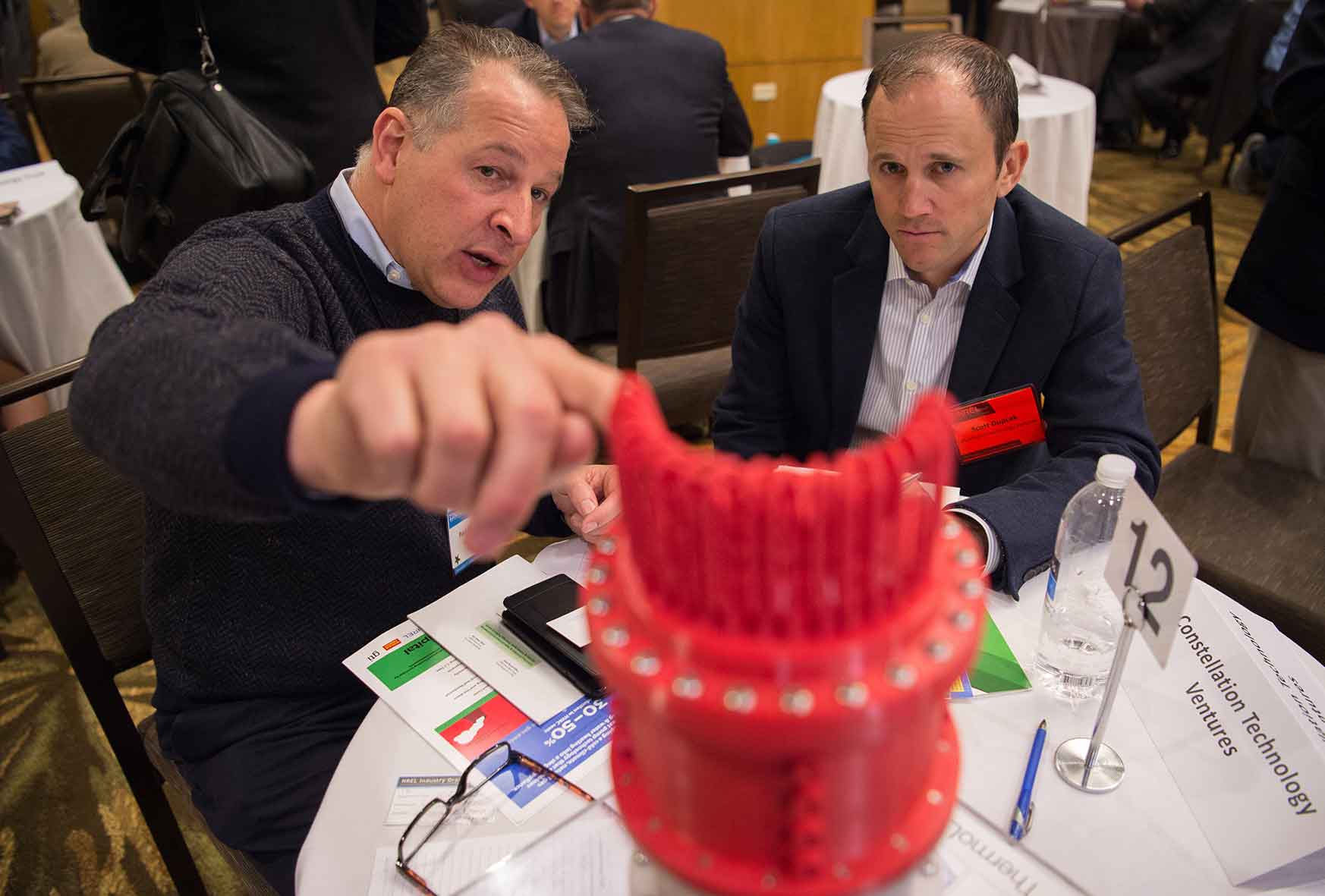 Paul Schwartz, who recently traveled from New York to be part of the National Renewable Energy Laboratory's 2017 Industry Growth Forum (IGF), was beaming after his 10-minute presentation to assembled venture capitalists, government representatives, and cleantech experts. "The one investor I really wanted was on that panel, so it was like having a private pitch session," said Schwartz, chief executive officer and co-founder of ThermoLift. Think TV's "Shark Tank," minus the sharks circling the talent pool.
His start-up makes a natural gas-driven heat pump and air conditioner designed to reduce heating, ventilating, and air conditioning costs by 30%-50% and was selected in 2015 as part of the second cohort of the Wells Fargo Innovation Incubator (IN2). Through IN2, funded by the Wells Fargo Foundation and managed by the U.S. Department of Energy's National Renewable Energy Laboratory (NREL), ThermoLift is getting $250,000 for technical help, including systems modeling for the machine. Schwartz visited the laboratory in October and "the feedback we've gotten from NREL has already been incorporated into our gen three model." Schwartz is optimistic that his enterprise could have up to 20 prototypes circulating in a year. "We're really happy today," he said.
He wasn't alone. The recent forum was buzzing with one-on-one pitch sessions, networking-and perhaps most of all-the news of a $20 million IN2 expansion, making a total of $30 million. The additional funding will allow IN2 to leverage its building commercialization model to sectors such as transportation, sustainable agriculture, and energy storage. These funds will also help develop a Channel Partner Award program for its more than 40 channel partners from universities, accelerators, and other incubators. The expansion will help a pipeline of startup referrals be considered for participation in the IN2 program, as well as continue to provide a framework for future development strategies.
"In the three years since the launch of IN2, we've learned the success of the program is very much dependent on the support and mentoring our participants receive at their earliest stages-at universities and through other incubator and accelerator programs-prior to joining IN2," said Ashley Grosh, vice president and IN2 co-lead for Wells Fargo. To date, the program has funded 20 early-stage start-ups (including a handful of 2017 IGF presenters such as ThermoLift) and contributed to successful exits of two Round 1 awardees by acquisition. Things are going swimmingly for IN2.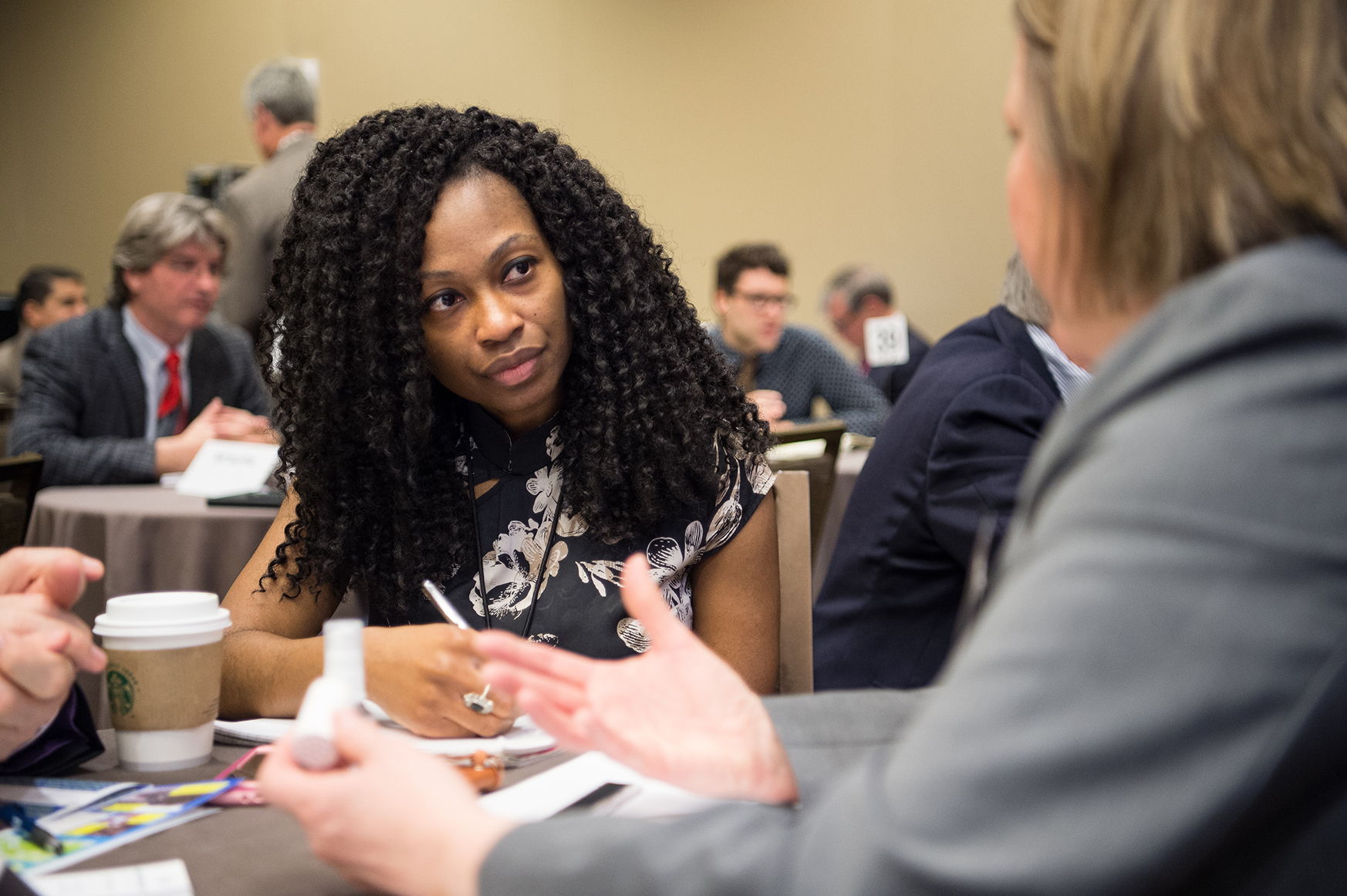 IGF Bringing Startups and Funders Together
Both the IN2 announcement and the turnout of some 400 attendees confirmed the reach of the IGF, which has grown for more than 20 years. "This is a great showcase for the breadth and depth of NREL," NREL Director Martin Keller said. While players have changed, the formula remains essentially the same. "NREL is this convener-we have trusted relationships," said Bill Farris, NREL associate laboratory director for Innovation, Partnering, and Outreach. "We don't have money to invest, so we're not the investor. The technologies these companies represent are not our technologies," he said. "Annually 150-200 companies apply for the forum, and our network of over 100 investors then runs a thorough selection process to filter out the best 30. We are a neutral entity that understands technologies and is an important player in the cleantech ecosystem. Bringing investors together with these small companies is what it's all about."
The IN2 presence at the forum is not just random. "Historically, the conference has been a great event in terms of attracting active clean energy investors and the best technology companies in this space," said Richard Adams, director of NREL's Innovation and Entrepreneurship Center. "What we've tried to do in the last eight years is to think about our space as an entire clean energy continuum-everything from an idea in a researcher or entrepreneur's head to a product on the shelf or a product in the ground. We're looking to see where the gaps exist." In a way, both the forum and IN2 address some gaps while converging on the same goal: backing great ideas that ultimately create opportunities and jobs. Indeed, since 2003, Adams said start-ups that have presented at IGF have raised more than $5.1 billion.
And while trends reflecting the types of IGF startups have changed over the years-solar pricing models were new 10 years ago, while big data and offshore wind are emerging today-the pool keeps replenishing itself. The evolution continues with displays for products such as a "Fitbit" for building pipes or a one-stop shop for consumers looking to go solar. Hopefuls, too, were on display. NREL Postdoctoral Researcher Lance Wheeler showcased a poster for an Energy I-Corps project to make smart glass smarter, for which he's entrepreneurial lead and Rob Tenent is principal investigator. "We're talking to investors, seeing if there's interest," Wheeler said. And why not? Cleantech is hot.
Finding the Next Great Idea
Motives vary for why people attend-but the track record of the IGF is a big factor. As one global investor (who asked to remain anonymous) said, "This is one of only two conferences I come to each year. And every year, the quality of the presenters goes up." Olushola Ashiru, a portfolio manager for the New York-based New Energy Fund II, served as one of the pitch judges, providing feedback to presenters. She appeared to have a bounce in her step after hearing the final presentation. "This was an especially important day," she said. "We found a lot of prospects."
Indeed, just as prospectors first came to the region to look for gold, investors at IGF were in the hunt for viable concepts. Christopher Ohlsen of Sharp Sky Partners flew in from Minneapolis to scout on behalf of some Fortune 100 clients. "Clean energy has reached a tipping point in the public mind, thanks to Elon Musk," he said. Consequently companies are on the alert-but often, these large players need help. Ohlsen was acting as their eyes and ears. The event, he said, was worth his time-and he had seen presentations that deserved further scrutiny.
Of course, not everything is about investment. Jeff Bell, a renewables technology specialist for the province of Alberta, Canada, attended for the first time this year, in part to seek connections with NREL. After connecting with several NREL representatives, he was pleased, though hungry for more. "I need to come back and have some one-on-ones," Bell said. "It could be the beginning of some sort of partnership." At times, the most valuable commodity being traded is information. Eric Payne of NREL's Technology Transfer Office, stood-or rather sat-ready to talk with attendees at the one-on-one sessions. Some came to him with questions about global patents. "We try to provide that as a pro bono service," he said, noting that and and his colleagues monitor the field. Many are looking for validation. One early questioner sought this, even though he had a device, complete with patents, which seemed to promise perpetual motion. Payne was patient but honest-after all, the laws of physics can't be suspended. Still, the parade of visitors to his table, he declared, was "a testament to how people look to NREL."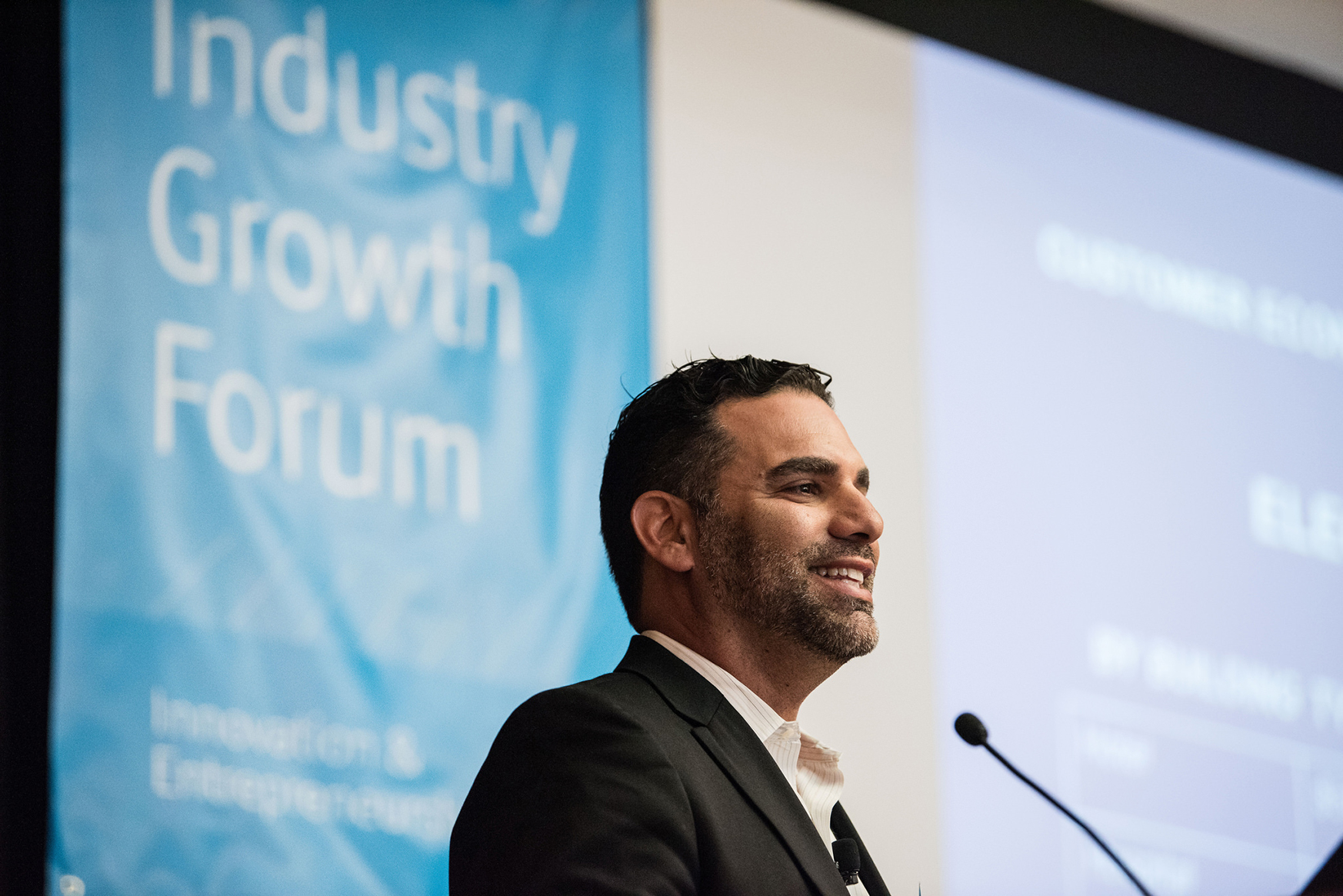 Young Innovators in the Spotlight
For Paul Lichty of Louisville, Colo.-based Forge Nano, the forum was an old hat. He had presented three years ago at the IGF, and his return is as a "Later Stage" IGF presenter. "The best analogy I have is-we make nano-M&Ms," the Parker native said. Through the deposition process-like the one used in the semi-conductor industry-clients, such as lithium-ion battery makers, can tailor the surfaces of materials and coat another material. After initially bootstrapping and not taking salaries, Lichty's firm now employs 27, and hopes to double that. Andrew Maxey was sharing his vision for Vartega, which recently opened a 3,000 square foot factory in Golden, Colo., where it operates a low-cost recycling process for carbon fiber from local aerospace and sporting equipment manufacturers.
Maxey, who made his first IGF presentation, clearly enjoyed the experience, enthusiastically thanking presentation panelists for their questions about his start-up. His firm's work hit the mark in the opinion of the organizers, and at the awards luncheon, he received one of the IGF Outstanding Venture awards. "It was a great event," Maxey said amidst handshakes from well-wishers. Entic, Inc. received the top prize for the Best Venture award. This Pembroke Pines, Fla.-based company's cloud-based subscription software platform for commercial buildings provides operational visibility into energy-consuming systems and analytics-driven optimization of HVAC central plants. And another Outstanding Venture award went to EnergySage, a Boston, Mass.-company which provides an online comparison-shopping marketplace for rooftop and community solar.
Afterwards, Lichty reflected on the event and its scope. "The IGF is a great forum for us to present our company to policy makers and potential investors. We got a number of very exciting investment leads and saw some very interesting presentations from other cleantech companies commercializing promising technologies." For Lichty and others, IGF was more an invigorating dip than a survival mission among sharks. Many were already making plans to attend next year's event-when old faces and new hands will gather to plunge again into Colorado's cleantech waters.
Learn more about the Industry Growth Forum.