Forest Service Turns to NREL for Help Fighting Fires More Sustainably
---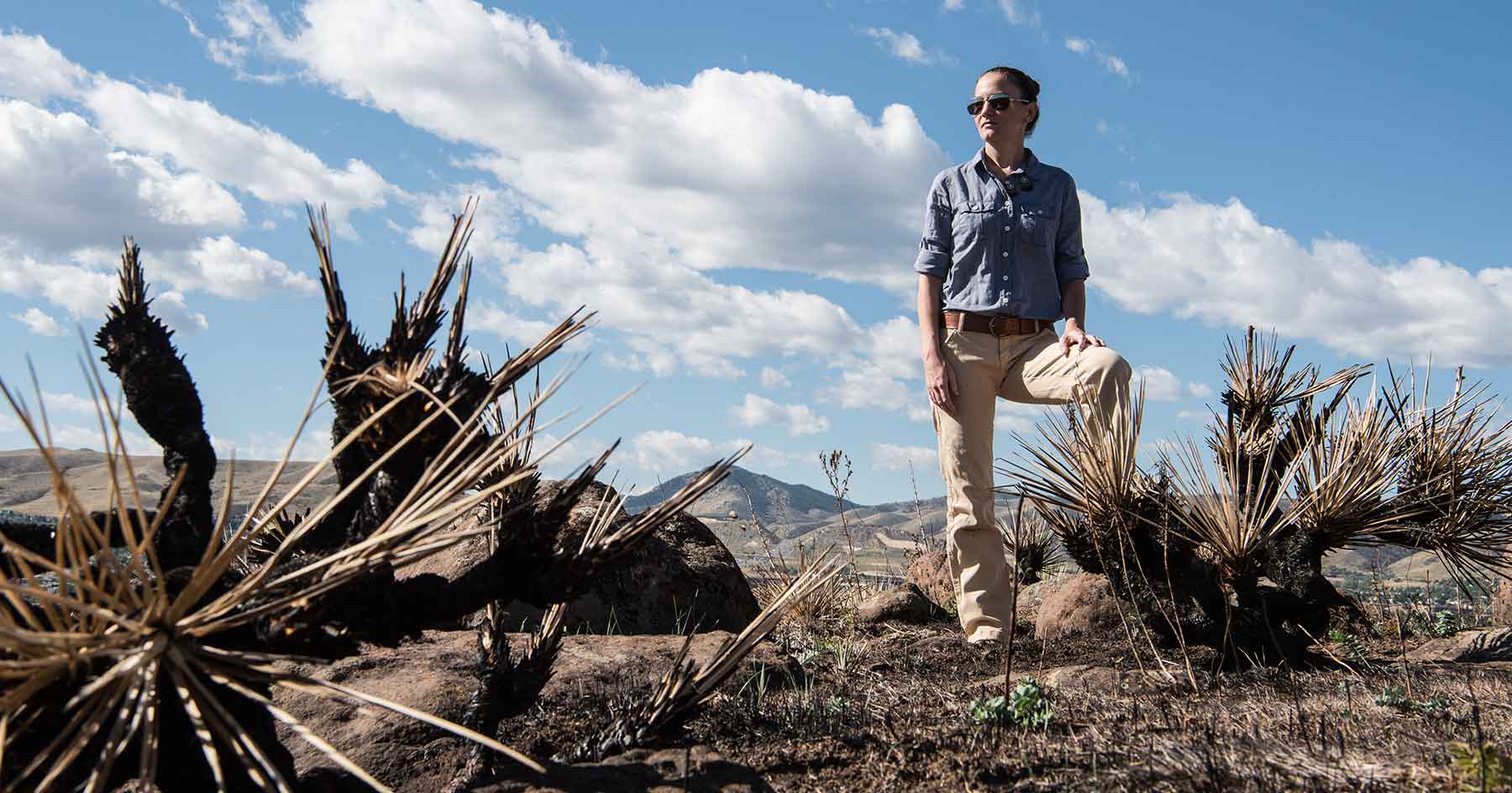 The forest was on fire, but Alicen Kandt didn't see what she had expected.
"This was my first time visiting a fire. I had visions of myself being surrounded by an active fire, but the Incident Command Post, where a lot of the coordination of the firefighting efforts take place, is located away from the area that is burning," said Kandt, a senior mechanical engineer at the Energy Department's National Renewable Energy Laboratory (NREL). "There was certainly a lot of activity, but it wasn't a wall of fire, as most people envision."
This summer Kandt witnessed firefighting efforts in Colorado at the Cold Springs fire (528 acres burned) and the Hayden Pass fire (16,754 acres burned). Her efforts, in collaboration with the U.S. Forest Service, are meant to detail what steps can be taken to reduce energy and water use as well as waste generation at fire camps and supporting operations. Typically, fire camps are quickly assembled to house and feed wildland firefighters summoned from all over the country.
"Fire camps are like miniature cities," Kandt said. "Camps are where the firefighters sleep (in tents) and spend their off time. There's a mobile kitchen to feed all the firefighters and support staff, and mobile shower and handwashing facilities. There's also a medical tent and a small cache of supplies."
While firefighters are directed from the command post set up farther away, a base camp is often established at a location closer to a blaze to house firefighters and the necessary support personnel. Typically in less than a day, tents and trailers have been moved into an area, generators set up to provide electricity, and skillsets as varied as logistics and finance put to work behind the scenes.
The scale of support staff needed to fight fires goes far beyond the firefighting crews. The number of support personnel for each fire is proportional to the number of firefighters needed, said Rick Barrett of the Forest Service. He served as ground support unit leader at the fire camp established to fight the 32,571-acre Beaver Creek Fire in northern Colorado. Several hundred support staff are needed when a blaze requires 4,000 firefighters.
"When we go in and set up a base camp we're going to need power," said Mike Ferris, public information officer for the Forest Service. "We're going to need phones and some sort of internet connectivity." Ferris said he's worked in fire camps alongside as few as 150 people and as many as 2,500.
"At the same time we've got to figure out a way to bring in a caterer and a shower unit," Ferris said. "Both of those are going to need power. If we can't get it off the pole, we're going to need generators."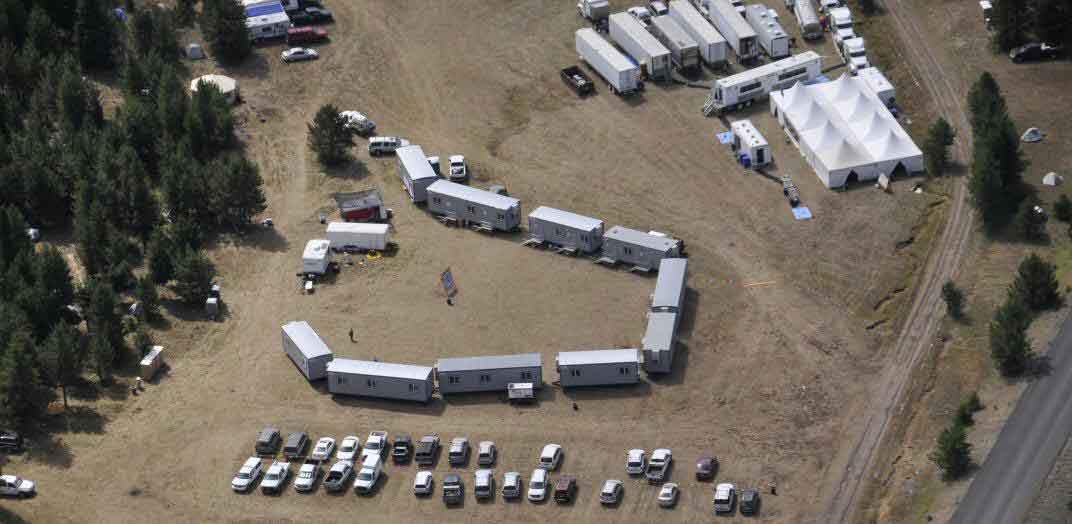 Cost of Fighting Fires Continues to Climb
The Forest Service has an ongoing effort to reduce its environmental footprint in every activity, including firefighting. The Forest Service wants to use more renewable energy, burn less fuel, generate less waste, and recycle more.
While NREL is often called upon to identify how various federal agencies can generate more of their energy needs through renewable sources such as wind and solar, Kandt's audit of fire camps is a first for the Colorado laboratory.
Since joining NREL in April 2003, Kandt has been involved in such projects as identifying ways for the National Park Service to reduce greenhouse gases at Yellowstone National Park, and assisting the National
Trust for Historic Preservation in developing guidance for the installation of solar photovoltaics on historic buildings.
Kandt expects to have her report on best practices for the Forest Service's fire camps ready in 2017. As for what she hopes will result from her recommendations, Kandt said: "I think fundamentally it would be nice to see some savings realized on the energy, water, or waste side, and to add some sustainability processes—and hopefully any money saved could go to further the firefighting mission."
The federal cost of fighting fires topped $2.1 billion in 2015, with $1.7 billion coming out of the Forest Service's budget and the rest from the Department of the Interior. Although the number of fires—68,151—wasn't a record, the amount spent to suppress them was.
As she prepared to audit the fire camps, Kandt discovered that the government lacked a central repository of data on how much energy was being used, waste being generated, and water being consumed, as well as associated costs. "We've been trying to get that data, but it's been a challenge since the command units for these fires are made up of people from different agencies and based in different locations throughout the country."
Researcher Traveled to Witness Firefighting Efforts
Finding answers to Kandt's questions required travel.
With a Forest Service liaison leading the way, Kandt first visited the Cold Springs Fire just a few miles outside of Nederland, a small town in Boulder County. She also journeyed to the site of the Hayden Pass Fire, several hours away in southern Colorado.
The Cold Springs Fire burned 528 acres. Approximately 500 firefighters spent a week battling the blaze before it was completely contained. A crew of about 900 firefighters toiled for a month to keep the Hayden Pass Fire from spreading beyond 16,754 acres.
The United States relies on a management structure known as the Incident Command System to oversee the handling of natural disasters, and the size of the team varies depending upon the complexity of a situation. A small fire during the initial response, for example, wouldn't require as many management levels or firefighters as a large one would. The lowest incident level is Type 5. The larger a fire, the more involved the effort to fight it becomes, triggering the arrival of specialists in such areas as logistics, operations, and finance. A base camp is called for when the incident level rises to Type 2, allowing shifts of firefighters to work around the clock. The most experienced firefighters from around the country are brought in to deal with blazes at Type 2 and Type 1. The Incident Command System is flexible and can be adjusted up or down so that equipment and personnel can go where needed.
The Hayden Pass Fire, for example, was initially classified as an extended attack fire or Type 3 after a lightning strike sparked the blaze on July 8. After four days of firefighting efforts, the incident level was increased to Type 2 and the number of firefighters on the scene from 247 to 442 in a day's time.
"It's magical," Ferris said. "I've seen crews put these kinds of camps up in a 48-hour period. We're up and operating. I look to the incident commander as being the mayor, so to speak."
A base camp operates around the clock as firefighters come off shift or head back to the fire line. Naturally, the firefighters must be fed; guidelines call for them to consume about 6,000 calories a day and to drink 5 to 6 quarts of liquid daily. The firefighters depend upon contractors as well as local, state, and federal agencies to supply everything, including power, portable toilets, food, water, and showers.
"It was amazing to see how many people are behind the scenes supporting the firefighters with logistics such as meal preparation and ensuring that there's a reliable power supply to the camp," Kandt said.
During her visits to the fire camps, Kandt observed logistical operations to identify opportunities for conservation measures. She noticed that the catering company provides compostable plates, cups, and utensils, and all of that plus any uneaten food is disposed of in compostable bags, but then those are discarded with the trash. "It would have been easy to drive everything down 30 miles to the municipal composting site in Boulder. They didn't make that connection, because nobody has that job. Utilizing compostable products is a good step in the right direction, but it's missing a piece." One of Kandt's roles on the project is to determine how to connect the missing components to improve operations.
She suggested that just as the fire camps rely on specialists in other areas, they could accommodate a sustainability liaison as well. Someone in that role could point out some of the areas Kandt noted could be changed. Canteens could replace disposable water bottles, and electrolyte tablets added to the water could do away with the need for sports drink bottles, to highlight a couple examples.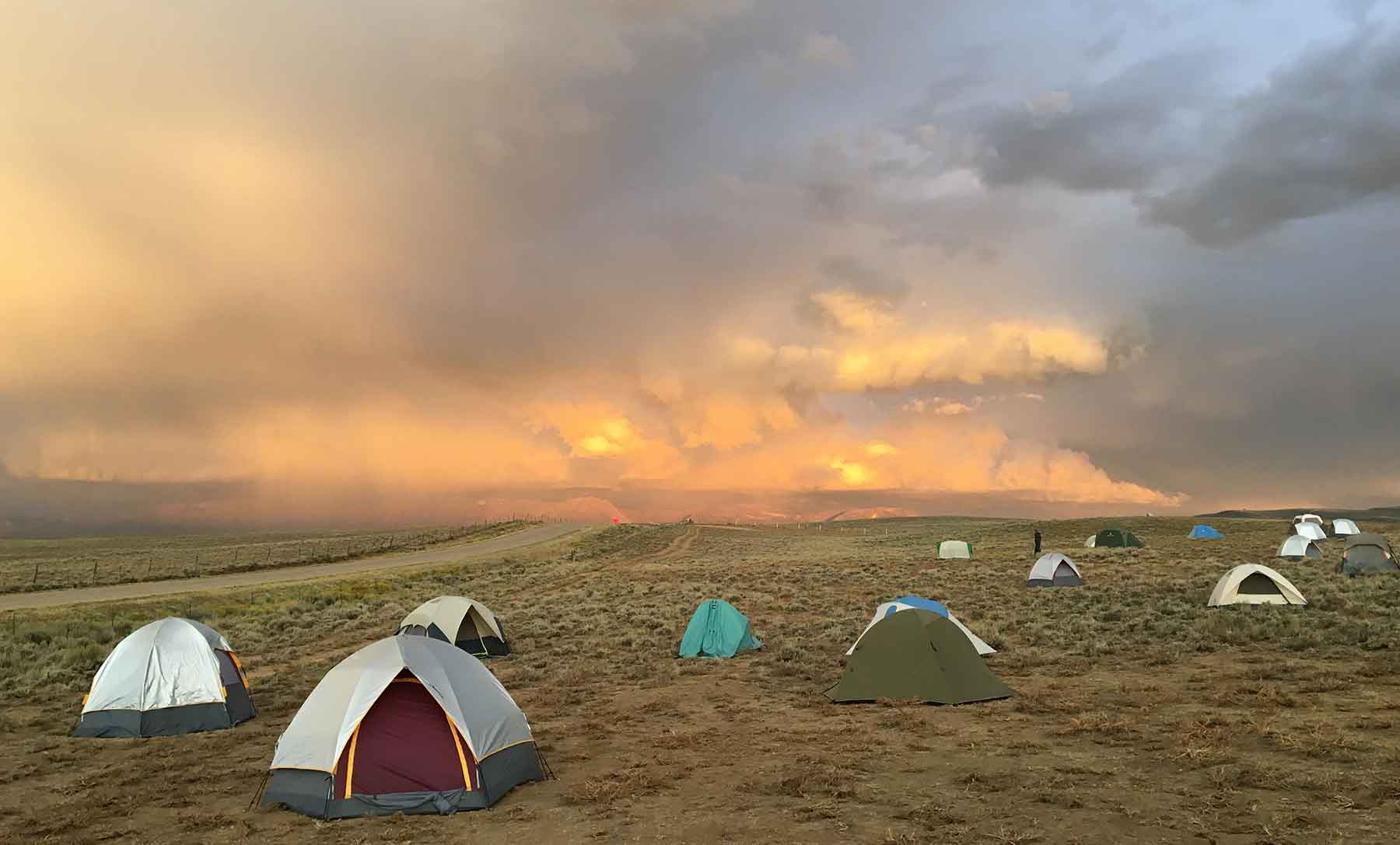 Sustainable Efforts Under Way at Fire Camps
Kandt understands some changes won't be easy for fire camps to adopt. Other federal agencies that have turned to NREL for energy audits and to increase renewable energy sources typically are doing so for stationary structures. The temporary nature of fire camps, coupled with the urgent mission of extinguishing fires, means changes will be difficult to make.
"It's a little tricky because the mission is really fighting a fire," Kandt said. "In the first couple days of a fire it's very frantic and people are in survival mode trying to get everything set up. Then, when the fire is under control, people can say, 'Don't forget to use your canteen or recycle.' But until then nobody has time to address this, because they're just trying to fight the fire. The necessity and function of what firefighters are trying to do make it difficult to efficiently and effectively address conservation."
Kandt said the Forest Service's request for an audit of the fire camps came about as a way to find a solution to a generator problem. The diesel generators sent to power a fire camp might not have enough capacity for the load required, or in a lot of instances, are actually way too large for the load. "The Forest Service has been experiencing problems with generators that are not lasting as long as they should or that are being operated very inefficiently at small, partial loads. The intent was to conduct an assessment of the loads and help them right-size their generators. I've discovered that this is a very complicated exercise, though, because generators and other equipment are often brought in from a local fire cache or contractors in surrounding communities," she said. "So the Forest Service takes what they can get, what is available at the time in the near vicinity."
Barrett, who operates from the Forest Service's office in Lakewood, Colorado, said firefighters can call to have a cache of supplies delivered as crews and support personnel are heading to a fire. Those supplies include generators obtained through a lease agreement. Solar-powered light towers and solar hot water shower and hand washing stations are commercially available, but getting them into the supply chains (via the cache and local contractors) is the next step to get these broadly deployed in fire camps.
He said solar panels are also used but only when a small amount of electricity is needed. "We try our best to be as green as possible."
—Wayne Hicks