Colorado School Earns Return Trip to National Science Bowl
---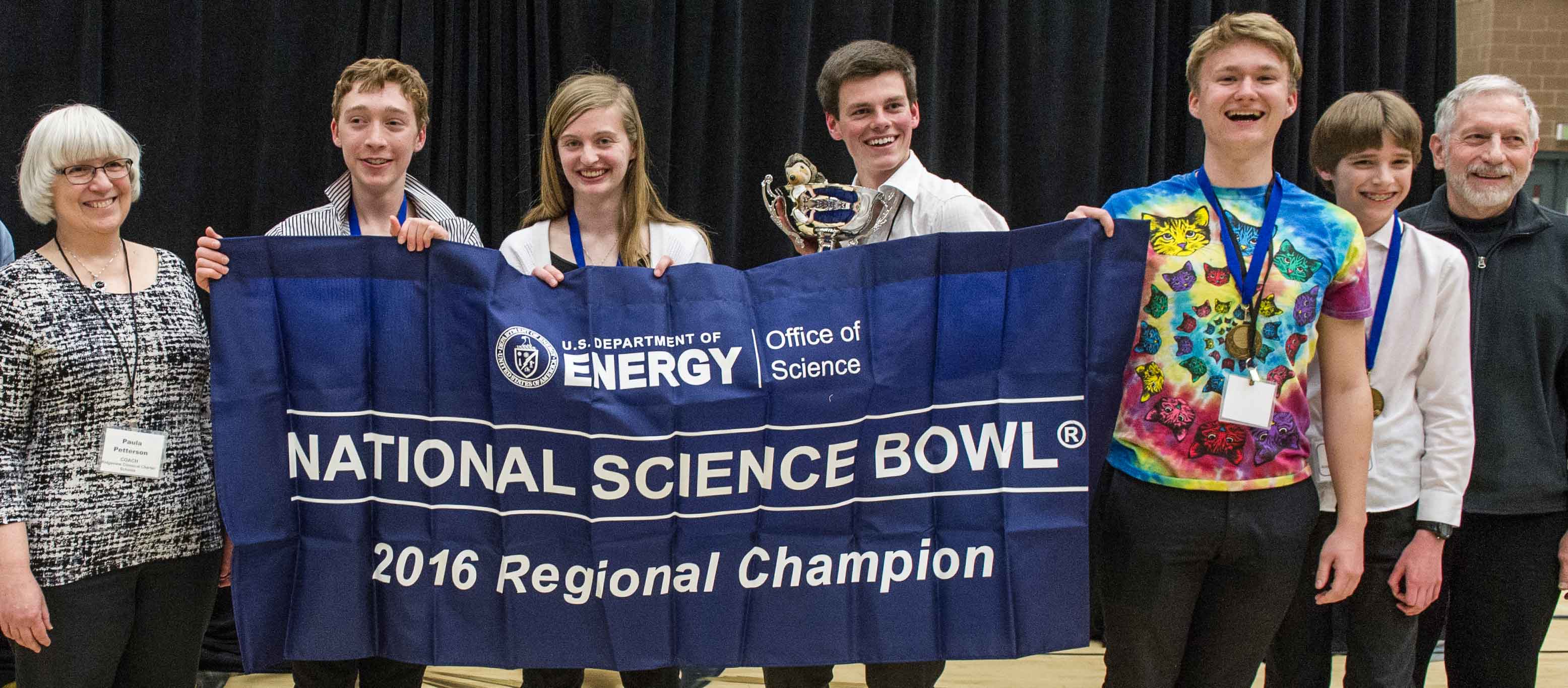 March madness came early at the Colorado High School Science Bowl, hosted by the Energy Department's National Renewable Energy Laboratory (NREL). Forty-four teams from across the state recently competed for a shot to represent Colorado at the National Science Bowl in April. Participating teams worked tirelessly through the morning round of competition for an opportunity to make the bracket for the afternoon and, ultimately, a shot at the final round and the state title.
After a full day answering rapid-fire questions in physics, math, astronomy, chemistry, anthropology, and earth sciences, Ridgeview Classical Charter School from Fort Collins squared off with Boulder Fairview High School in the basketball gymnasium at Dakota Ridge High School—the host school for the competition. Ridgeview Classical scored a convincing victory over Fairview in the finals to claim the Colorado championship and advance to nationals. Cheyenne Mountain High School from Colorado Springs rounded out the top finishers, earning the third-place trophy.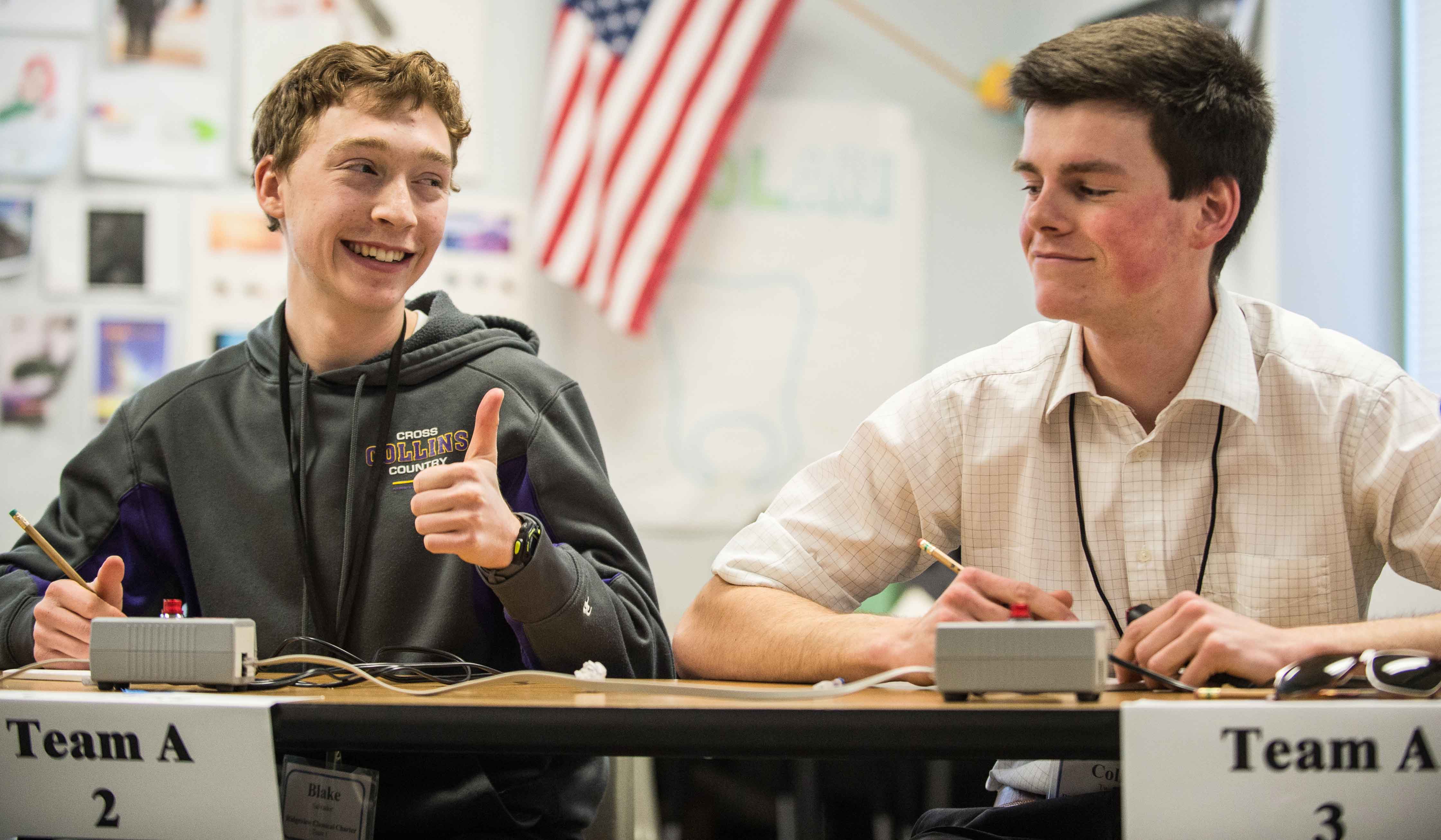 Ridgeview Classical Team Returning to Nationals
Ridgeview Classical seemed unstoppable throughout the day and brought an undefeated record into the final round of the double-elimination tournament. In order to claim victory, Fairview would need to beat Ridgeview Classical twice.
"That was fun," Ridgeview Classical team co-captain Blake Salvador said. "We went up there knowing that we were prepared and that we could win. We tried to not take it too seriously and just have fun with it; the answers seem to come much easier that way."
Ridgeview Classical returns to nationals for the second year in a row and the sixth time in eight years. The team will represent Colorado at the Energy Department's National Science Bowl on April 28 to May 2 in Washington, D.C., where they will compete against more than 400 students from 70 high schools.
"Preparing for the Colorado competition really helped us to identify our weaknesses in certain subjects so we know what we need to work on," Ridgeview Classical team co-captain Alyssa Jhones said. "Science Bowl has helped us to develop better discipline and efficiency in our studies, and that will really help as we prepare for nationals."
The Energy Department began the Science Bowl in 1991 as a way to encourage high school students to explore math and science. Each year, approximately 15,000 students from across the country compete for a chance to go to Washington, D.C., for the national finals.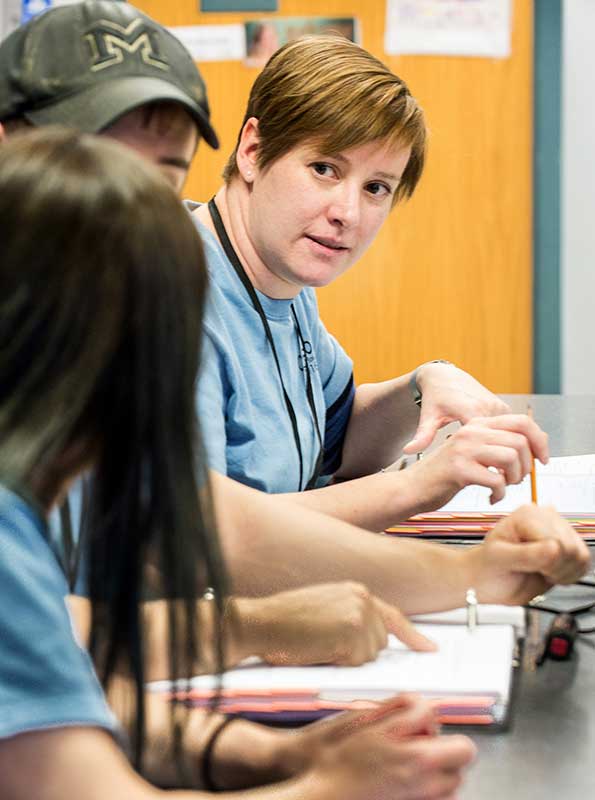 Enlarge image
Making Math and Science Lifelong through Fun Competition
How better to encourage high school students to pursue future studies and careers in science, technology, engineering, and mathematics (STEM) subjects than to make those topics enjoyable for the kids? If the Colorado Science Bowl is any indication, the Science Bowl program excels.
"There's a lot of pressure in Science Bowl, but our team really has a lot of fun with it," Ridgeview Classical team member Colin Tweedy said. "We study these subjects to death, but we're studying something we already like, and working with our teammates and relying on each other to succeed really enhances our experience with these subjects."
The highly competitive nature of this science education and academic event brings out the best in these students, and the experience motivates and informs their futures as they are encouraged to pursue involvement in math and science activities of importance to our nation.
"Participating in Science Bowl has given me exposure to a lot of different scientific fields that I hadn't spent much time on, and I've found them all really interesting," Tweedy said. "It's really cool to get a chance to learn so much, and I hope to use what I've learned to make discoveries in the future that will actually influence the real world and do something where I can make a difference."
NREL Support of Science Bowl Nurtures the Next Generation of Innovators
For more than 25 years, NREL and the Energy Department have been actively encouraging high school students to expand their knowledge of math and science through the Colorado Science Bowl. The laboratory community sees their support, both organizationally and individually, as critical to their goals for a clean energy future by mentoring and inspiring the next generation of research scientists and engineers who will carry forth that mission.
"Renewable energy research needs more young and creative minds," said Lieve Laurens, a senior scientist in NREL's National Bioenergy Center. "It's important that we cultivate a strong science base in these students so that hopefully they will be motivated to follow a path toward future studies and careers in the renewable energy space."
The Colorado Science Bowl is a significant undertaking for NREL staff. It takes nearly 100 volunteers to run the competition, and many staffers return year after year. Staff volunteers participate in a wide variety of roles, from hosting the competition sessions to scorekeeping and timekeeping to making sure that hungry minds are well fed throughout the day for peak performance.
"There's a lot of passion for the Science Bowl from the volunteers," Laurens said. "The enthusiasm from these students for science is inspirational, and it reminds us that what we do on a daily basis is important."
Learn more about NREL's Workforce Development and Education Programs for middle school, high school, and college interns.
Colorado teams that survived the morning competitions and advanced to the afternoon double-elimination contests were:
Arapahoe High School Team 2 (Centennial)
Cherry Creek High School Team 1(Aurora)
Cheyenne Mountain High School Team 1 and Team 2 (Colorado Springs)
Coronado High School Team 1 (Colorado Springs)
Fairview High School Team 1 (Boulder)
Fossil Ridge High School Team 1 (Fort Collins)
Lakewood High School Team 1 (Lakewood)
Liberty Common High School (Fort Collins)
Loveland High School Team 1 (Loveland)
Peak to Peak Charter School Team 1 (Lafayette)
Poudre High School Team 1 (Fort Collins)
Ralston Valley High School Team 1 (Arvada)
Rangeview High School Team 1 (Aurora)
Ridgeview Classical Charter School Team 1 (Fort Collins)
Rocky Mountain High School Team 1 (Fort Collins)