Tell Me Something Grid Series
This series introduces some of NREL's outstanding researchers in grid modernization and shares how their work is shaping the grid of the future.
Browse below to meet some of NREL's expert grid researchers and get a behind-the-scenes look at their work to make the nation's electrical grid more flexible, reliable, resilient, secure, and sustainable.
---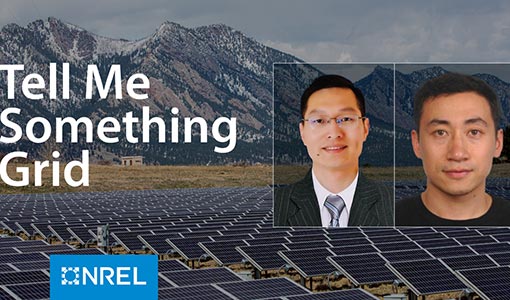 Distributed energy resources with advanced controls can provide services to the grid such as frequency response. However, unlike conventional generators, distributed energy resources have to regularly exchange signals with faraway control centers. NREL grid analysts Wenbo Wang and Xin Fang discuss potential impacts of these open communications networks.
---
Join Us
Interested in shaping the future electric power system at NREL? Browse open positions and see what it's like to work here.
Stay Connected
Subscribe today to receive regular updates on what's happening in grid modernization and energy systems integration research at NREL and around the world.