Tell Me Something Grid Series
This series introduces some of NREL's outstanding researchers in grid modernization and shares how their work is shaping the grid of the future.
Browse below to meet some of NREL's expert grid researchers and get a behind-the-scenes look at their work to make the nation's electrical grid more flexible, reliable, resilient, secure, and sustainable.
---
To achieve a global and inclusive response to climate change, it is critical to support system operators worldwide with managing the challenges related to integrating high levels of renewable energy. NREL senior grid researcher Amy Rose discusses her role leading a team that works directly with system operators in developing countries to implement the technical solutions needed to operate reliable, low-carbon grids.
---
Making decisions about the future grid or grid-connected systems requires detailed data of estimated future U.S. emissions, costs, and electricity generation. NREL energy systems researcher Pieter Gagnon developed and updates Cambium, one of NREL's many publicly available grid planning tools that offers electricity sector metrics at the hourly resolution to support detailed analysis of possible future grid conditions and impacts of potential decisions.
---
Electricity distribution system planners are seeking more information about increased electricity demand from electric vehicles so they can strategically plan system upgrades, implement charging control methods, and develop new market solutions, if needed. NREL grid analyst Nadia Panossian discusses new research on how to best integrate lots of electric vehicles into distribution systems.
---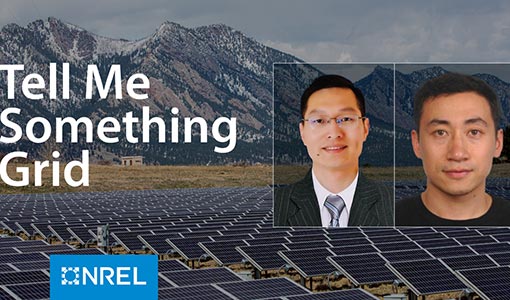 Distributed energy resources with advanced controls can provide services to the grid such as frequency response. However, unlike conventional generators, distributed energy resources have to regularly exchange signals with faraway control centers. NREL grid analysts Wenbo Wang and Xin Fang discuss potential impacts of these open communications networks.
---
Join Us
Interested in shaping the future electric power system at NREL? Browse open positions and see what it's like to work here.
Stay Connected
Subscribe today to receive regular updates on what's happening in grid modernization and energy systems integration research at NREL and around the world.