NREL Defense Partnerships Quarterly Newsletter
Welcome to the NREL Defense Partnerships Quarterly Newsletter.
Subscribe to Our Quarterly Newsletter
Learn about recent NREL research, publications, projects, capabilities, and events related to the U.S. Department of Defense, Department of Homeland Security, and NASA.
Subscribe
In this Edition
Partnering with the Department of Defense
Special Feature
NREL Analysis Empowers Los Angeles in Its Pursuit of 100% Renewables
Results from the Los Angeles 100% Renewable Energy Study (LA100) show meeting LA's goal of reliable, 100% renewable electricity by 2045—or even 2035—is achievable and will entail rapid deployment of wind, solar, and storage technologies this decade. The study paves the way for other jurisdictions to reach their own clean energy goals, equitably, and economically.
Over the course of 2016 and 2017, the Los Angeles City Council passed a series of motions directing the Los Angeles Department of Water and Power to develop and implement research partnerships with the U.S. Department of Energy, local universities, and stakeholders to study the feasibility and investment pathways of reaching these goals, along with implications for jobs, electricity rates, the environment, and environmental justice. The charge led them to the experts at NREL.
"LA100 is a first-of-its-kind, objective, rigorous, highly detailed, and science-based study to analyze potential pathways the LA community can take to achieve a 100% clean energy future," said Dr. Jaquelin Cochran, manager of NREL's grid systems analysis group and principal investigator of the LA100 study. "It taps into and builds on NREL's decades of experience studying high-renewable power systems at a variety of scales, from our foundational Renewable Electricity Futures Study to the Eastern Renewable Generation Integration Study, and beyond—while leveraging input from a diverse set of stakeholders."
2020 Energy Systems Integration Facility Annual Report Describes Progress in Grid Modernization, Energy Resilience, and More
In 2020, NREL recorded multiple milestones in the critical research areas of energy systems modernization—including unprecedented simulations of major urban electric grids, a cutting-edge cyber-energy emulation platform, and the new Advanced Research on Integrated Energy Systems (ARIES) capabilities that will level-up our national research capacity for advanced energy systems. And all this is on top of many impactful partnerships and lab-directed projects.
The Energy Systems Integration Facility Annual Report documents broad success in diverse sectors spanning electrified mobility, microgrids, energy storage, and hydrogen, and it hints at NREL's new ability to take a whole-system, whole-city perspective for integrated energy opportunities. Communities everywhere are transitioning to cleaner, more efficient, more resilient energy systems, and the annual report details the results of expert analysis and breakthrough innovations that are enabling energy transitions across the nation.
Partnering With the Department of Defense
Marine Corps Air Station Miramar and NREL: Allies in Energy Efficiency, Systems Integration, and Resilience
After a series of successful energy projects, Marine Corps Air Station Miramar was targeting data center energy efficiency and design—a big opportunity for federal facilities, as efficiently cooling the large numbers of computer systems can offer tremendous energy and water savings. Additionally, energy efficiency is one of the three pillars of the U.S. Department of the Navy's Energy Security Framework to support mission readiness. NREL was perfectly poised to assist Marine Corps Air Station Miramar in its new endeavor.
NREL's Gesick Embeds With Defense Innovation Unit To Expand Support to Department of Defense
Among the national laboratories, NREL leads the way in commercial partnerships and commercialization of technologies. Integral to NREL's success is its understanding of partner needs, and embedding personnel in the day-to-day of partner organizations has proved increasingly useful to that end.
Josh Gesick, NREL researcher of more than 10 years, has involved himself in the business side of renewable energy development and integration his entire career. Since March 2021, he has been adjusting to new surroundings at the Department of Defense's Defense Innovation Unit Advanced Energy and Materials team. He is on loan to the Defense Innovation Unit through the Interagency Personnel Act program through at least spring 2022.
"It's a brand new portfolio. We're in the process of identifying problems and trying to pair them with commercial solutions," Gesick said. "We're strategically located in some of these innovation ecosystems. We try to help those companies that otherwise might not consider it."
Read more about Gesick's partnership.
Research Activities
NREL To Play a Major Part in Microgrid Innovation for American Communities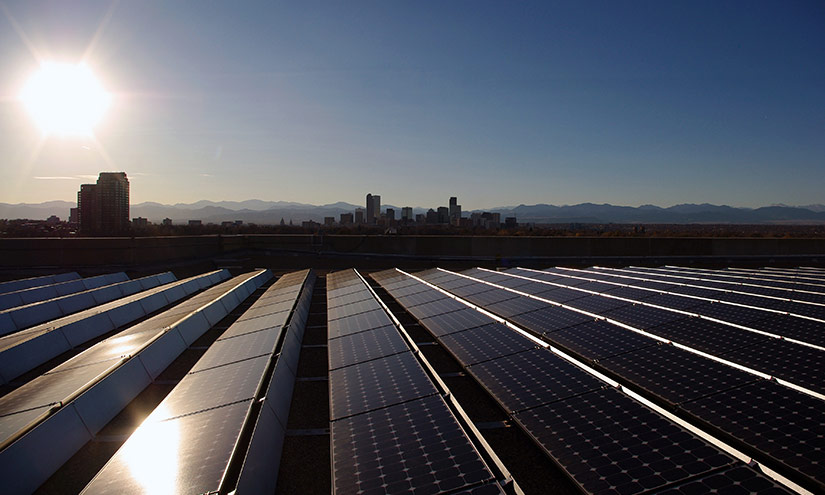 A recent article by the Department of Energy highlighting NREL describes three solar projects at NREL funded by the Solar Energy Technologies Office. The first project, Reorg: Resilience and Stability Oriented Cellular Grid Formation and Optimization for Communities With Solar PVs and Mobile Energy Storages, will apply concepts of the autonomous energy systems research portfolio to demonstrate advanced grid controls.
The second project, Resilient Community Microgrids With Dynamic Reconfiguration To Serve Critical Loads in the Aftermath of Severe Events, will apply newly developed controls for multiple assets, including rooftop solar, energy storage, electric school buses, and a photovoltaic plant.
The third project, SECURE — Solar Energy CommUnity Resiliency, is being led by the Electric Power Research Institute. For this project, NREL will help develop a decentralized autonomous control architecture that maximizes community benefit during normal conditions by interfacing upstream with central systems and, during emergency events, isolates and coordinates with peer systems to provide power to local communities.
D3T: Defense and Disaster Deployable Turbine Project
Fast access to energy on location is critical to ensuring a successful military or humanitarian response when conflicts and natural disasters occur. These missions currently depend on reliable access to liquid fuel that could be vulnerable to disruption or attack during transport.
Generating power on location with wind technology—whether at a contingency base or disaster response coordination point—can reduce this risk and enhance mission reach by diversifying energy sources.
The D3T project can meet the unique energy needs of defense operations and responses to humanitarian crises.
Documenting a Decade of Cost Declines for PV Systems
NREL's U.S. Solar Photovoltaic System and Energy Storage Cost Benchmark: Q1 2020 is now available, documenting a decade of cost reductions in solar and battery storage installations across utility, commercial, and residential sectors. NREL's cost benchmarking applies a bottom-up methodology that captures variation in system design and regional costs to identify future research and development directions that could further reduce costs.
Centrica Partnership Shows Optimal Strategies for Hybrid Storage Systems
Batteries are generally built for their intended application, whether for vehicles, storage, or backup. But NREL and project partner Centrica have looked beyond single battery energy storage system types to hybrid solutions, discovering that untapped potential exists when battery types are combined and optimally controlled.
Staff Highlights
Q&A With Jennifer Daw: Working at the Crossroads of Energy, Water, and Land
The idea behind the energy-water-land nexus is that there's a connection between energy, water, and land use (food). And there are tradeoffs. The development choices we make affect all three systems. Traditionally, the energy, water, and land sectors work in silos, singularly focused on the needs of their systems. The nexus emphasizes cross-sectoral solutions, where we look for synergies and co-benefits by viewing problems more holistically and considering their impacts on social, environmental, and economic factors.
NREL approaches the nexus from the perspective of energy—looking at how energy is used in water systems, what tradeoffs exist in developing land for energy versus food production, and how to reduce water requirements for power generation.
One way we address the nexus is through co-optimization of energy and water systems. NREL has been using the REopt techno-economic decision support model to help external partners evaluate how water treatment and storage systems can be leveraged for economic savings through demand reduction and time-of-use shifting. Read the full Q&A.
Recommended Reading
Impact of Emergency Diesel Generator Reliability on Microgrids and Building-Tied Systems
Last summer, we shared information about our research on emergency diesel generator reliability on microgrids, and now our work has been published in Elsevier's Science Direct. Microgrids are an emerging alternative as an energy backup system for critical electric loads and have improved performance compared to the traditional architecture where a single emergency diesel generator is tied to an individual building.
Both architectures are dependent on the reliability of their individual generators, and a quantitative and realistic comparison of the overall system reliability of the two architectures is lacking. Using recently published work on emergency diesel generator finite reliability, a quantitative methodology is presented to compare the reliability of a microgrid architecture based on centralized emergency diesel generators to the traditional approach of generators tied to individual buildings.
---
More recommended reading includes the following NREL publications, and presentations related to Department of Defense projects and research.
Resilience
Renewable Generation
Analysis
Activities and Events
Members of NREL's defense team will be hosting or attending the following events.
Aug. 2–6, 2021, Virtual
Visits to NREL
COVID-19 Impact: In the interest of the health and safety of NREL employees and visitors, NREL is hosting visits at its South Table Mountain and Flatirons campuses on a very limited basis. We look forward to visits and tours for our Department of Defense partners in the future as conditions allow. For more up-to-date information related to NREL operations and visits, see the NREL website.