NREL Defense Partnerships Quarterly Newsletter
Welcome to the NREL Defense Partnerships Quarterly Newsletter.
Subscribe to Our Quarterly Newsletter
Learn about recent NREL research, publications, projects, capabilities, and events related to the U.S. Department of Defense (DoD), Department of Homeland Security (DHS), and NASA.
Subscribe
In this Edition
Partnering with the Department of Defense
Partnering with the Department of Defense
REopt Evaluates Savings Potential for a Load-Shaving Battery System at Fort Carson
As noted in the NREL Energy Systems Integration Newsletter, a new battery energy storage system (BESS) was unveiled recently, after years of planning. The BESS is not the first energy-efficient installation at Fort Carson; the base has been on the forefront of renewable electricity initiatives for the Pentagon for years and is already home to the U.S. Army's biggest collection of solar power arrays.
The BESS was designed to save Fort Carson more than $500,000 per year in electricity costs during a 20-year span. The battery unit combats the high cost of electricity by charging at times when energy is less expensive, storing that energy, and then using the stored energy to shave energy use during peak demand times. NREL played a key part in developing the BESS, having prepared a review of the potential demand charge savings and the preliminary design for the storage system using REopt™ (Renewable Energy Integration and Optimization). Read more about the Fort Carson project.
Army Expands Its Evaluation of Battery Opportunities
Fort Carson pioneered a novel approach to reducing its electricity costs through implementation of a large-scale BESS, implemented through an Energy Savings Performance Contract and commissioned in 2019. As observed by Army's Acting Deputy Assistant Secretary for Energy and Sustainability Mr. Jack Surash:
The Army's vision is that installation energy and water infrastructure supporting critical missions will be resilient, efficient, and affordable. This project reflects the Army's motivation to partner with industry for creative solutions to support this vision."
In order to determine if this approach would be applicable at other Army installations, the Army Office of Energy Initiatives recently funded NREL to analyze for similar BESS opportunities at 80 other Army installations. The work is ongoing to include assessment for hybrid photovoltaics (PV)/battery viability across the Army's portfolio of installations, with the objective of implementing resilient energy technologies to maximize readiness and lower installations' electricity costs.
Research on Advanced Photovoltaics for Space Applications Wins R&D 100 Award
In early October, R&D World magazine presented NREL with four of its annual R&D 100 Awards for research innovations. Dynamic Hydride Vapor Phase Epitaxy for Low-Cost III-V PV Devices was recognized and is a positive example of the NREL-DoD partnership advancing research in solar technologies.
Recommended Reading
Hurricane Puts NREL Resilience Analysis Tool to the Test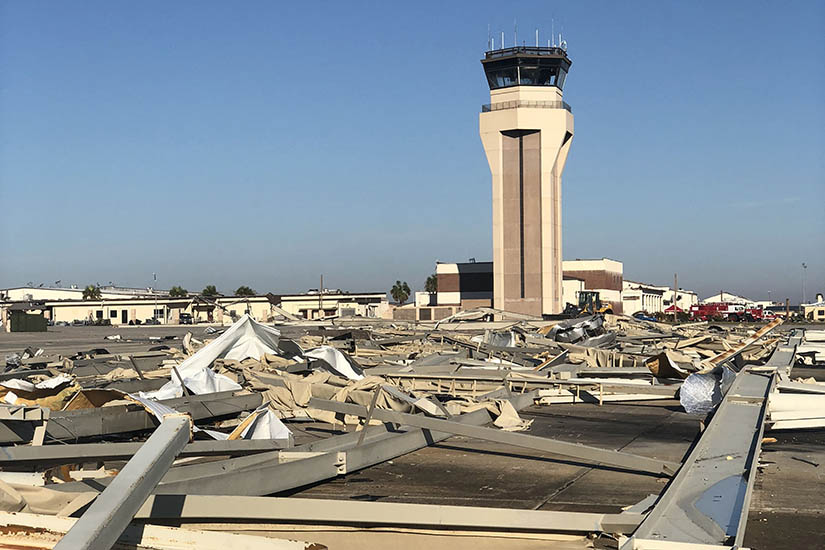 The devastating hurricane that struck northwest Florida in October 2018 proved an ideal case study for a risk assessment tool developed by NREL.
Prior to Hurricane Michael making landfall, the U.S. Department of Defense had tasked NREL with developing a means to identify hazards and threats to the energy grid, analyze risks to energy infrastructure, and identify and prioritize investments in making bases and installations more resilient. The Category 5 hurricane struck Tyndall Air Force Base near Panama City with such force that 484 buildings were destroyed or damaged beyond repair.
"Natural disasters are unfortunate when they occur, but they put our findings and resilience solutions to the test," said Eliza Hotchkiss, technical group manager of the Resilient Systems Design and Engineering Group at NREL.
After the Hurricane: Validating a Resilience Assessment Methodology
With increasing utility grid outages in the United States, there is growing interest in assessing risk and developing mitigation strategies to reduce the impact of grid outages. Working with the U.S. Air Force, NREL developed a replicable energy resilience assessment methodology and investment decision tool to:
Identify and score hazards and vulnerabilities at the site level
Analyze risks to energy infrastructure
Identify and prioritize energy resilience investments.
This work improves on existing resilience assessment methodologies and tools by combining a bottom-up, all-hazards assessment methodology with top-down geographic information system mapping capabilities to provide an innovative, dynamic tool for identifying and prioritizing actionable solutions. This process combines probabilistic forecasting with an iterative approach for continuously updating and reassessing risks to address temporal dynamism. Read the article, After the Hurricane: Validating a Resilience Assessment Methodology.
---
More recommended reading includes the following NREL publications and presentations related to DoD projects and research.
Planning for the Storm: Considering Renewable Energy for Critical Infrastructure Resilience, Journal of Emergency Management (2020)
Financing Microgrids in the Federal Sector, NREL Technical Report (2020)
The Role of Innovation in the Circularity of EV Lithium-Ion Batteries, NREL Technical Report (2020)
Solar Photovoltaics in Severe Weather: Cost Considerations for Storm Hardening PV Systems for Resilience, NREL Technical Report (2020)
Distributed Energy Resource Planning with Resilience Analysis Using REopt Lite: A Behind-the-Meter Techno-Economic Analysis Tool, NREL Technical Report (2020)
Post-Disturbance Dynamic Distribution System Restoration with DGs and Mobile Resources: Preprint, NREL Technical Report (2020)
Charging Infrastructure Technologies: Smart Electric Vehicle Charging for a Reliable and Resilient Grid (RECHARGE), NREL Technical Report (2020)
Behind the Meter Storage for Electric Vehicle Charging, Electrochemical and Thermal Energy Storage, and Solar Photovoltaic, NREL Technical Report (2020)
Annual Technology Baseline: The 2020 Electricity Update, NREL Technical Report (2020)
Microgrids in Emerging Markets—Private Sector Perspectives, NREL Technical Report (2020)
Integrating Electric Vehicle Charging Infrastructure into Commercial Buildings and Mixed-Use Communities: Design, Modeling, and Control Optimization Opportunities: Preprint, NREL Technical Report (2020)
Design of a Non-PLL Grid-Forming Inverter for Smooth Microgrid Transition Operation: Preprint, NREL Technical Report (2020)
Coupled Transmission and Distribution Simulations to Assess Distributed Generation Response to Power System Faults, Electric Power Systems Research (2020)
The Impact of Behind-the-Meter Heterogeneous Distributed Energy Resources on Distribution Grids: Preprint, NREL Technical Report (2020)
H2@Scale: Opportunities for Hydrogen as an Energy Intermediate, NREL Technical Report (2020)
High-Frequency Signature-Based Fault Detection for Future MV Distribution Grids: Preprint, NREL Technical Report (2020)
Research Activities
Department of Energy/NREL Announce Advanced Research on Integrated Energy Systems, a Significant New Research Capability
ARIES (Advanced Research on Integrated Energy Systems) was formally announced on Aug. 12, during Secretary Brouillette's visit to NREL. (See below for more information on his visit.) ARIES represents a substantial scale-up in power systems experimentation capability from existing research platforms. It allows for research at multiple scales, up to the 20-MW level and across sectors, to create a platform for understanding the full impact of energy systems integration across five research areas: energy storage, power electronics, hybrid energy systems, future energy infrastructure, and cybersecurity.
ARIES includes a near-real-world environment with high-fidelity, physics-based, real-time models that can connect hundreds of real hardware devices and tens of millions of simulated devices. This research area will advance the foundational science for real-time optimization and control of large-scale energy systems. It is also being designed to understand the growing interdependencies between the power system and other infrastructure like natural gas, transportation, water, and telecommunications.
ARIES will enable testing on grid designs that span microgrids up to high-voltage direct current transmission grids and on management and control systems that optimally integrate power delivery for diverse fuel and technology types. For more information, please see the Department of Energy press release and visit ARIES on our website.
NREL Enhances Energy Resiliency at Marine Corps Air Station Miramar
It started with support of net-zero energy planning focused on the installation of distributed renewable energy systems and increased energy efficiency, and then a 100% renewably powered, single-building microgrid demonstration project. And now the partnership is tackling something even bigger—an installation-wide microgrid that will ensure that the Marine Corps Air Station flight-line and other critical supporting facilities always have power, even during a blackout. As featured in a Microgrid Knowledge article, California Microgrids Flex Their Skills During Blackouts, on California microgrids, providing resiliency during the mid-August rolling blackout, the microgrid at Miramar has already proven valuable.

The new, advanced microgrid will feature an intelligent controller for tapping into diverse energy sources—such as solar PV, landfill gas, natural gas, energy storage, and diesel fuel—while maximizing use of existing renewable energy. The microgrid will enhance energy resiliency by allowing the installation to operate even when the utility is down, using redundant/on-site fuel sources.
Activities and Events
Upcoming Events
Members of NREL's defense team will be hosting or attending the following events.
Armed Forces Communications and Electronics Association Mid-America Cyberspace Conference
Nov. 3–5, 2020
The Armed Forces Communications and Electronics Association virtual conference addresses cyber-related topics, as well as how government, industry, and academia can work together to develop solutions for the future.
Defense TechConnect Virtual Innovations Summit and Expo
Nov. 17–19, 2020
Innovation for national security: connecting top DoD offices and industry scouts with the world's best innovations. Learn more about the summit and expo.
Strategic Environmental Research and Development Program/Environmental Security Technology Certification Program Symposium 2020: Enhancing DoD's Mission Effectiveness
Nov. 30–Dec. 4, 2020
Focusing on the DoD's priority environmental and installation energy issues, the Strategic Environmental Research and Development Program and Environmental Security Technology Certification Program host this virtual symposium. It brings together environmental and energy researchers and technology developers with the defense end-user and regulatory communities to showcase cutting-edge environmental technologies and ideas.
Previous Events
Members of NREL's defense team attended the following events.
Energy Exchange Wrap Up
Aug. 10–14, 2020
Sheila Hayter, laboratory program manager for the Federal Energy Management Program (FEMP), talks about Energy Exchange (EEx):
The annual Energy Exchange, hosted by FEMP, promotes knowledge sharing about best practices to ensure optimized efficient, resilient, and secure energy and water management systems across the federal government. As one of the first federal events of this magnitude to shift to be a virtual event due to the pandemic, FEMP was committed to providing the attendees the best-possible virtual experience. This year's EEx offered insights from technical experts on a breadth of topics including federal leadership priorities, facility optimization, efficient and sustainable operations, cyber security, project financing, public-private partnerships, resilience planning and implementation, data analysis, and technology solutions."
Congratulations to the Department of Defense for being recognized as six of the 12 2020 FEDS Spotlight Awards Champions!"
I am proud of NREL's participation in executing this year's Energy Exchange technical program. NREL's subject matter experts were involved in developing and presenting the technical program, creating NREL's 'room' in the Technology Pavilion, and assisting FEMP in implementing an impactful event."
If you already registered for the 2020 EEx, I invite you to continue visiting the EEx site to view technical sessions, visit the Technology Pavilion, and hear inspirational messages from federal sector leaders. If you did not attend the EEx in August, you can still register to access these interesting and valuable resources."
Learn more about Energy Exchange.
Air Force Warfighting Integrating Capability Energy Infrastructure Challenge Design Workshop
Aug.18–20, 2020
Guided by the National Defense Strategy, the Air Force Warfighting Integrating Capability's efforts and initiatives enable the Air and Space Forces to rapidly identify key areas for investment in new capabilities that build the foundation for a Joint Force that is able to conduct true multi-domain operations, even in the most difficult scenarios. NREL staff attended this and several other energy challenge virtual workshops.
Advanced Research on Integrated Energy Systems Industry Workshop
Sept. 2, 2020
This workshop was attended by over 300 participants, including several dozen DoD partners, to discuss the ARIES program. View the ARIES Industry Workshop Presentation.
Advanced Research on Integrated Energy Systems Workshop for Department of Defense-Focused Audience
Oct. 22, 2020
NREL presented ARIES capabilities during a session hosted by the Atlantic Council as part of their Innovation Stream series. As noted above, ARIES represents a significant leap forward in the ability to conduct R&D on physical and emulated components and systems, capabilities that are of high interest to our defense partners.
Visits to NREL
ARIES and RAIL Promise To Advance Renewable Energy Innovation and Integration
Secretary of Energy Dan Brouillette introduced two new acronyms to NREL's lexicon on Aug. 12: RAIL and ARIES. RAIL stands for Research and Innovation Laboratory, while ARIES is short for Advanced Research on Integrated Energy Systems. Brouillette's visit to NREL marked his first stop there since becoming head of the Department of Energy in December. While at NREL, the secretary participated in a groundbreaking ceremony for the new RAIL building on NREL's South Table Mountain Campus. He was joined by U.S. Senator for Colorado Cory Gardner.
Meanwhile, the ARIES program builds upon existing capabilities at Energy Systems Integration Facility and the Integrated Energy Systems at Scale capabilities at NREL's Flatirons Campus near Boulder, Colorado. Researchers are able to provide real-time testing of equipment connected to the electrical grid. Equipment at the Energy Systems Integration Facility offers as much as 2 megawatts of power. With ARIES, Integrated Energy Systems at Scale will allow for research requiring 10 times that amount. Read more about ARIES and RAIL.
Staff Highlights
Q&A with Sakshi Mishra: New Member of NREL's REopt Team Supporting DoD
Finding energy solutions for a changing global climate and advocating for women to choose careers in science and technology drive Sakshi Mishra's mission as an energy researcher and power systems engineer. Mishra spent some time talking to us about her research and mission at NREL.
My current research leverages machine learning and deep learning algorithms for predictive analytics applications that enable preemptive management of building energy usage by providing accurate forecasts of energy consumption. I am also the development lead for REopt Lite API, an optimization tool aimed at studying the techno-economic feasibility of behind-the-meter distributed energy resources. REopt Lite API provides energy resource planners with concurrent, multiple-technology integration and optimization used to improve cost savings while achieving ambitious energy performance goals. The tool is being used by industry practitioners, consultants, renewable energy developers, research labs, as well as academia."
Learn more in the presentation, Distributed Energy Resource Planning with Resilience Analysis Using REopt Lite: A Behind-the-Meter Techno-Economic Analysis Tool, authored by Sakshi Mishra.