NREL Defense Partnerships Quarterly Newsletter
See NREL's latest work to support its defense partners in the spring 2023 Defense Partnerships Newsletter.
Subscribe to Our Quarterly Newsletter
Learn about recent NREL research, publications, projects, capabilities, and events related to the U.S. Department of Defense, Department of Homeland Security, and NASA.
Subscribe
Partnership Feature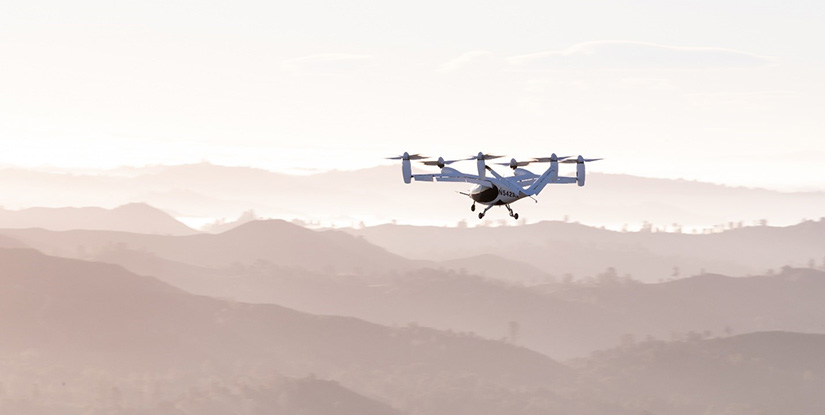 NREL is enthusiastically supporting development of electric vertical takeoff and landing (eVTOL) technologies, and a new collaboration with the U.S. Air Force is taking that research to new heights. NREL is contributing to the Air Force's AFWERX division, which leverages research laboratories and expertise throughout the United States to accelerate commercial progress in technologies that could have long-term military applications.
Research Activity
By sidestepping the need for a central controller and its need for communication in a microgrid configuration, NREL has developed a simpler path for deploying microgrids quickly.
Learn how a 3-day NREL-hosted workshop brought together industry and government stakeholders to discuss common challenges and strategies to decarbonize the off-road sector, consisting of construction, mining, military, and agricultural industries.
An ultrathin protective coating proves sufficient to protect a perovskite solar cell from the harmful effects of space and harden it against environmental factors on Earth, according to newly published research from NREL.
Geothermal energy—literally "heat from the Earth"—may be hard to see, but thanks to increasing public interest and outreach, it is not hidden anymore. Although geothermal power plants have delivered renewable power for more than 100 years, recent research and advancements have shown that geothermal is more than a 24/7 clean power source.
Research Capability
To an untrained eye, the logs used to track activity on information technology equipment might look like gibberish, but the information they contain paints a complete picture of a system's health. Cybersecurity professionals heavily rely on this data to detect anomalies and fortify networks against increasing cyberthreats.
NREL created an interactive visualization tool to make the information stored in these logs easier to view and interpret, especially for non-cybersecurity professionals.
Recommended Reading
NREL Issues Electric Vehicle Supply Equipment Recommendations
The U.S. Department of Defense's Environmental Security Technology Certification Program and the U.S. Department of Energy's Federal Energy Management Program contracted NREL to develop a web tool and complete pilot assessments to install electric vehicle supply equipment (EVSE). To provide the energy that zero-emission vehicles require, EVSE must be installed to provide sufficient charging power. Due to the significant energy demand from fleet mobility needs, the power ratings of these devices are higher than most other electrical devices. This requires specific installation considerations. Read the Camp Lejeune Federal Fleet Tiger Team EVSE Site Assessment.
Other Defense Sector-Related Publications
Unleashing the Frequency: Multi-Megawatt Demonstration of 100% Renewable Power Systems With Decentralized Communication-Less Control Scheme, Technical Report (2022)
Preparing the Power Sector To Navigate Climate and Water Risks, Fact Sheet (2022)
Advancing Federal Infrastructure Through Innovation: Performance Contracting 101, Presentation (2022)
Visits to NREL
Visiting NREL
We look forward to visits from our defense sector partners in the future. For up-to-date information related to NREL operations and visits, contact Donald Jenket.
Virtual Tours
Free, NREL staff-led tours are typically held the second Friday of each month from 10 to 11:30 a.m. Mountain time. If you are interested in a virtual tour of the NREL campus, contact Donald Jenket.