The Leading Edge: August/September 2022 Wind Energy Newsletter
In this edition, which combines August and September news, we launch an offshore wind energy prize, review findings from the 2022 offshore wind energy market report, discuss the grand challenges facing wind energy development, and chat with summer interns.
News Stories
A new prize administered by the National Renewable Energy Laboratory (NREL) aims to pave the way for cost-effective domestic manufacture and deployment of commercial utility-scale floating wind energy turbines in U.S. waters. The FLoating Offshore Wind ReadINess (FLOWIN) Prize is a three-phase competition launched in September 2022 by the U.S. Department of Energy's (DOE's) Wind Energy Technologies Office (WETO).
About two-thirds of the nation's offshore wind energy resource potential can be found in deeper water—where wind turbine support structures that are driven into the ocean floor are impractical and costly. Floating offshore wind energy can help unlock this potential. While no U.S. commercial-scale floating offshore wind projects have been constructed yet, mass-manufacturing capabilities and dedicated infrastructure development could make U.S. floating offshore wind energy a reality.
The FLOWIN Prize will help designers, developers, engineers, fabricators, vessel operators, procurement and construction companies, logistics firms, and ports develop a supply chain and accelerate the market readiness of U.S. floating offshore wind energy designs. By doing so, FLOWIN Prize competitors will bring the United States closer to the goals of the new Floating Offshore Wind Energy Shot, one of DOE's Energy Earthshots. These initiatives aim to reduce the cost of floating offshore wind energy by 70% by 2035.
Phase One is open for submissions until Jan. 13, 2023. Register for the webinar listed in the Upcoming Events section to learn more.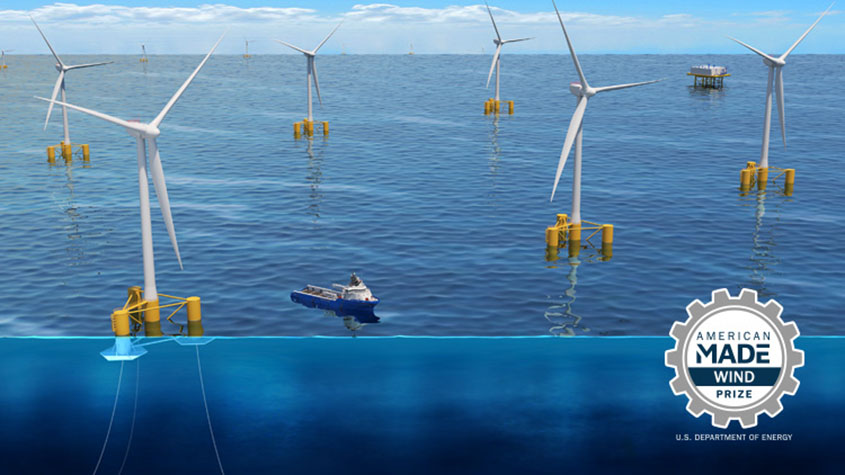 The U.S. offshore wind energy industry continues to expand with a project pipeline of 40,083 megawatts (MW) in various stages of development, according to the just-released Offshore Wind Market Report: 2022 Edition. This represents a 13.5% increase between 2021 and 2022—meaning U.S. offshore wind energy could power about 13 million American homes.
The NREL study also estimates that the global capacity for floating offshore wind energy—wind turbines mounted to a floating foundation or substructure—more than doubled in 2021 from 26,529 MW to 60,746 MW.
"This massive expansion of offshore wind energy potential can be credited to efforts behind our national target of reaching 30 gigawatts of offshore wind energy by 2030, robust state procurement targets, and opening new lease areas that will substantially increase the number of viable offshore wind energy sites in the United States," said NREL offshore wind energy researcher Walter Musial. "Also helping to move us closer to achieving the national targets are the number of projects that have now reached the advanced permitting stage, with 24 signed power purchase agreements."
Written by Musial and NREL researchers Philipp Beiter, Patrick Duffy, Melinda Marquis, Rob Hammond, and Matt Shields, along with Paul Spitsen from DOE, the report covers the global offshore wind energy industry for the 2021 calendar year and the most significant U.S. domestic industry progress and events from January 1, 2021, through May 31, 2022.
The Offshore Wind Market Report: 2022 Edition is one of three market reports released Aug. 16, 2022, by WETO. The Land-Based Wind Market Report: 2022 Edition was prepared by Lawrence Berkeley National Laboratory, and the Distributed Wind Market Report: 2022 Edition was produced by Pacific Northwest National Laboratory. Read all WETO's reports and explore additional features, such as infographics, interactive graphs, and informative articles about the report findings.
Wind energy will play a central role in shifting the world's electricity supply to renewable sources within the next two decades. For wind power to fulfill this role, critical challenges around the design, development, and deployment of land-based and offshore wind energy must be addressed.
NREL Research Fellow Paul Veers and other NREL researchers joined 100 worldwide wind energy experts in writing a series of 10 articles for publication in Wind Energy Science. The articles capture the breadth of wind energy research needs and propose actions to fill critical gaps and enable wind power to be a foundation for the energy system of the future. Veers recently coauthored a perspective piece for Wind Energy Science that explains the origin and importance of these efforts.
"Shifting the global energy system away from carbon-based sources will require an investment of trillions of dollars in wind energy installations. This shift cannot be expected to succeed at current levels of investment in research and development," Veers said. "By articulating the magnitude of the gaps, required resources, and roadblocks, these articles make a case for increased resources to respond effectively to the challenges of deploying wind power everywhere."
Learn more about NREL's response to the grand challenges of wind energy science.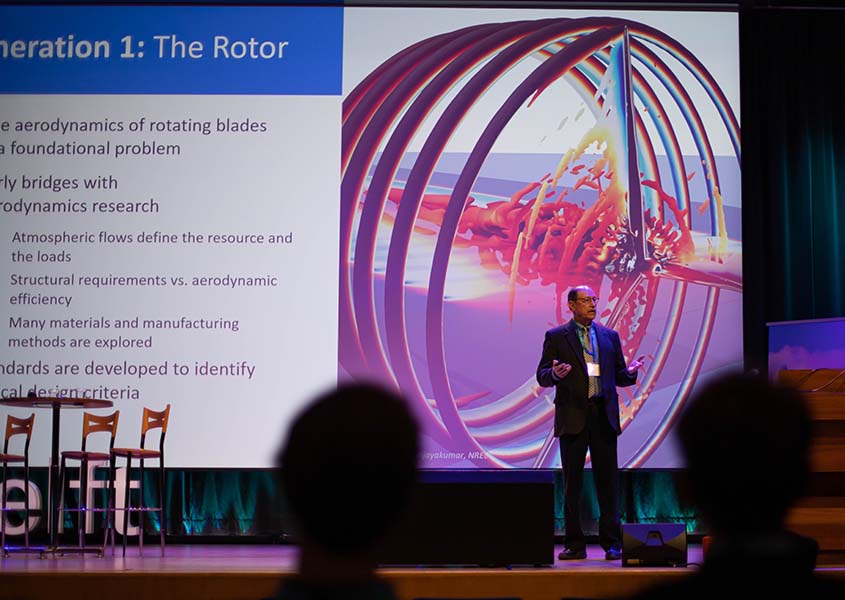 Meet the Students Supporting Wind Energy Research
This summer, several interns joined NREL's wind energy research efforts through programs such as DOE's Science Undergraduate Laboratory Internship and Research Participant Program. Glance at some of their backgrounds, projects, and reflections as the summer comes to a close!
A passion for the intersection of environmental science and renewable energy inspired Emika Brown to pursue her internship at NREL. Mentored by NREL environmental researcher Cris Hein, Brown works on two research collaborations: the International Energy Agency Wind Technology Collaboration Programme Task 34 and Synthesis of Environmental Effects Research. Her most memorable experience was helping calibrate an infrared camera to detect bats around a wind turbine. "It was so fun!" she said. A senior studying environmental engineering at Tufts University, Brown hopes to pursue a graduate degree in renewable energy systems and would be excited to return to NREL one day.
Kaitlin Brunik was always interested in renewable energy. "When I was younger, I used to love driving down the Columbia River Gorge and looking at all the wind turbines nestled up on the hills," Brunik recalled. Now, as an intern under Jennifer King's mentorship, Brunik develops visualizations of hydrogen production costs under U.S. offshore wind energy scenarios and is investigating the levelized cost of energy and how it changes with cost data from 2022 to 2035 and under the new policy implications from the recently passed Inflation Reduction Act. Brunik has a biology degree from the University of Oregon, studies energy systems engineering at Oregon State University, and plans to return to NREL after graduating.
For Charles Kiefer, the best part about interning at NREL is being on the front line of the energy revolution. "The things I work on and research have real-world implications and help lead to a healthier, more sustainable world," he said. Kiefer works with mentor Jennifer King on the Hybrid Optimization and Performance Platform and the Wind-to-Hydrogen Project and is studying cleaner ways of producing steel using hydrogen rather than carbon-based gas. Majoring in mechanical engineering at the University of St. Thomas, Kiefer hopes to work at NREL in the future.
Since her first internship at NREL in 2021, Lily Peterson has worked on several projects that she said have been "intellectually stimulating and tuned to my exact career interests in a very unique way." After graduating from the University of Delaware with a degree in environmental engineering in May 2022, Peterson spent her summer investigating fishing industry concerns regarding floating offshore wind power with mentor Matt Hall. Peterson will be starting a master's program in wind energy at the Technical University of Denmark this fall.
Jacob Silverstein will earn a master's degree in data science in 2023 from the University of Colorado Boulder. As an NREL intern under the mentorship of postdoctoral researcher Alex Rybchuk, Silverstein's research focuses on wake steering, a method to help mitigate downwind power losses on wind farms. "I will miss being on the NREL campus," said Silverstein, who would like to continue working in the renewable energy field. "I hope I can do my part in helping create a more equitable and sustainable future for all of us."
Julie Wycoff grew up visiting her family in Belgium, where seeing lots of wind energy projects inspired her passion for creating low-cost renewable energy. In her summer internship at NREL, Wycoff worked with Shawn Sheng to create an open-source tool for wind turbine operators to run live data analysis on their wind farm data. Wycoff is currently pursuing an engineering associate degree at Tidewater Community College and plans to start a 4-year mechanical engineering program soon. Wycoff said she sees NREL as "the bridge between academia and industry that the renewable sector needs to make this clean energy transition happen."
On the Radar
More than 90% of wind energy facilities in the United States began generating power within the last decade. As a result, an estimated 10,000 and 20,000 wind turbine blades annually are expected to be at the end of their lifespan between 2025 and 2040. Owners of wind power plants will be increasingly faced with decisions about what to do with these blades.
NREL researchers are working on circular economy strategies like recycling. And, in a new iScience article, titled "Regional Representation of Wind Stakeholders' End-of-Life Behaviors and Their Impact on Wind Blade Circularity," they reveal the new publicly available Circular Economy Wind Agent-based Model, which takes into account behavioral factors in end-of-service decisions regarding wind energy technologies and components. NREL researchers Aubryn Cooperman, Julien Walzberg, Liam Watts, Annika Eberle, Alberta Carpenter, and Garvin Heath coauthored the iScience article.
NREL released two new publicly available, machine-readable data sets, including state and local wind and solar energy zoning laws and ordinances in the United States. State and local zoning laws and ordinances influence how and where wind and solar energy projects can be sited and deployed. These laws and ordinances can have a measurable impact on U.S. renewable energy resource potential. As the United States targets 100% clean electricity by 2035 and a net-zero carbon economy by 2050, local siting constraints have become a critical topic. However, publicly available data on state and local wind energy and solar power ordinances have been lacking—until now.

Sept. 19, 2022, University of Delaware, Newark, Delaware: Graduate Student Symposium
Open to all graduate students, the inaugural Graduate Student Symposium, co-organized by NREL's Stefano Letizia, Brooke Stanislawski, and Michael Kuhn as well as a graduate student from the University of Wyoming, is intended to provide a space for academic researchers to present their work and network in an informal setting of peers, including a "Colors of the Wind" gallery of wind energy research. This year, the event will be held on the Monday before NAWEA WindTech 2022 at the same location. Thanks to funding from the European Academy of Wind Energy, registration for the Graduate Student Symposium, through the NAWEA WindTech 2022 registration form, is free and meals will be provided.
Sept. 20–22, 2022, Newark, Delaware: NAWEA/WIndTech 2022
Developed in partnership with NREL, the 2022 NAWEA/WindTech Conference will feature six tracks, two led or co-led by NREL researchers (Track #3: Offshore Wind; Track #5: Atmospheric/Ocean Science). The conference will facilitate collaboration and knowledge sharing of members of academia, industry, and government in wind energy and grid integration. NREL researchers will offer several events, including the Rotor Aerodynamics, Aeroelastics, and Wake outreach meeting, OpenFAST workshop, American WAKE experimeNt outreach meeting, AMR-Wind (including ExaWind) tutorial, the FLOw Redirection and Induction in Steady State (FLORIS) tutorial, in addition to chairing sessions and presenting on a variety of wind energy topics by NREL researchers and interns.
11 a.m. ET, Sept. 22, 2022, Online: FLOWIN Prize Informational Webinar
This webinar will present more information to those interested in competing in the new three-phase FLOWIN Prize, which is designed to help advance deployment of offshore wind energy in U.S. waters before the first phase (now open) closes on Jan. 13, 2023.
Downwind: In Case You Missed It
On Sept. 15, 2022, WETO launched the Floating Offshore Wind Shot, which included the announcement of three new NREL-led studies on offshore wind resources, design of floating offshore wind turbine arrays, and West Coast ports strategy. All studies will support the development of offshore wind energy to meet national goals.
Six new wind resource maps have been added to DOE's WINDExchange website to help identify appropriate U.S. locations for wind energy development. Produced by NREL researchers, the maps show 100-meter (m), land-based wind resources in California, Montana, North Dakota, Oregon, South Dakota, and Washington state. See the entire collection, which now includes 100-m land-based wind resource maps for all contiguous states and several 100-m offshore wind resources maps.
NREL researchers conducted an initial exploration of the types of clean energy technologies and the scale and pace of deployment needed, including wind energy, to achieve a net-zero grid in the United States by 2035—a major stepping stone to economywide decarbonization by 2050. Results show there are multiple pathways to 100% clean electricity by 2035 that would produce significant benefits, but the exact technology mix and costs will be determined by research and development over the next decade.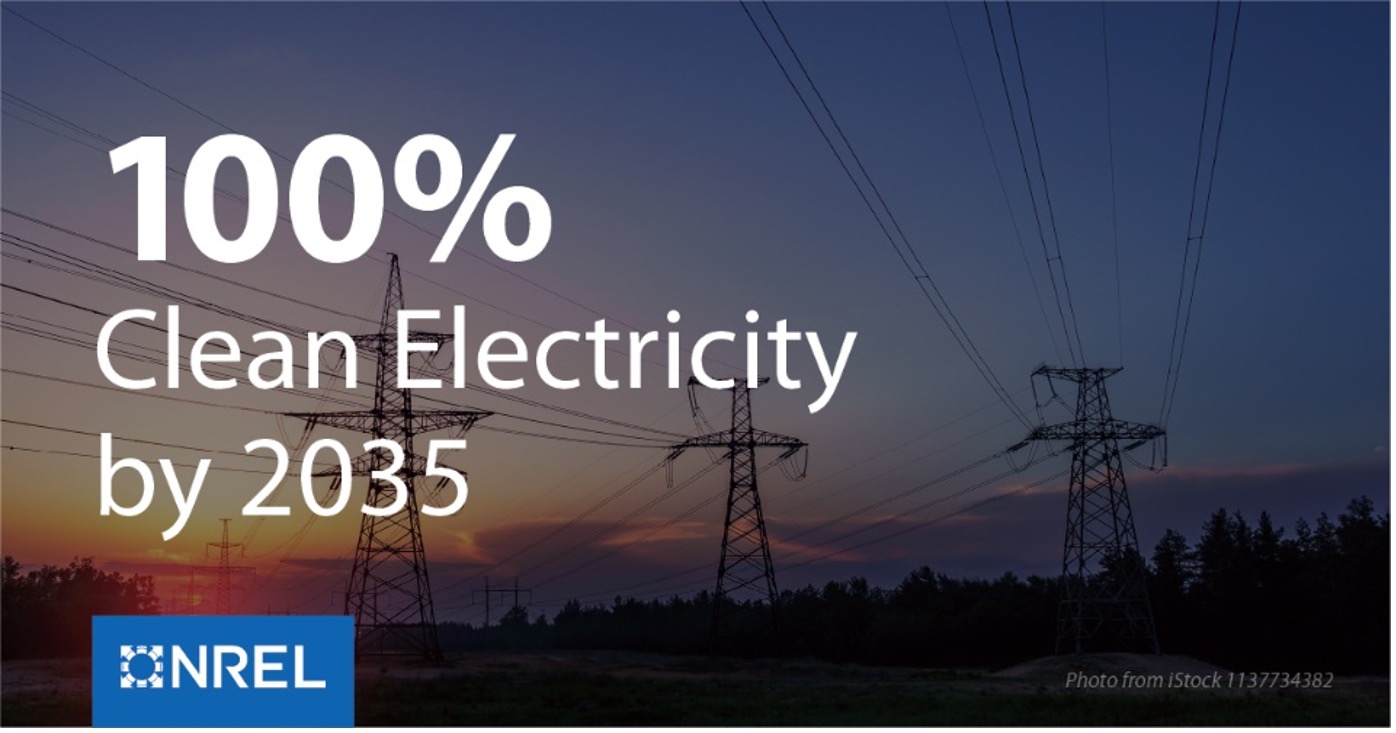 As part of the WINDExchange webinar series on offshore wind energy basics, on July 13, 2022, NREL's Amy Robertson and University of Massachusetts Amherst's Sanjay Arwade presented an overview of below-the-water offshore wind energy technology. Watch the recording and follow along in the presentation to learn how diverse seafloors impact the technology required for fixed-bottom offshore wind energy turbines, floating offshore wind energy turbines, mooring lines, and cabling. You can also watch other recordings from the offshore wind energy basics series webinars if you have missed any.
The Fraunhofer Institute for Wind Energy Systems shared news of a future collaboration with NREL on LinkedIn. Throughout 2023, the institute will be collaborating with NREL researchers to update the DG03 guideline for pitch bearing design, a widespread document originally published by NREL in 2009.
Read other mentions of NREL wind energy research in the news:
New Wind Resource Assessment Finds 2.8 Terawatts of Floating Offshore Wind Energy Potential, WETO (2022)
DOE Launches Floating Offshore Wind Farm Design Project, WETO (2022)
DOE Launches West Coast Ports Strategy Study, WETO (2022)
FACT SHEET: Biden-⁠Harris Administration Announces New Actions to Expand U.S. Offshore Wind Energy, The White House (2022)
NREL Outlines Paths And Challenges Of Reaching 100% Clean Electric Grid By 2035, American Public Power Association (2022)
How the Climate Bill Would Shift Offshore Wind in 4 States, E&E News (2022)
California Adopts Offshore Wind Target and Calls for 'Significant' Grid Investments, Natural Gas Intelligence (2022)
California Adopts Ambitious Offshore Wind Goals, WorkBoat (2022)
Macrogrid Could Help Connect US to a Clean Energy Future, Now (2022)
Energy & Sustainability Legal Feature — The Recently Announced Federal-State Partnership To Accelerate the Development of Offshore Wind Projects, JD Supra (2022)
NREL Researchers Delve Into Improving Wind Blade Recycling Rates, North American Windpower (2022)
National Renewable Energy Laboratory Awards Bowman Consulting Group Ltd. Contract To Conduct Bat Behavior Study, Business Wire (2022)
Colombia Maps First Offshore Wind Tender, reNEWS (2022)
Biden Administration to Invest US$26 million in Renewable Grid Demonstration Projects, PV Tech (2022)
Senate Passes Inflation Reduction Act With Largest Ever Investment in Climate Rescue Infrastructure, Real Vail (2022)
California Adopts Offshore Wind Target and Calls for 'Significant' Grid Investments, Natural Gas Intelligence (2022)
Validation of CFD Simulations of the Moored DeepCwind Offshore Wind Semisubmersible in Irregular Waves
In a new Ocean Engineering journal article, NREL researchers Lu Wang and Amy Robertson examine the use of computational fluid dynamics (CFD) simulations to predict the response of a floating wind energy platform to realistic ocean waves comprising many wave components of different heights and wavelengths. Their results indicate that CFD simulations can reliably help predict the overall performance of offshore wind energy platforms in irregular ocean waves and produce data for the calibration of lower-fidelity models.
Other Recent Publications
Aeroelastic Modeling for Distributed Wind Turbines: March 11, 2021–Nov. 10, 2021, NREL Technical Report (2022)
An Independent Analysis of Bias Sources and Variability in Wind Plant Pre-Construction Energy Yield Estimation Methods, Wind Energy (2022)
Behavior and Mechanisms of Doppler Wind Lidar Error in Varying Stability Regimes, Atmospheric Measurement Techniques (2022)
Categorizing Distributed Wind Energy Installations in the United States to Inform Research and Stakeholder Priorities, Energy, Sustainability and Society (2022)
Characterization and Repair of Core Gap Manufacturing Defects for Wind Turbine Blades, Journal of Sandwich Structures and Materials (2022)
Loads Assessment of a Fixed-Bottom Offshore Wind Farm With Wake Steering, Wind Energy (2022)
Offshore Wind Market Report: 2022 Edition, NREL Technical Report (2022)
Want More?
Subscribe to The Leading Edge newsletter, and explore the latest news and accomplishments in wind energy at NREL.